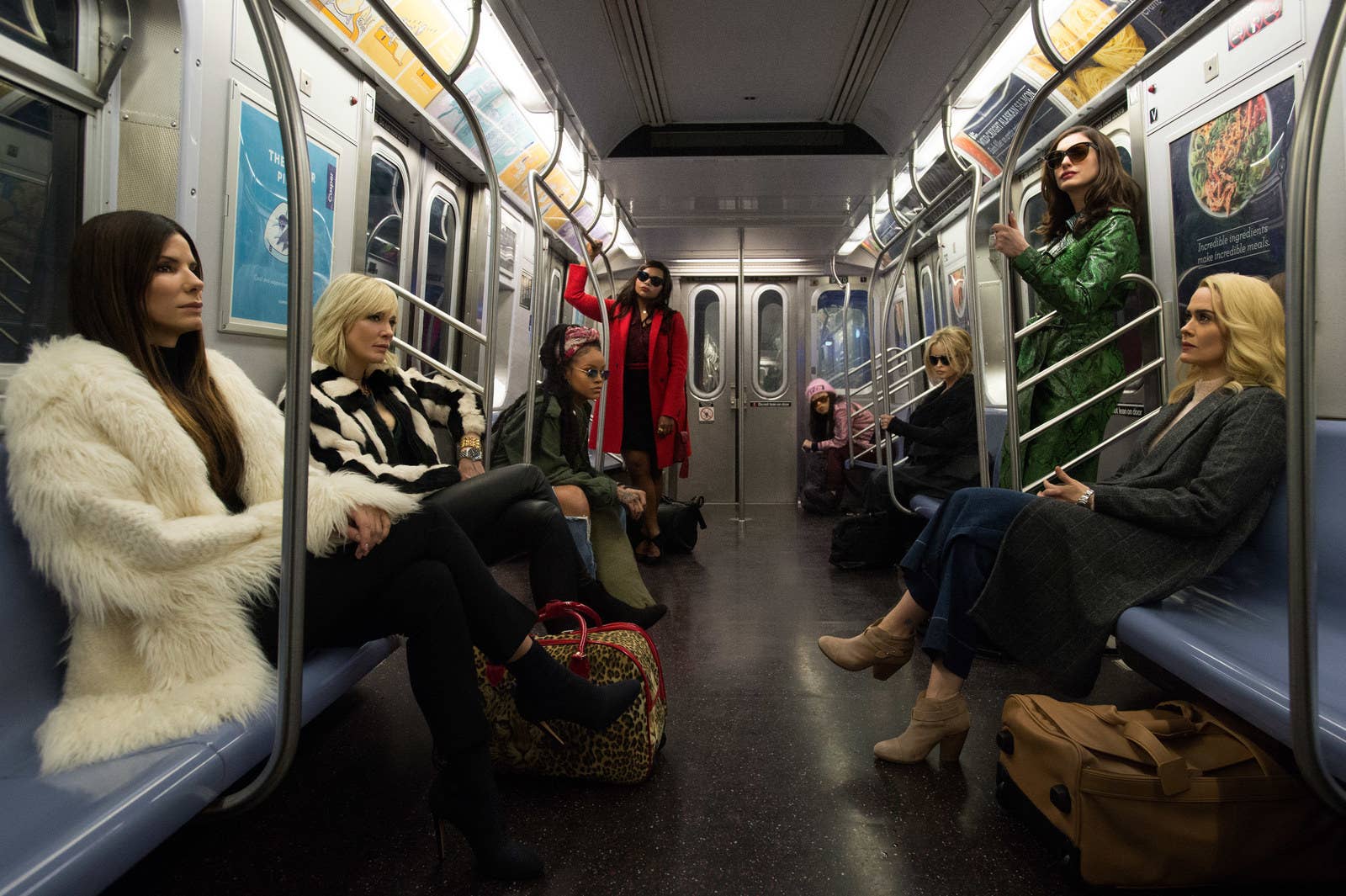 In Ocean's 8, a team of criminals (and wannabe criminals) band together to steal an ridiculously valuable diamond necklace during the Met Gala, requiring a plan so complex and logistically absurd that it's that much more impressive — and entertaining — watching them pull it off.
But that's nothing compared to what costume designer Sarah Edwards achieved for the film.
She first had to create eight distinctive overall looks for the eight main characters: Debbie Ocean (Sandra Bullock), the mastermind of the heist; Debbie's best friend and fellow con artist, Lou (Cate Blanchett); hacker Nine Ball (Rihanna); fashion designer Rose Weil (Helena Bonham Carter); jeweler Amita (Mindy Kaling); pickpocket Constance (Awkwafina); fence Tammy (Sarah Paulson); and movie star Daphne Kluger (Anne Hathaway).
Then she had to create a gargantuan number of costume changes for each of them, as outlined by the film's director and cowriter, Gary Ross. During production, Bullock had a whopping 65 changes, and Blanchett wasn't far behind with 45. And for Bonham Carter's character, Edwards even had to design a 50-look fashion show from scratch.
If that wasn't enough, all eight women also needed a show-stopping dress for the Met Gala, on top of the wardrobe needed for the hundreds of extras appearing as attendees and workers at the event.
How much time did Edwards have to accomplish it all? "A matter of weeks," she told BuzzFeed News.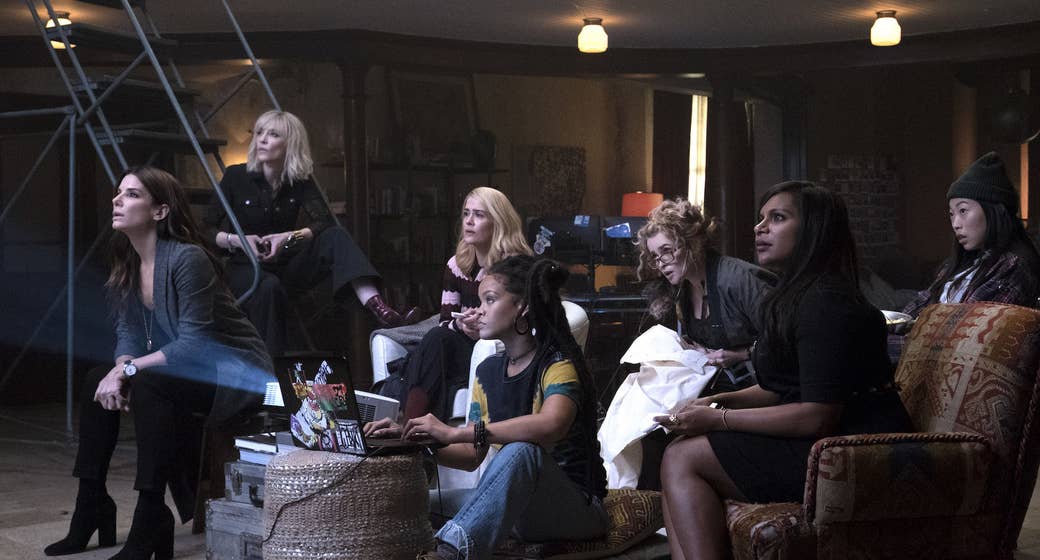 "We were kind of pulling it down from the trees, wherever we could get it from," she said with a laugh. "There were certain things that we made, and things we bought, and things we got from vintage or archival sources. It was really all over. … There are not enough clothes in the world to do that movie, for all those women."
For the Met Gala looks, Edwards turned to eight top fashion designers and handed them a highly unusual portfolio of demands. "They weren't just designing a dress for the red carpet or a dress from their collections," she said. "We were asking for a dress that would fit our story, our characters, our timeline, [and] the different actions they had to do in the film."
On top of the tight deadline, each dress also had to remain distinctive from the others, from color choices to silhouette — and that's before the finished garments arrived to the set. "They all came in days before the girls worked in them, and they'd never had them on," said Edwards. "It was pretty crazy. There were no other dresses. It was such a big ask for these designers to do this. We were wearing them, no matter what."
Edwards explained to BuzzFeed News how she and Ross came up with the costumes for each of the characters, and what it took to make their Met Gala looks work.
Sandra Bullock as Debbie Ocean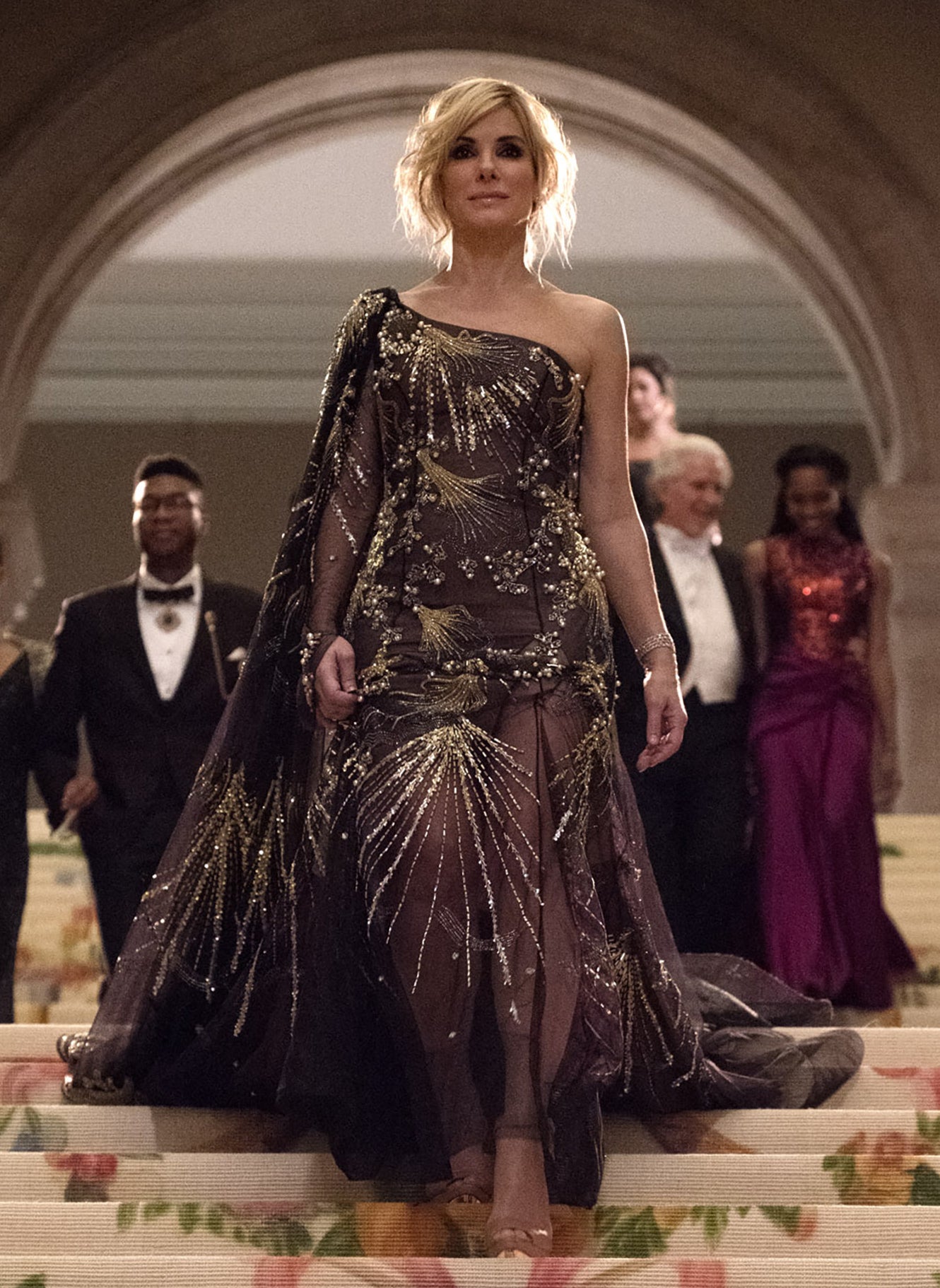 Since Ocean's 8 is the spin-off sequel of the Ocean's trilogy headlined by George Clooney's Danny Ocean, and Bullock plays Danny's sister Debbie, Edwards said the filmmaking team "wanted George Clooney's personal style to carry over to a female version." That translated to a character with great fashion sense who still somehow flies under the radar.
"She's been in jail for five years. She's had a lot of time to think about it. It was important that she be very chill and focused," said Edwards. "So her clothing is very sleek and neutral, and long and lean. I wanted her to be able to go anywhere and gain entrée, but not be too attention-grabbing."
That effort carried over into Debbie's Met Gala dress, a largely black number created by Italian designer Alberta Ferretti with enough gold embroidery to look like she belongs without inviting a great deal of scrutiny — at least, from a distance.
"If you look at the embroidery, it's all an ocean's theme," said Edwards. "It had marine details, oyster shells, starfish. I love that we were able to get that little detail into the gown. It was really very special."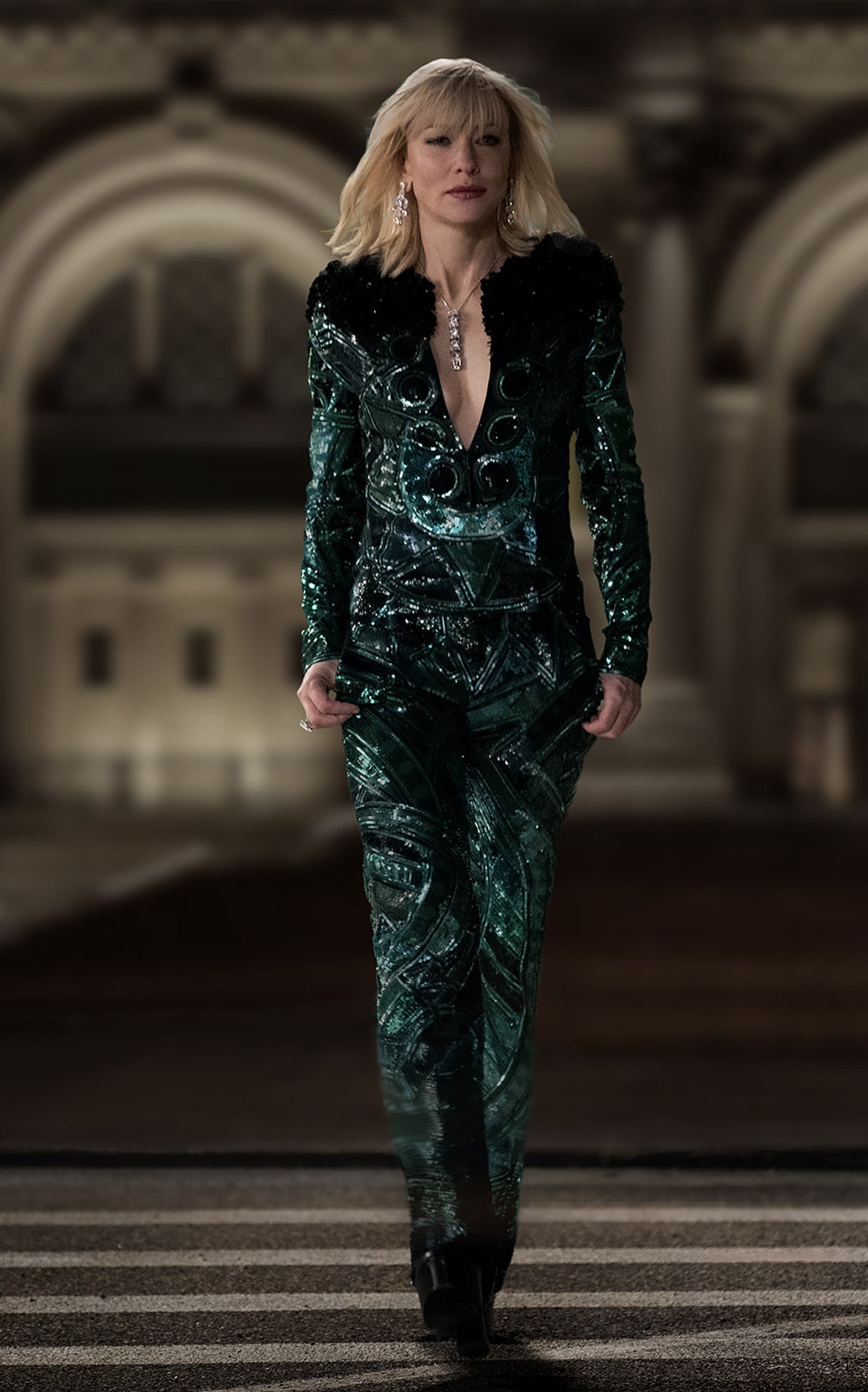 Unlike Debbie, Lou's background in the New York club scene means she has no problem calling attention to herself; Ross's directive to Edwards was that Lou should look chic, confident, and unfazed.
"We wanted to reference some iconic rock 'n' roll types," said Edwards. "I even threw in pictures of male rock stars for us to look at for shapes of suits and things. I wanted her to be very strong, and in many ways, empowered."
Burberry made three-piece velvet suits specifically for the film, and Edwards also drew a lot on vintage pieces, including for her Met Gala look.
"We decided to go with an archival piece," said Edwards. "We were very specifically looking for something that would continue the thread of the character." Since Lou only wears pants in the film, the filmmakers ended up selecting a stunning emerald green jumpsuit from French design house Givenchy. The house, which has maintained a relationship with Blanchett for many years, further modified the jumpsuit to fit both her body and accommodate a key (i.e. spoiler-y) element in the film's story.
For some viewers, Lou's overall look suggests that the character could be queer, and even that her close friendship with Debbie was perhaps born from a romantic entanglement in their past. When asked if this was intentional, Edwards laughed.
"You know, I think early on, there was an idea that that might be the case," she said. "But we seemed to move away from that as the shooting went on."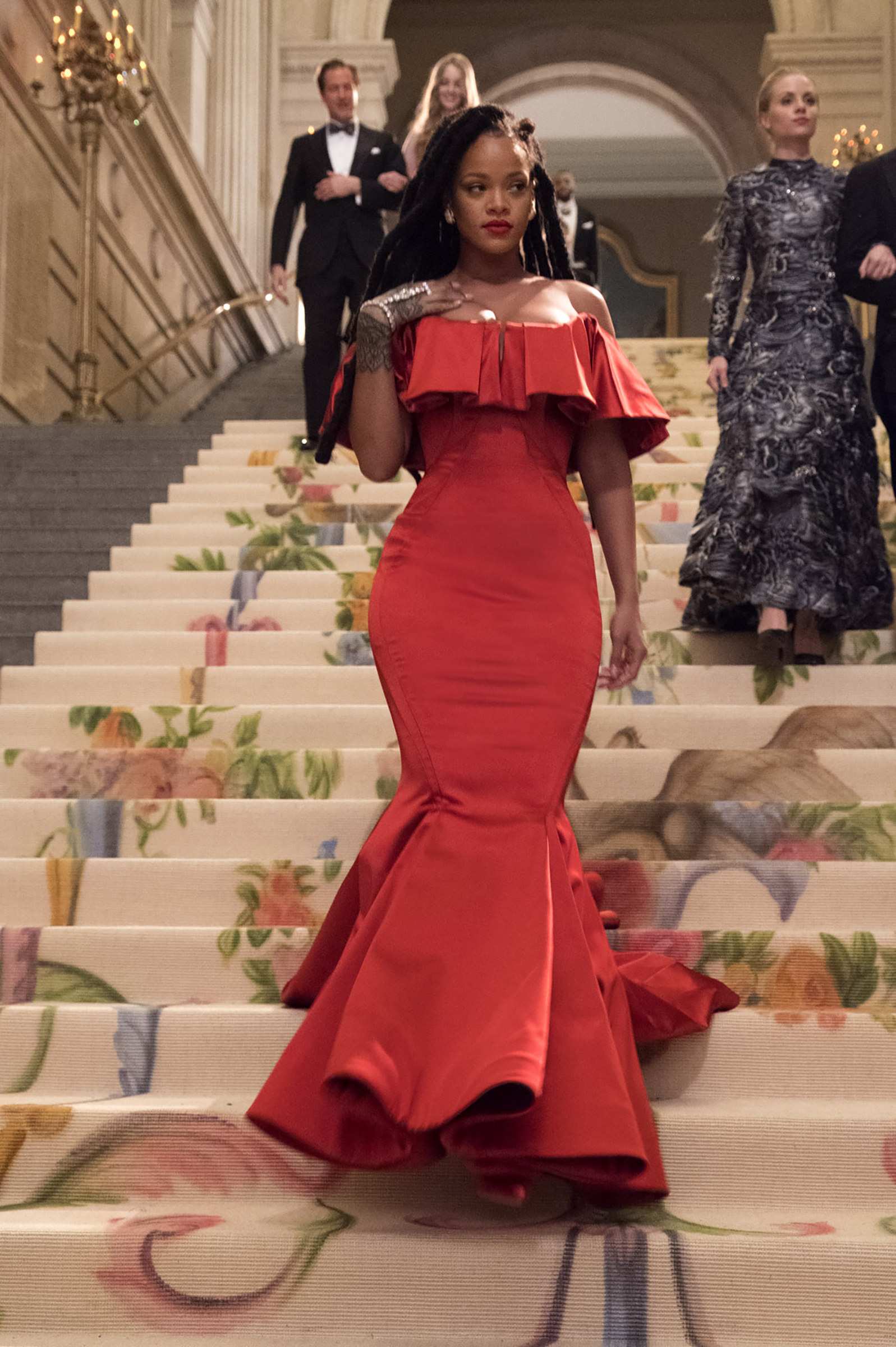 Dressing the woman who has become the uncontested queen of the Met Gala several years over was perhaps the biggest challenge for Edwards, given how synonymous Rihanna and the event have become in many viewers' minds.
"It was really crazy, on so many levels," Edwards said. Their solution was to lean as far from Rihanna's Rihanna-ness as possible for the bulk of the film and dress her character in oversized pants and shirts from vintage and Army/Navy surplus stores.
"She really embraced it," said Edwards. "There was kind of a fun moment when she came for her first fitting, and one of her assistants came in and said, 'Wow, this is really different!' And I thought, Oh no, what now? And she said, 'There are no high heels in the whole room!'"
The hope was that when Nine Ball finally glammed up for the Met Gala, the stark contrast would speak for itself. "What was important to Gary is that [her dress] be very body-conscious," said Edwards. "So we go from this Caribbean/Rastafarian computer hacker in Army pants to this incredible, wasp-waisted, curvaceous stunner of a dress."
American designer Zac Posen had a little over two weeks to put together Rihanna's look, which also had to fit through the small doorway of a food truck used by Nine Ball for most of the heist. "It couldn't be something that was too big or too much of a train," said Edwards. "I think he had his entire shop on overtime, day and night."
Helena Bonham Carter as Rose Weil
Edwards' mandate for Bonham Carter's character was especially tricky: She had to be a well-known fashion designer, who had been working for decades, but had fallen out of favor just enough to be enticed to join Ocean's crew, but not so much as to be totally irrelevant.
The filmmakers established that tricky dynamic with a fashion show Rose holds in the sleek TWA terminal at New York's JFK Airport.
"It was very important to Gary that it not be ugly," said Edwards of Rose's show. "He wanted it to be beautiful, but at the same time, something that just was not going to be successful at this particular moment in time."
That meant that Edwards had to design the entire 50-look show herself. "We couldn't involve a designer and say, 'This isn't a good show!'" she said. To match the eye-catching location, Edwards landed on a late '50s/early '60s jet-set aesthetic, evoking the stewardess uniforms of the era. "For the people who were supposed to be working for the magazines in the front row who were watching the show, the response wasn't that it was ugly but, 'Who would wear this? Why do we need this?' It's just a total miss."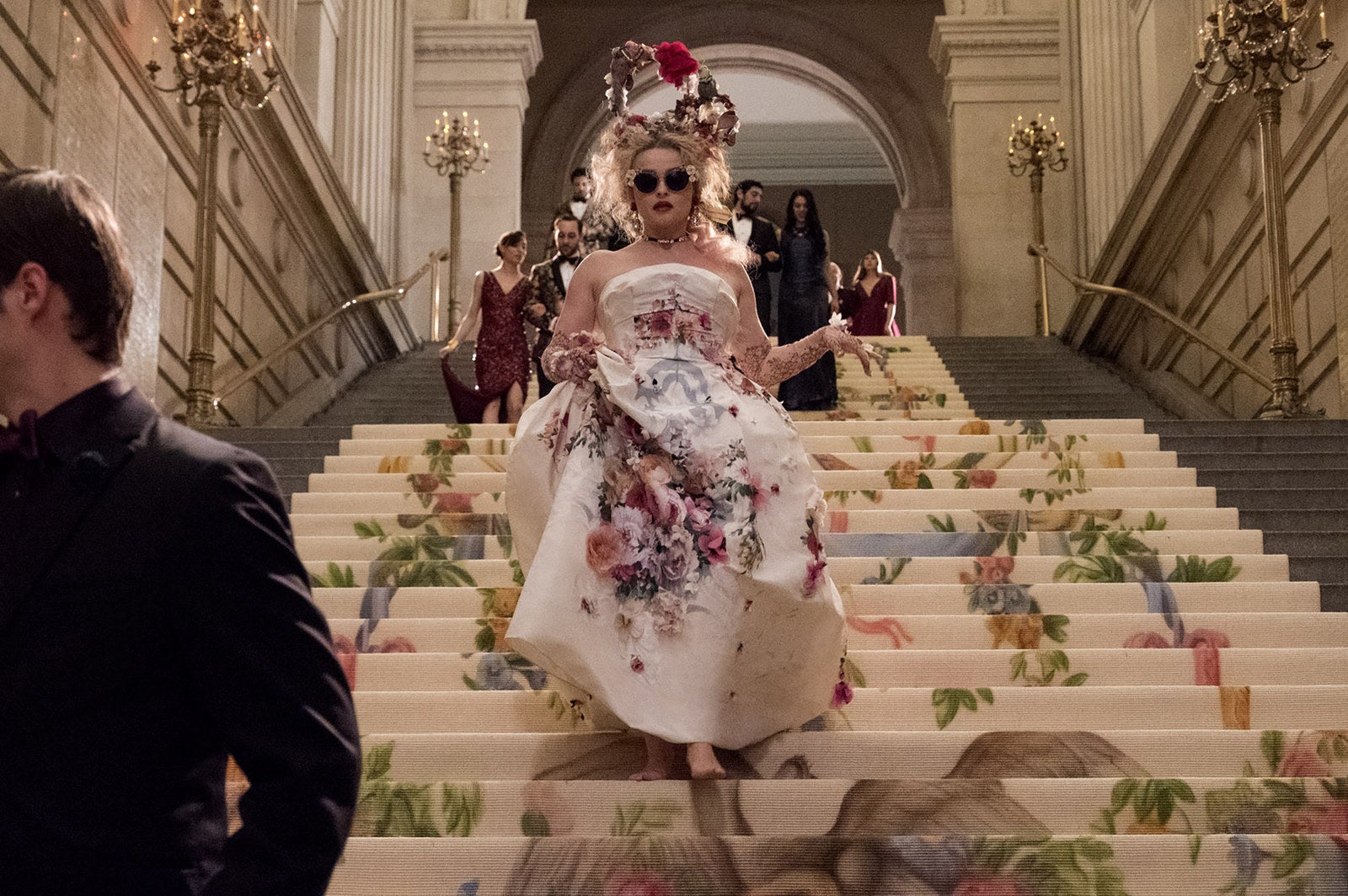 For Rose's own clothes, Edwards went for a more "timeless" look of mostly structured, black suits, but she zigged in a completely different direction for her playful, floral-inspired Met Gala look, from Italian design house Dolce and Gabbana's couture collection, Alta Moda.
"They did the dress and the headpiece and the jewelry and the shoes," said Edwards. The flowers on the dress were hand-painted, and the headpiece helped to evoke how Rose had reclaimed her fashion mojo. "I think it's really so fun and fabulous," said Edwards. "It was important that she did something that was witty."
Anne Hathaway as Daphne Kluger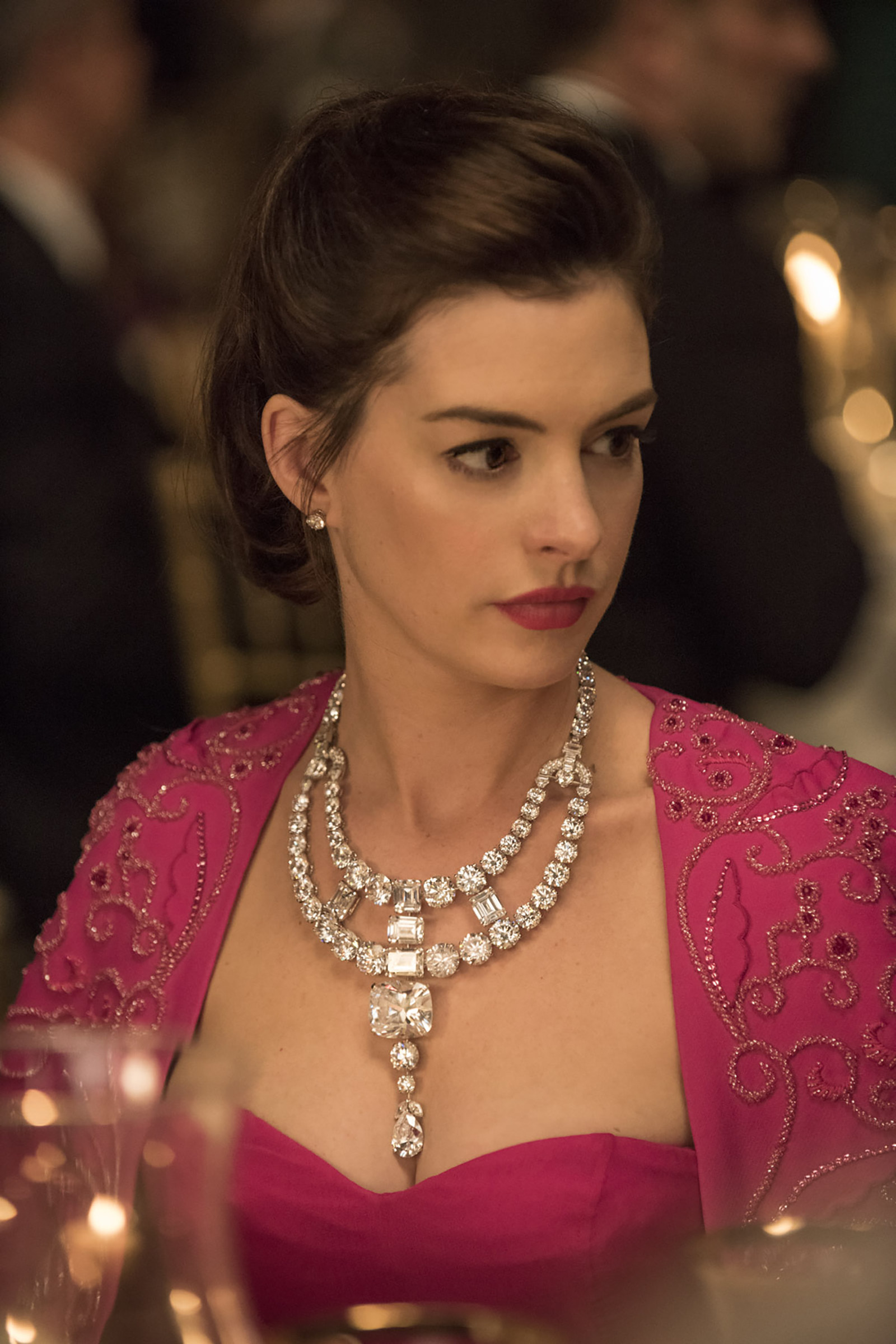 With Hathaway playing a character who is also a movie star, Edwards and Ross felt she shouldn't evoke any of today's bold-faced names. "Gary wanted to have a little bit of the old-world Hollywood movie star come out for that role," said Edwards. "We did a modern version of an Elizabeth Taylor or an Ava Gardner. Her clothes are very simple and beautiful but always very put together. Always jewelry. Always [great] shoes. Always matching bags."
The biggest focus for Edwards with Daphne was the Toussaint, the (fictional) $150 million Cartier diamond necklace worn by Daphne at the Met Gala, and the objective for the heist. To sort out just how fabulous the Toussaint would be, Edwards worked with Ross, property master Michael Jortner, and an illustrator to create different versions, referencing important diamond necklaces throughout history. Once everyone settled on the final design, Cartier's master jeweler in Paris made the necklace (from faux diamonds).
"There aren't a lot of necklaces around with that number of large stones, but it was important that it be worth the hype," said Edwards.
With so much work put into the necklace, Daphne's Met Gala dress, created by Italian designer Valentino, couldn't distract from it. "We said we had to have real estate for that necklace, and the dress should be incredibly simple," said Edwards.
Valentino's solution: A 15-foot cape that trailed behind her clean and classic pink dress. "It was also important, because she's a co-chair at the Met Gala, that she also have something that she could make an amazing entrance in," said Edwards.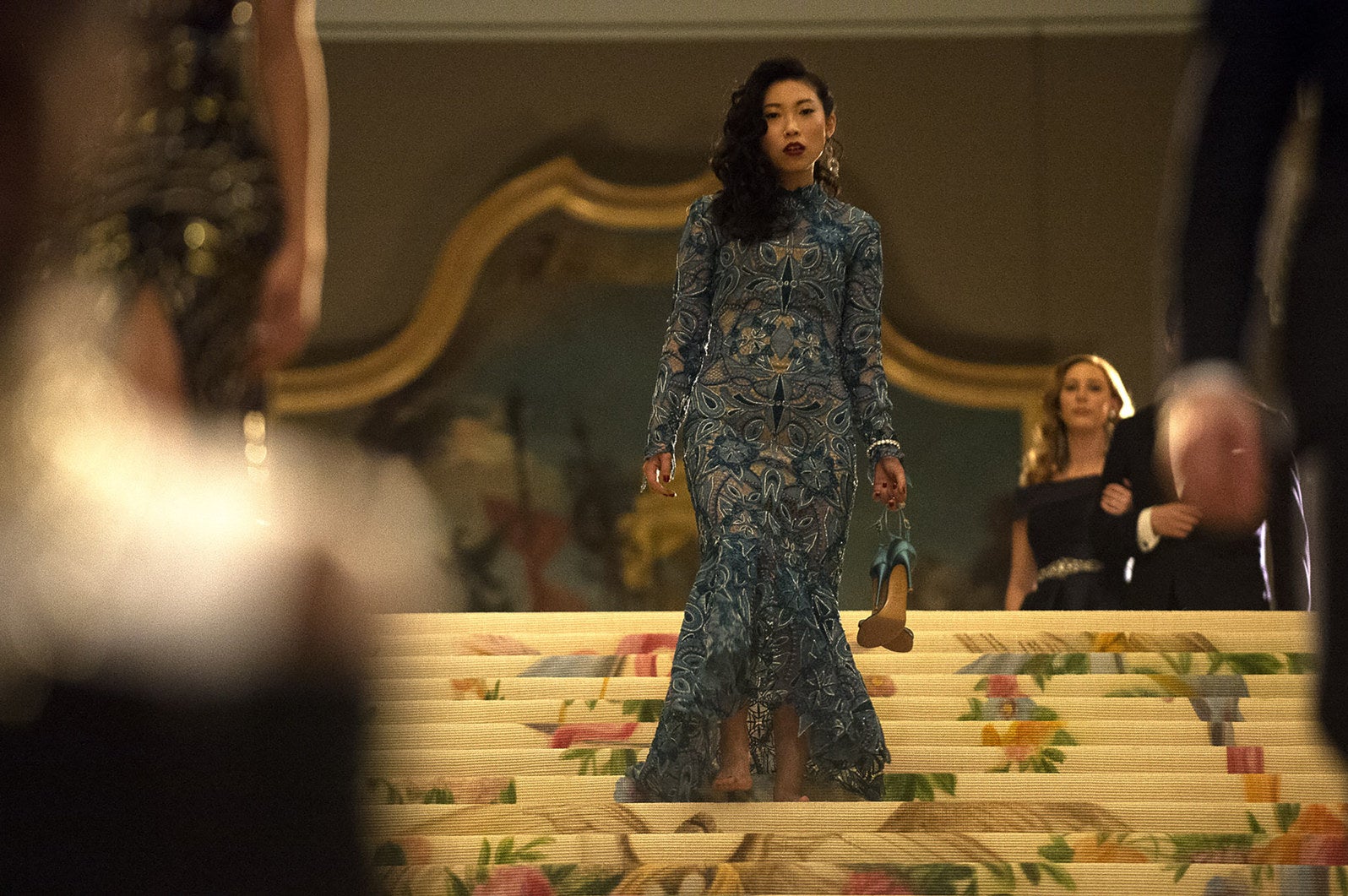 As the youngest member of Ocean's crew, Awkwafina's Constance is also the furthest from the high-fashion, high-stakes world of the other characters, which Edwards wanted to reflect in her clothing.
"She's a little bit of an artful dodger, the most street," she said. They looked at urban skate culture, focusing on wool hats and simple polyester jackets and tracksuits to build Constance's look.
Much like with Nine Ball, Constance's look throughout the film contrasted enormously with her Met Gala look, an intricate jade dress created by American designer Jonathan Simkhai.
"That was another dramatic transformation in the movie, to see her all dressed up," said Edwards — and not just the character, either. "[Awkwafina] said it was the most beautiful dress she'd ever put on!"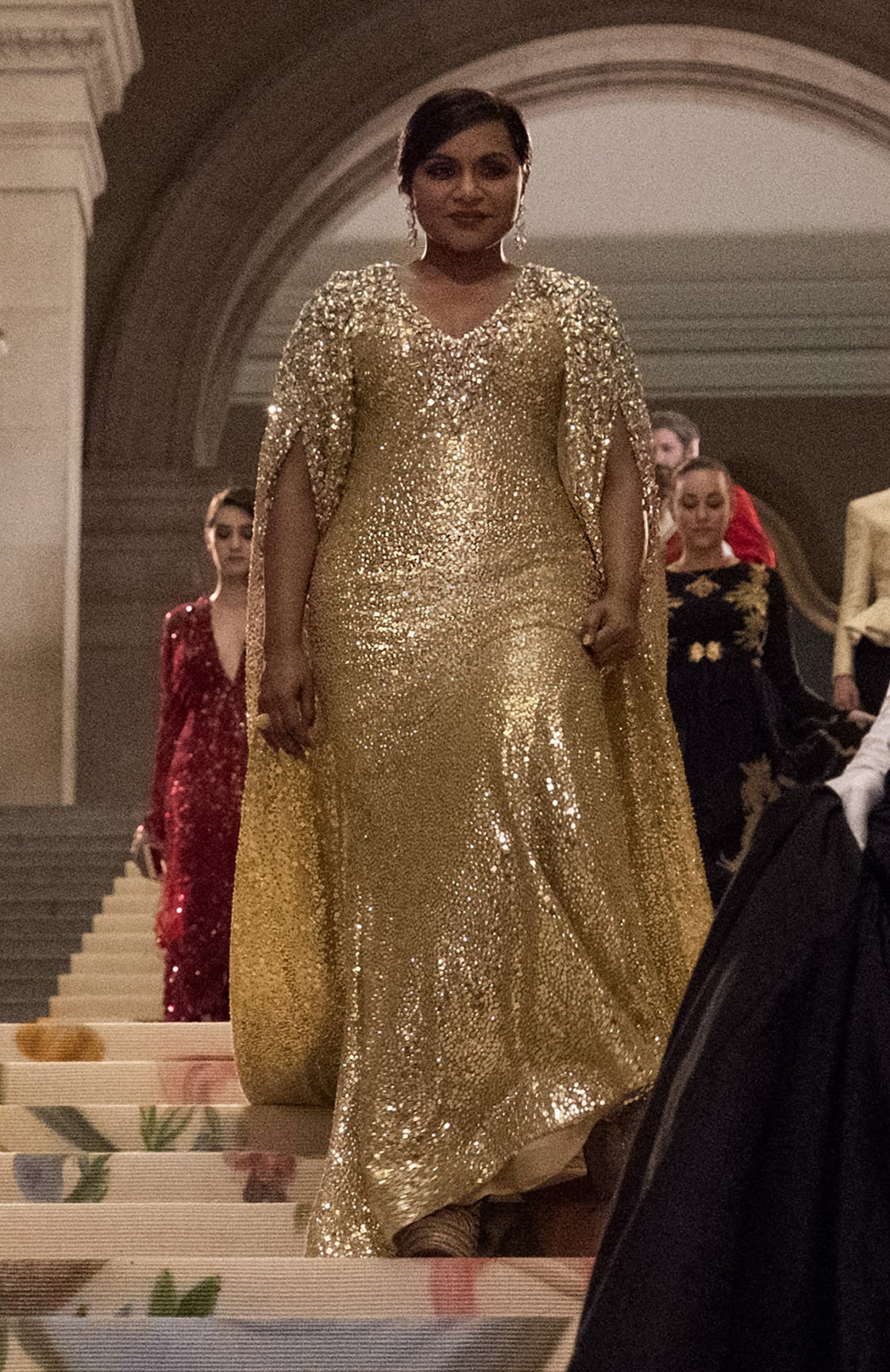 Amita starts the film as a put-upon daughter still living with her parents, so Edwards wanted to track how her character starts to blossom once she joins Debbie's team.
"We start her off in much more conservative [outfits], and slowly transitioning her into modern day," said Edwards. The exclamation point on that sentence was Amita's Met Gala dress, an extraordinary gold number created by Indian designer Naeem Khan, who got his start working for American fashion legend Halston.
"He has, I think, 160 beading factories in India," said Edwards. "It's remarkable he could pull off a fully beaded dress and cape in the amount of time we had."
Kaling was so "thrilled" with the dress, in fact, that Edwards said she wore a different dress by Khan to another event soon after shooting Ocean's 8. "It was a really great collaboration," Edwards said.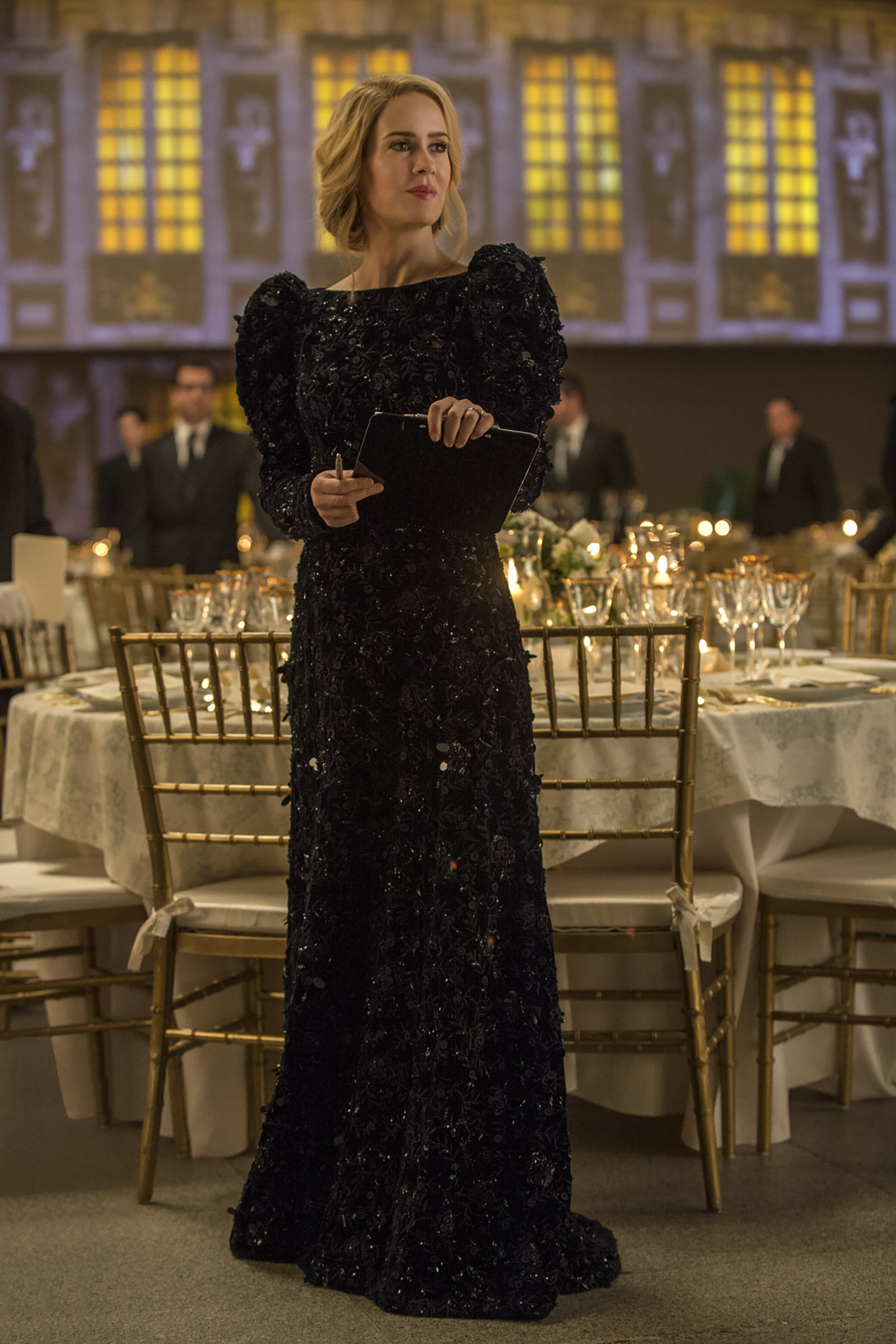 Tammy starts Ocean's 8 as the team's only mother, and for her outfits, as Edwards put it, "She's definitely gone to the soccer-mom side." But then Tammy goes undercover at Vogue, which means she also has to dress for the job.
"We looked at a lot of people who actually worked there and looked at different inspirations to come up with her look," said Edwards, which basically meant a lot more sleek blacks.
Tammy's work for Vogue continued to the Met Gala, so her dress, designed by Prada, was by necessity more conservative than other women's.
"The people at Vogue who do work the event, they're all dressed in evening wear, but they're not dressed in the feathers and the capes and the trains," said Edwards. "So we went with a dark color. Not too big a skirt. We wanted her to be beautiful, but simple."
Of course, dressing all eight women in their Met Gala dresses was anything but simple. "It was very stressful to me waiting for them to come in, and doing those fittings days before they worked," said Edwards. "It was just such a relief when it all went off without a hitch."