"Inside Out" Proves Pixar Can Still Have a Big Hit With An Original Story
The animated feature's estimated $91.1 million domestic debut is the all-time biggest box office opening for an original film.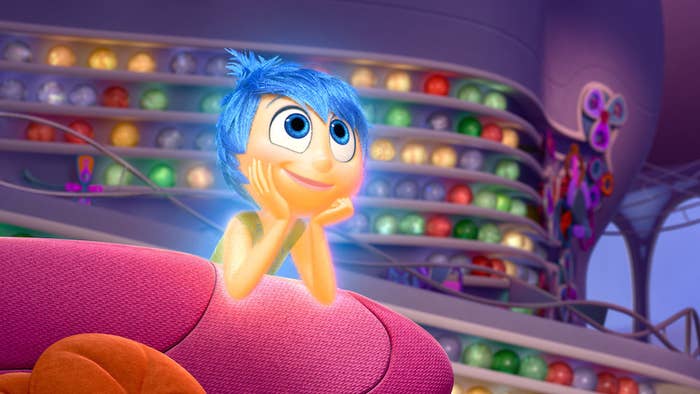 It is no secret that originality has become a scarce commodity in Hollywood. Scrolling through the list of the top domestic opening weekends of all time, you would not arrive at a truly original movie — i.e., not a sequel, prequel, reboot, or adaptation of some other source material — until the 64th entry on the list, 2009's Avatar.
That is, until today. Inside Out, the 15th animated feature film from Pixar Animation Studios, opened this weekend with an estimated $91.1 million in North America, rocketing past Avatar's $77 million opening to become the best debut for an original movie in Hollywood history. (It is also the best debut gross for a film that did not open at number one. Jurassic World continued its astronomic box office run with an estimated $102 million in its second weekend.)
For fans of Pixar, this news could not arrive at a more crucial time for the studio. Ever since it released Toy Story 20 years ago, Pixar has stood as the only top-tier creative force in Hollywood built on the commercial promise of original filmmaking. From 1995 through 2010, the studio released just two sequels, 1999's Toy Story 2 and 2010's Toy Story 3, and both of those films felt as vibrant and ingenious as the best of the studio's original movies.
Since 2010, however, Pixar's output has shifted drastically. It has released one sequel (2011's Cars 2) and one prequel (2013's Monsters University) that, to be kind, did not reach the studio's high standards for profoundly creative storytelling. And the studio's sole original film during this period, 2012's Brave, was a troubled production even by Pixar's creatively volatile standards. It opened to decent-if-not-enthusiastic reviews.
Commercially, things weren't much brighter. Even adjusting for ticket price inflation, Cars 2 was the lowest grossing film in Pixar history, and Brave was the second worst. Monsters University also fell toward the bottom of the list.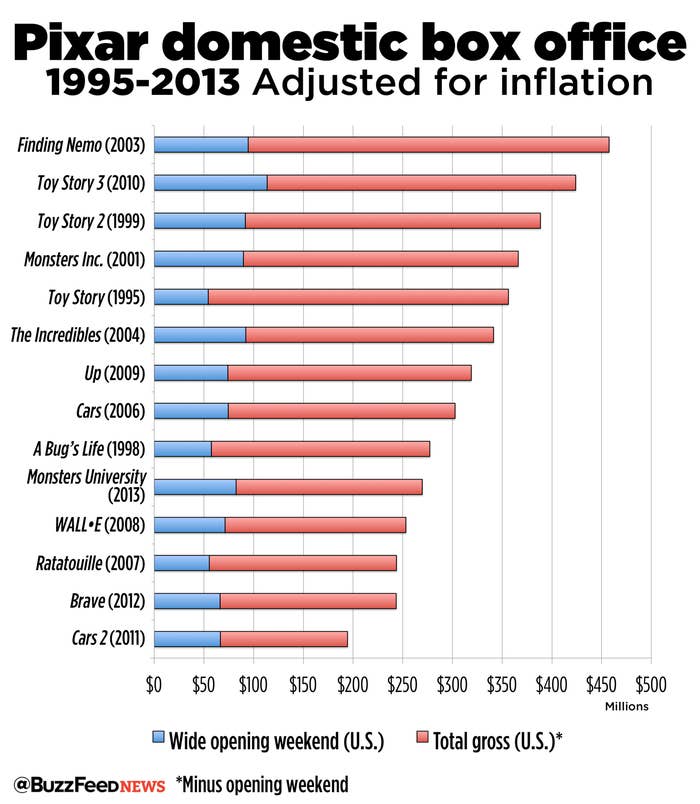 So what happened? Why, after 15 years of superlative filmmaking, did Pixar make such a drastic, and as yet not too terribly lucrative, shift in creative direction away from original movies?
Look to the grosses for 2007's Ratatouille and 2008's WALL•E for a possible reason. Both films opened to rapturous reviews praising their imaginative stories, and both films won Oscars for Best Animated Feature. But at the time of their release, they were also, respectively, the lowest and second lowest grossing films domestically for Pixar when adjusting for inflation. And given the four-to-six year life cycle for Pixar's films, it isn't necessarily surprising that, four to six years after Ratatouille and WALL•E opened, the studio had shifted to what had been working for every other studio in Hollywood for years: A slate heavy with sequels and prequels.
Whatever the reasons for Pixar's shift away from original filmmaking, however, Inside Out stands as a rebuke to that strategy. Its setting inside the mind of a 11-year-old girl is arguably the studio's most conceptually daring to date — not to mention the fact that it is only Pixar's second film ever with a female protagonist. And yet its record-setting debut for an original feature film is also one of the studio's biggest domestic opening weekends ever (second best in raw grosses, fifth best when adjusting for inflation). Its "A" grade from audience polling firm CinemaScore, and the lack of family film competition until Minions opens on July 10, suggests that strong word-of-mouth could make Inside Out one of Pixar's most successful films ever.
The timing could not be more pointed for Pixar's future. Its next film, The Good Dinosaur, also went through an extreme creative overhaul, which pushed its release from June 2014 to this November. It is also the last original title currently on Pixar's announced slate of films. Next year, Pixar will release Finding Dory, the sequel to 2003's Finding Nemo. In 2017, it will release Toy Story 4. And the only other films officially in development at Pixar are also sequels: The Incredibles 2 and Cars 3, neither of which have set release dates.
That likely takes Pixar's release calendar through 2018 or 2019. Given the aforementioned four-to-six year life cycle for a Pixar movie, that is also just in time for whatever nascent ideas are currently percolating inside Pixar's Emeryville, California campus to give birth to some more ambitious and daring — and original — feature films.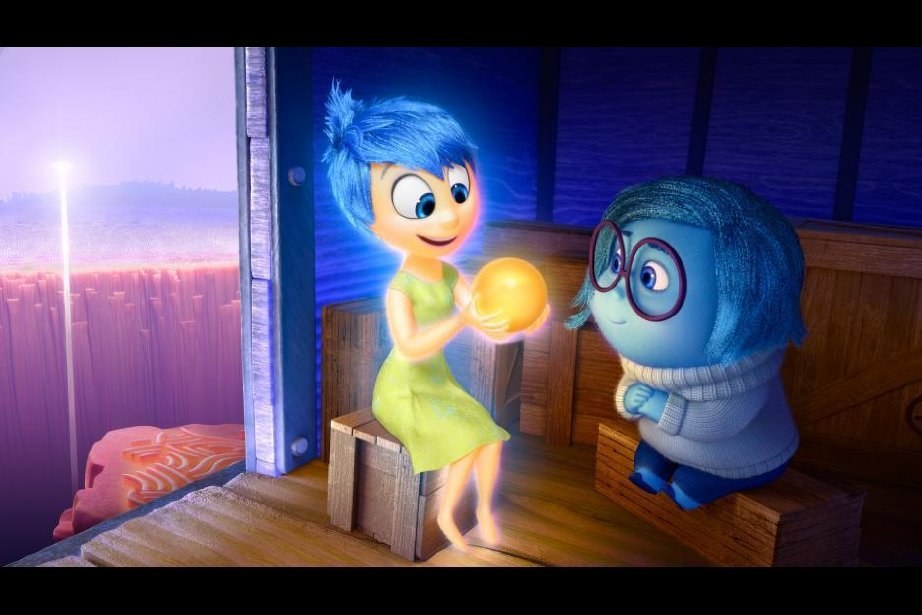 Here are the estimated top 10 box office figures for Friday to Sunday, courtesy of Box Office Mojo:
1. Jurassic World — $102 million
2. Inside Out* — $91.1 million
3. Spy — $10.5 million
4. San Andreas — $8.2 million
5. Dope* — $6 million
6. Insidious Chapter 3 — $4.1 million
7. Pitch Perfect 2 — $3.3 million
8. Mad Max: Fury Road — $2.8 million
9. Avengers: Age of Ultron — $2.7 million
10. Tomorrowland — $2 million
*Opening weekend