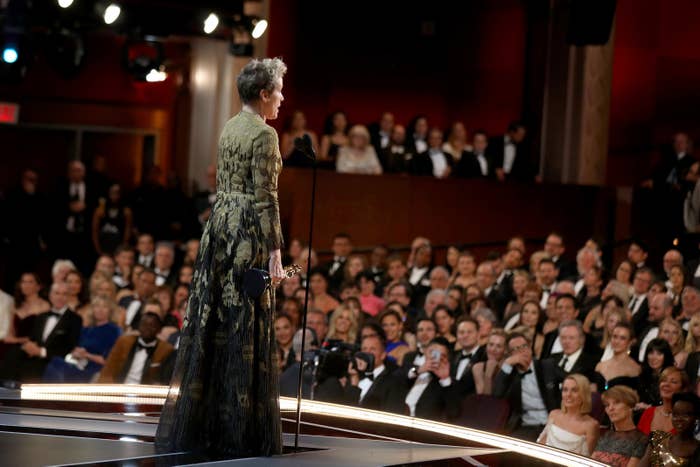 Mira Sorvino was sitting in Dolby Theatre on Sunday night when Frances McDormand, fresh from winning Best Actress for Three Billboards Outside Ebbing, Missouri, implored all the female nominees that night to stand with her. While Sorvino did win the Oscar for Best Supporting Actress for 1995's Mighty Aphrodite, she was at the Academy Awards that night as part of the Time's Up movement, and as one of the first women to come forward with an accusation of sexual misconduct against Harvey Weinstein. But Sorvino still felt that, in a very real sense, McDormand was talking to her, too.

"I was touched by her generosity and inclusiveness," Sorvino told BuzzFeed News at the Governors Ball after the telecast as she stood next to her Time's Up compatriot Ashley Judd. "I felt like it was a gesture to all women, and not only in that room, and not only in this industry.
"I feel like there's sort of a wave happening. … This is this moment for all women to stand up in solidarity with each other to demand a better future for all us. So I felt it was very symbolic of everything Ashley and I have been working on, and something that's going to be amazing for my daughters. It was beautiful."
That sentiment was shared by several other women who attended the Oscars who spoke with BuzzFeed News. But it was also clear that McDormand's speech was more than a moment of solidarity. It stood as another powerful call to action in Hollywood's ongoing reckoning.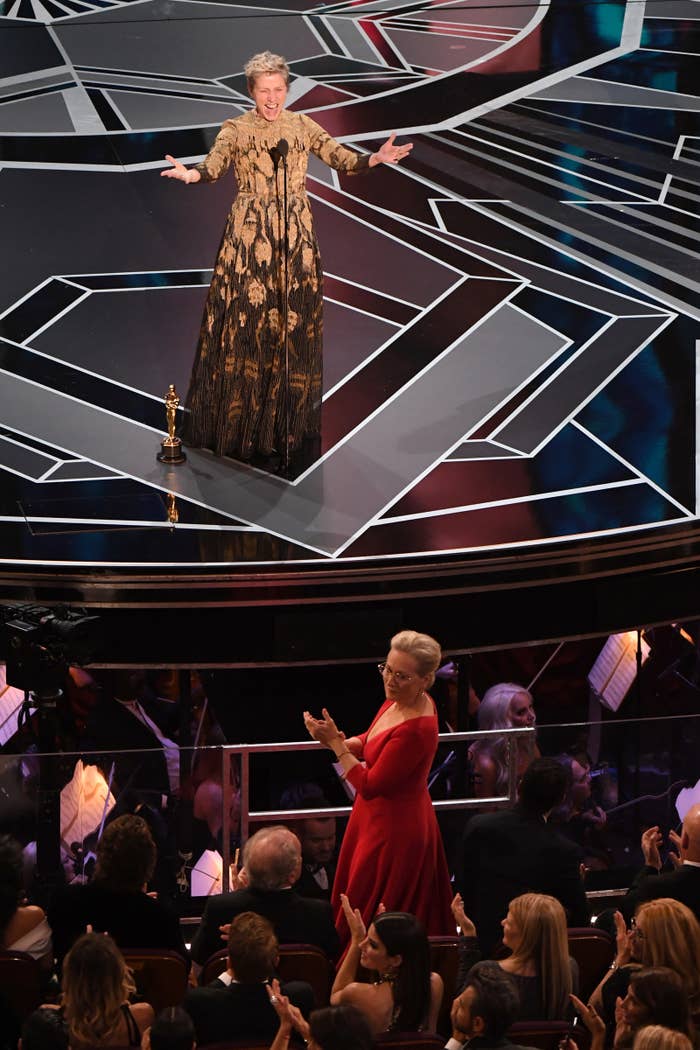 "I thought it was amazing," said Best Supporting Actress nominee Lesley Manville (Phantom Thread).
Manville was especially taken by McDormand's statement that those serious about financing female-led stories should discuss it in official meetings, and not in passing at the post-Oscar parties.
"She's quite right. It has to be taken seriously," Manville added. "It's not just a chat 'round a glass of wine. It's, right, We're coming into the office, when are we doing it? proper meeting."
Other women singled out McDormand's shout-out to an inclusivity rider — specifically, contract language for in-demand actors that requires productions to hire a minimum number of women and people of color on a crew — as a powerful and proactive message for the industry. Indeed, it was McDormand's singular focus; when BuzzFeed News approached her at the Governors Ball to ask about her speech, she simply said, "Inclusion rider: Look it up," and walked away.
"A lot of people of color have been doing that for a long time unofficially, and demanding a certain number of people on set be people of color," said filmmaker Dee Rees, nominated for Best Adapted Screenplay for Mudbound, which she also directed. "It's making your sets look like the world, at a minimum. And it's not just about tokenism, it's about talent. That's the exciting thing. People with the ability and the ambition can have opportunities that are commensurate with who they are."
Judd — who presented a segment on Time's Up and diversity in Hollywood during the Oscars telecast with fellow Weinstein accusers Salma Hayek and Annabella Sciorra — called McDormand's mention of inclusivity riders "a stroke of genius."
"To be so specific in our industry about … individual actors demanding an inclusivity rider, she made a point that no one else had remembered to make yet tonight," Judd said. "It was very valuable."
"I just want to expand the village of artists that I work with. That's the thing that's necessary, for actors to invest in us."
Making all these ideas and intentions work to improve diversity within the film industry, however, is a much thornier prospect. When asked whether the attention she's received over the past five months for Mudbound has translated in financiers eager to back her next project, Rees sighed.
"I feel like as a director, my currency is with actors and producers," she said. "So I've definitely felt I've gotten the chance to meet more actors in the past six months than I've had previously. I just want to expand the village of artists that I work with. That's the thing that's necessary, for actors to invest in us."
Darla K. Anderson, producer of the Best Animated Feature winner Coco, said she felt McDormand's speech tapped into a desire within the industry "to have films that look and feel like the world we live in."
Within her field of feature animation, however, it can take the better part of a decade for that drive to lead to tangible results.
"I've been on this film for six years," she said of Coco, Pixar's first film with a nonwhite human protagonist. "It takes time. But you'll start to see the seeds of that start to come to fruition."
And although Anderson noted that she's worked with "so many women at Pixar for so many years," she declined to comment on how former Pixar chief John Lasseter's leave of absence in the wake of his own sexual misconduct allegations may affect how the studio approaches these issues.
And for Judd, McDormand's speech may have been a great moment of female solidarity, but it also made for a stark visual.
"It was very gracious of [Frances] to share what is the moment of a lifetime," she said. "It's also worth nothing that there were far more people seated than there were standing. Hollywood has changed. It is a movement, not a moment. And it's also true that there lies ahead of us a great deal of work to be done."