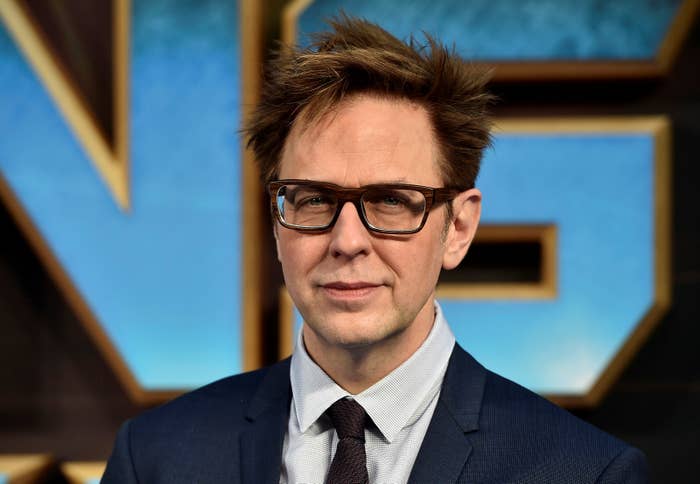 Disney fired James Gunn as writer and director of the third installment of the Guardians of the Galaxy franchise on Friday after conservative activists unearthed old tweets in which the filmmaker made jokes about pedophilia.
"The offensive attitudes and statements discovered on James' Twitter feed are indefensible and inconsistent with our studio's values, and we have severed our business relationship with him," said Alan Horn, chairman of Walt Disney Studios, in an emailed statement.
Alt-right online figure Jack Posobiec was among those who shared screenshots of old tweets from Gunn, a vocal critic of President Donald Trump, in which he made unsavory jokes about children.

In an emailed statement to BuzzFeed News, Gunn — who wrote and directed the previous two Guardians of the Galaxy films — called the tweets "unfortunate efforts to be provocative" and that he has "regretted them for many years since."
"Regardless of how much time has passed, I understand and accept the business decisions taken today," Gunn's statement continued. "Even these many years later, I take full responsibility for the way I conducted myself then."
Here is Gunn's statement in full:
My words of nearly a decade ago were, at the time, totally failed and unfortunate efforts to be provocative. I have regretted them for many years since — not just because they were stupid, not at all funny, wildly insensitive, and certainly not provocative like I had hoped, but also because they don't reflect the person I am today or have been for some time.

Regardless of how much time has passed, I understand and accept the business decisions taken today. Even these many years later, I take full responsibility for the way I conducted myself then. All I can do now, beyond offering my sincere and heartfelt regret, is to be the best human being I can be: accepting, understanding, committed to equality, and far more thoughtful about my public statements and my obligations to our public discourse. To everyone inside my industry and beyond, I again offer my deepest apologies. Love to all.
In a series of tweets posted late Thursday, Gunn expressed a similar sentiment about the resurfaced tweets, noting that when he started his career, "I viewed myself as a provocateur, making movies and telling jokes that were outrageous and taboo."
Gunn's departure will likely have a profound effect on the Guardians franchise, and Marvel Studios as a whole. To date, the Guardians films have grossed $1.64 billion worldwide, and although Marvel Studios has not yet formally announced Guardians of the Galaxy Vol. 3, Gunn had been quite public about writing the project — many expected the film would open in 2020. Gunn would have been the only filmmaker within the Marvel Studios system to have directed three films in the same series for the studio. And in an interview with BuzzFeed News in 2017, Gunn said that beyond his duties for Vol. 3, he would be working with Marvel Studios to expand the company's movies into the "cosmic" realm of Marvel Comics. "I think that they just trust me in terms of my vision of the more space opera aspects of Marvel," Gunn said.
A representative for Disney did not immediately return a request for comment about how the studio's termination of Gunn would affect the Guardians franchise moving forward.
Gunn's reputation as a self-described "provocateur" was well known for years before the offending tweets resurfaced. In that same 2017 BuzzFeed News story, Guardians star Chris Pratt said that Gunn "rides that fine line of appropriateness." Friend and fellow Marvel Studios filmmaker Joss Whedon (The Avengers) said, "There's a punk element to James that is very spiky and edgy and different. He's really funny, his work has a ton of heart, but there's a darkness." And Gunn himself said he was "a very nasty guy on Twitter" who would post "a lot of fucking edgy, in-your-face, dirty stuff."
Before he was hired to direct 2014's Guardians of the Galaxy, Gunn's creative output was indeed hard-edged and adult in nature. His previous two films, the 2006 alien invasion comedy Slither and the 2011 superhero satire Super, were R-rated and filled with deliberately disturbing scenes featuring bloody violence and rape. And Gunn's first break into filmmaking was writing the 1997 schlock classic Tromeo and Juliet, in which pitch-black jokes about rape, pedophilia, and incest abound.
Gunn brought that dark perspective to the Guardians movies, but in his 2017 interview with BuzzFeed News, he made clear that once he was hired by Marvel and Disney, he realized he couldn't post the same "edgy" material to Twitter.
"I thought that that would be a hindrance on my life," he said. "But the truth was it was a big, huge opening for me. … By not having jokes to make about whatever was that offensive topic of the week, that forced me into just being who I really was, which was a pretty positive person. It felt like a relief."