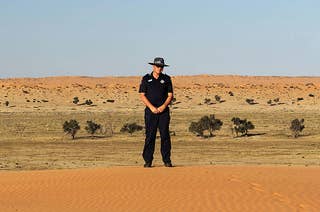 The longest serving officer at Australia's most remote police outpost, Neale McShane is about to retire. But first, one last big weekend watching Birdsville, population 80, become an unlikely — and ill-suited — tourist destination Nearly 8 million people have watched a single YouTube video of airplanes taking off and landing. Welcome to the world of planespotters — or "jetrosexuals," or "cloud bunnies" — air travel's biggest fans.
When a pair of Australian DJs went viral by prank calling the London hospital treating Kate Middleton last December, they were lionized at home and vilified in the U.K. Then the nurse who answered the phone committed suicide amid the outrage, raising questions about mental health, privacy, and the very definition of a joke. What responsibility do pranksters have to their victims?