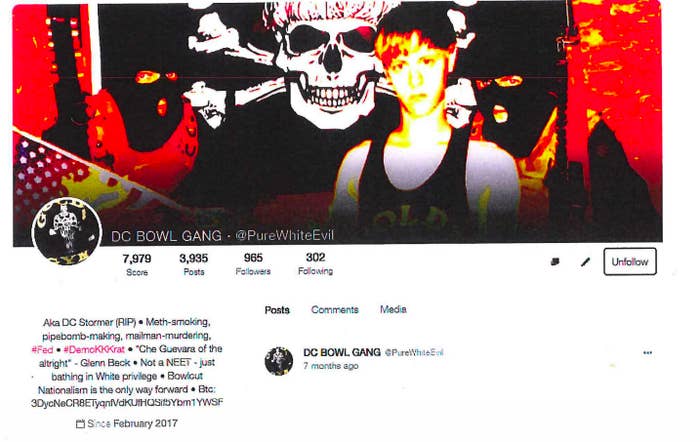 WASHINGTON — Federal prosecutors in Washington, DC, have walked back a statement in court filings linking a white supremacist arrested on firearms charges with the alleged Pittsburgh synagogue shooter.
In a criminal complaint unsealed Nov. 13 in federal district court in Washington, an FBI special agent stated that the defendant, DC resident Jeffrey Clark Jr., posted a photo of alleged Pittsburgh shooter Robert Bowers on the social network Gab, known as a hub for the alt-right, and the comment: "Nah he was BASED! Get used to it libtards. This was a dry run for things to come."
The agent wrote: "This statement implies that Jeffery Clark did know more about the attack in the Tree-of-Life synagogue, and that there was more to come."
But at a detention hearing for Clark on Friday, Assistant US Attorney John Cummings told the judge that the government now believed Clark was referring to the arrest of Cesar Sayoc, the man charged with sending explosive devices to CNN and a number of current and former Democratic officials. Clark had also posted what appeared to be a photo of Sayoc's van.

Clark's lawyer, David Bos, asked US Magistrate Judge G. Michael Harvey to free Clark pending trial, and argued that in light of the government's change in position about the meaning of Clark's posts — and after numerous media outlets, including BuzzFeed News, ran stories highlighting Clark's apparent reference to the synagogue shooting — the judge should be skeptical about the prosecution's representations now.
Harvey ultimately granted the government's request to keep Clark held pending trial. He found that given the combination of the evidence against Clark related to his possession of firearms, drug use, and threatening statements online — the judge said it appeared Clark wanted to start a race revolution — Clark posed a danger to the community.
The judge did press Cummings about the shifting interpretations of Clark's Gab posts. Cummings said that when Clark made his initial appearance in court on Nov. 13, Cummings told the judge that they were continuing to investigate Clark's statements. Once prosecutors had more information, he said they told Clark's lawyer and noted it in the written request for pretrial detention filed the day before the hearing.
Clark, wearing an orange prison uniform, did not speak for most of Friday's hearing. He did not appear to have a strong reaction when the judge announced he would stay in custody pending trial. Harvey told Clark that he could appeal the judge's decision with the US district judge taking over the case, and Clark said he understood.
Clark is due back in court before US District Judge Timothy Kelly for a status hearing on Nov. 27.
A federal grand jury returned an indictment against Clark on Thursday, charging the DC resident with unlawfully possessing firearms as the user of a controlled substance, which is a felony. Cummings said there was evidence Clark smoked marijuana — which is legal to possess in DC but still illegal under federal law — on a daily basis. He was also charged with possessing a large-capacity ammunition magazine in violation of DC law.
Clark entered a plea of not guilty on Friday. His lawyer hinted at possible future First Amendment and Second Amendment challenges in the case. The judge noted that the federal firearms-plus-drugs charge Clark faced was rarely used.
According to the FBI agent's affidavit in the original criminal complaint, Clark had posted online that the victims of the Pittsburgh synagogue shooting "deserved exactly what happened to them and so much worse." After the shooting, two of Clark's relatives contacted the FBI to express concern that he was a danger to himself and others. When the relatives went to check on Clark, he gave them four boxes of "parts to weapons" that weren't registered to Clark or to his brother, who committed suicide hours after the Pittsburgh attack, according to the FBI.
Law enforcement recovered multiple firearms — most registered to Clark or his brother, but one gun that was not — as well as evidence of marijuana use, according to Cummings. The FBI agent's earlier affidavit noted that Clark's Gab profile included the phrase "Meth-Smoking" as part of his self description, but Cummings said a drug test didn't find any evidence of methamphetamines.
If convicted of the more serious felony charge, Clark faced an estimated sentencing range of 15 to 21 months in prison, given his lack of previous criminal history.