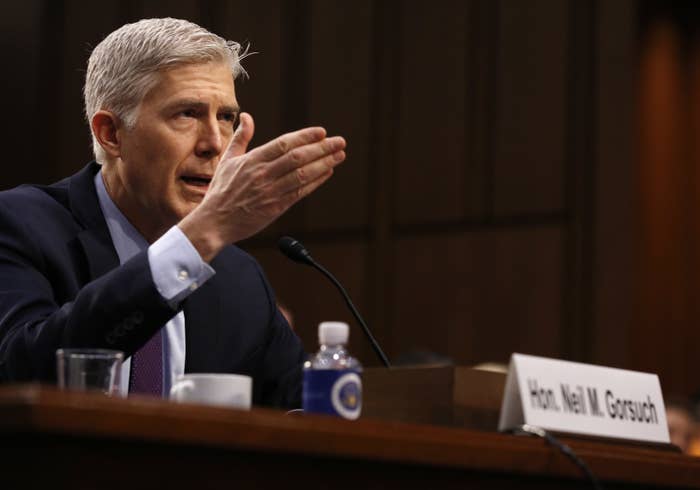 WASHINGTON — Asked if he would have any trouble ruling against President Trump, US Supreme Court nominee Judge Neil Gorsuch said on Tuesday that he would have "no difficulty" ruling for or against any person.
Even Gorsuch himself called it a "softball" question, answering that he would make decisions "based on what the laws and facts in the particular case require."
That question, from Senate Judiciary Committee Chairman Chuck Grassley, kicked off the second day of Gorsuch's confirmation hearing. Gorsuch early on stressed his commitment to judicial independence, twice talking about how there are no Democrat or Republican judges.
Later, Vermont Sen. Patrick Leahy asked Gorsuch about Trump's contested executive orders temporarily blocking travel from certain Muslim-majority countries and suspending the US refugee program. Gorsuch said that the Constitution guaranteed the free exercise of religion and due process — and that the Supreme Court had held that undocumented immigrants had due process rights — but that it would be "grossly improper" for him to say how he would rule in a specific case.
Leahy asked if the president's national security determinations could be reviewed by a court.
"Senator, no man is above the law," Gorsuch replied, a line that he would repeat several times, at one point specifically saying that it was true for the president of the United States.
The question of whether Gorsuch would show independence from the president who has nominated him became a recurring theme in the opening hours of what is expected to be a long day of questioning for the nominee.
Trump said during the campaign that he would choose a justice in the same conservative vein as the late Justice Antonin Scalia, and specifically said he would nominate someone who would reverse Roe v. Wade. Gorsuch said he was aware of discussion during the presidential campaign about litmus tests — he did not mention Trump by name — but said he did not believe in litmus tests for judges.
"I wasn't about to become party to such a thing," Gorsuch said. He said later that at no time during the nomination process did anyone ask him to make any commitment or promise to rule a certain way in a case.
Asked specifically about Roe v. Wade, Gorsuch said he recognized it as court precedent, but avoided discussing whether he agreed or disagreed with it. He gave a similar response to questions about other big Supreme Court decisions, such as the Heller case about the Second Amendment right to keep firearms in the home. Pressed by Ranking Member Dianne Feinstein, Gorsuch acknowledged that Roe had been reaffirmed many times.
Later, Sen. Lindsey Graham raised the question directly, asking, "Did Trump ask you to overrule Roe v. Wade?" When Gorsuch said no, Graham asked what he would have done if Trump had done so.
"Senator," Gorsuch replied, "I would have walked out the door."
Gorsuch told the committee that he did not get any advance notice from Trump's campaign last year that Trump, then a candidate, planned to include him on his second short-list of possible Supreme Court nominees.

Gorsuch said he learned the news just after having breakfast with a legal scholar who coincidentally had been asking him how he felt about the fact that Trump hadn't included him on his first Supreme Court list. Gorsuch said he replied at the time that he was content with his life in Colorado; he's served on the US Court of Appeals for the Tenth Circuit in Denver since 2006.