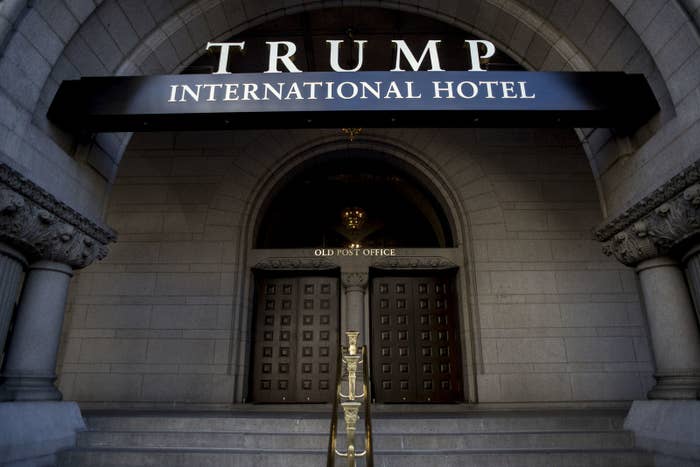 In the first four months of 2017, the Trump International Hotel in Washington, DC, reportedly earned nearly $2 million in profits. That success is fueling a legal challenge to President Donald Trump's decision to hold on to his stake in his business empire.
Just how competitive the Trump hotel has become since Trump took office featured prominently in arguments Thursday before a federal judge in Maryland over Trump's efforts to get a lawsuit filed by the Democratic attorneys general of Maryland and the District of Columbia dismissed.
The case is one of three filed last year accusing Trump of violating the Domestic Emoluments Clause and the Foreign Emoluments Clause — two provisions of the US Constitution that prohibit federal officials from receiving "emoluments," generally defined as payments or other financial benefits, from domestic or foreign government actors.
Trump's eponymous hotel in downtown Washington opened in October 2016, shortly before the presidential election. Trump handed over control of the Trump Organization to his two adult sons when he became president, but he did not divest his interests in the business. Trump pledged to donate profits from foreign governments at his hotels to the US Treasury, but the Associated Press reported this week that no payments were made so far.
Over the course of nearly five hours of arguments on Thursday, lawyers for Maryland and DC alleged that Trump's ties to the hotel since he took office had unfairly skewed the local hospitality market, to the disadvantage not only of other hotels and restaurants, but also businesses that DC and Maryland had a direct stake in, such as DC's convention center.
Trump, through his DC hotel as well as other businesses, had accepted financial benefits from state and foreign governments and would continue to do so in violation of the Constitution absent action by the court, they said.
"It is not mere speculation whether these clauses will or won't be violated by the president," Maryland's solicitor general Steven Sullivan argued. "The president has received, is receiving, and will continue to receive prohibited emoluments."
In asking the judge to dismiss the case, the Justice Department is arguing that DC and Maryland lack standing to sue — that is, that they failed to claim imminent, concrete harms from Trump's business ties, that they lacked legal authority to sue Trump on behalf of local businesses, and that being protected against business competition wasn't what the Constitution's framers had in mind with the emoluments clauses.
"It's not enough for the plaintiffs to speculate about possible, future harm, or objectively reasonable future harm," argued Brett Shumate, a deputy assistant attorney general in the Civil Division.
Another emoluments clause lawsuit was dismissed in December by a federal judge in Manhattan, who found the plaintiffs lacked standing. There were signs Thursday that the case in Maryland could make it past that first hurdle.
US District Judge Peter Messitte suggested that he wasn't convinced by the New York judge's December opinion, which dismissed a case filed by the government watchdog group Citizens for Responsibility and Ethics in Washington (CREW) and representatives of the hospitality industry. At one point, Messitte told Shumate to stop citing the ruling. A lawyer for the plaintiffs in the New York previously told BuzzFeed News that they would appeal the dismissal, but have yet to do so. CREW is also co-counsel with lawyers from Maryland and the District in the Maryland case.
Messitte kicked off arguments by telling the lawyers that his sense was that unless the Justice Department showed him that there was something that disqualified the case from going forward, there might be a need to let it go "another step."
The Maryland case isn't limited to Trump's DC hotel. DC and Maryland also argue that they're harmed by Trump's interest in his businesses because it gives other states the opportunity to influence the president. The challengers argued Thursday that if officials in one state could take actions that benefited Trump — for instance, if Palm Beach County, Florida, assumed the cost of closing streets for Trump's Mar-a-Lago Club — that meant other states and the District were no longer on equal footing in their dealings with the federal government.
Shumate replied that DC and Maryland were arguing about abstract political harms, not specific harms to their respective jurisdictions that would give them grounds to sue.
But even the issue of states' influence on Trump came back to the DC hotel. Sullivan cited news reports that the governor of Maine and his staff paid thousands of dollars to patronize the hotel and its restaurant during visits to Washington last year, including for meetings with administration officials to lobby for policy changes to allow more commercial logging in the state.
Sullivan didn't go so far as to say the money Maine officials spent at the Trump hotel actually influenced Trump's decision-making, but he said the scenario presented the kind of harm that the Constitution's drafters wanted to prevent.
Sullivan and DC's deputy solicitor general Loren AliKhan also noted that the governments of Bahrain and Kuwait held events at the DC hotel after Trump was elected, and argued that they took that business away from other local hotels where they'd held similar events in the past. AliKhan said there were dozens of restaurants in DC that competed with the Trump hotel for meeting and event space.
Shumate argued the economic loss arguments raised by DC and Maryland were too speculative for the case to survive.
At the end of the hearing, Messitte asked all the lawyers what they thought the next steps in the case would be if he denied Trump's motion to dismiss. AliKhan and Sullivan said that they'd seek to collect business records from the Trump hotel in Washington as well as the Trump Organization, to get a better sense of the universe of payments to Trump businesses that might be relevant to the case.
Messitte did not rule from the bench. He said he would try to get a decision out as quickly as possible.
UPDATE
Updated with information about CREW's role in the Maryland case.