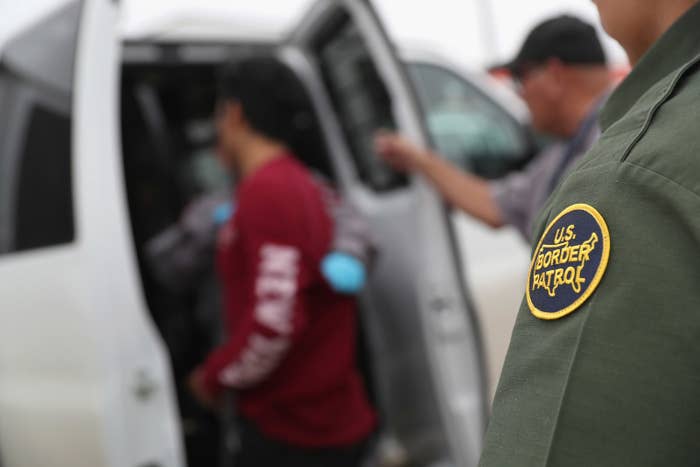 WASHINGTON — President Trump's proposed budget announced on Thursday includes $80 million in funding to create 75 more immigration judgeships, a boost in ranks that immigration judges have long pushed for to tackle a backlog of more than a half million cases.
There are 300 immigration judges, out of 374 seats funded by Congress. Trump's budget would provide funding for 449 immigration judges and support staff.
Even before Trump took office and signed executive orders that called for an increase in US border enforcement and ramped up deportation of immigrants in the United States illegally, immigration courts were strained. By the end of January, there were more than 540,000 cases pending. Lawyers reported having hearing scheduled several years out.
There were more than 50 immigration judge candidates at various stages of the hiring process by late February, a Justice Department spokeswoman previously told BuzzFeed News. Immigration Judge Dana Marks, president of the National Association of Immigration Judges, confirmed recent reports that the federal government-wide hiring freeze that Trump ordered when he took office will not apply to immigration judges and court staff.
Although more funded judgeships would be good news for immigration courts, it still could be months or even years before all those seats are filled. Immigration judges and lawyers have told BuzzFeed News that the hiring process can take as long as three years.
"While we welcome the increase of our authorized number from 374 to 449, we remain seriously concerned that even that number will be insufficient over the long run," Marks said in an email to BuzzFeed News. "We are hopeful that this will be just the first step in a thorough assessment of the required resources needed for our nation's immigration courts to function at optimal efficiency and fairness."
A Justice Department spokeswoman said in an email that the Executive Office for Immigration Review, which manages the immigration courts, supports Trump's budget.
One of Trump's executive orders called for the deployment of immigration judges to the US border to handle cases there. Reuters reported earlier this month that 50 judges would be deployed, although it wasn't immediately clear if those judges would all travel at one time, or in shifts.

Trump's budget would also include funding for 60 additional border enforcement prosecutors. Cases in immigration courts are prosecuted by the US Department of Homeland Security.
Immigration courts are an arm of the US Department of Justice, which is why they're included in the president's budget for the executive branch. The federal judiciary, which includes federal district, appeals, and other courts that are independent of the executive branch, submits its own budget request to Congress.
Former immigration judge Paul Schmidt said in an email to BuzzFeed News that he was troubled by the language the president used in his budget request. The request says that the additional funding for immigration judges "combats illegal entry and unlawful presence in the United States."
"Immigration Courts are supposed to be about due process, fairness, and impartial adjudication, not 'combatting illegal entry and unlawful presence.' That's DHS's job," Schmidt said. "So, the Administration misconstrues the overriding purpose of the Immigration Courts."
UPDATE
Updated with a comment from the Justice Department.