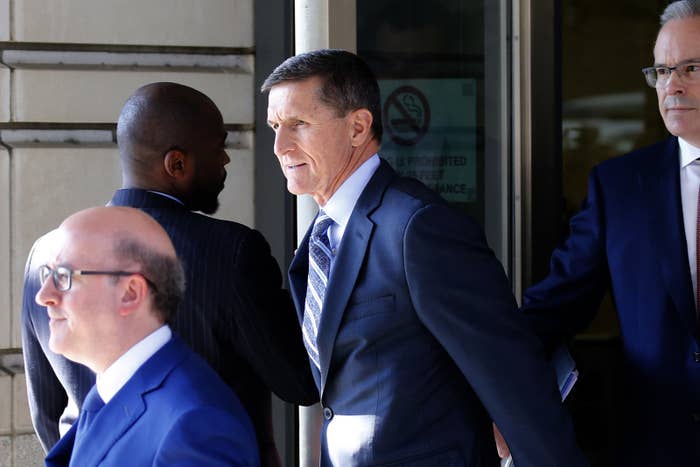 Former national security adviser Michael Flynn pleaded guilty on Friday to making false statements, but his sentencing is being delayed while he cooperates — a sign that the special counsel probe won't be over by the end of the year, contrary to President Donald Trump's reported predictions.
Flynn pleaded guilty to one count of making false statements to the FBI in January. As part of the plea deal Flynn reached with special counsel Robert Mueller's office, Flynn agreed to cooperate with the government, with the understanding that if he's helpful, prosecutors will ask the judge to consider a reduced sentence.
Flynn agreed to delay his sentencing until his cooperation is complete. When asked by the judge on Friday how much time the government wanted before they filed an update with the court, the special counsel prosecutor suggested three months — which would go into March 2018. The judge, however, set a due date of Feb. 1 for a status report.
The 2018 date undermines assertions by both Trump and White House lawyer Ty Cobb in recent weeks that Mueller's probe would finish and Trump would be exonerated by the end of the 2017 or, per Cobb, by the end of the year or soon after, as reported by the Washington Post. It's not even guaranteed that Flynn's cooperation will end by Feb. 1 — that's just the date when prosecutors have to update the court. The government could then ask for more time.
Cobb said in a statement on Friday that, "The conclusion of this phase of the Special Counsel's work demonstrates again that the Special Counsel is moving with all deliberate speed and clears the way for a prompt and reasonable conclusion."

The White House this fall has downplayed the anticipated duration of the special counsel's work. When the first round of charges stemming from Mueller's office were announced in late October — against former Trump campaign chair Paul Manafort, Manafort's longtime associate Rick Gates, and former campaign adviser George Papadopoulos — White House Press Secretary Sarah Huckabee Sanders told reporters that they expected the probe to "conclude soon."
But at that point, there were indications that the investigation was far from over. At a sealed plea hearing for Papadopoulos on Oct. 5 — he pleaded guilty to one count of making false statements — special counsel prosecutor Aaron Zelinsky described the investigation as "large-scale" and said that Papadopoulos' case was "a small part," according to a transcript.

A sentencing date hasn't been set yet for Papadopoulos. Zelinsky said at the Oct. 5 hearing that Papadopoulos was cooperating with the investigation, and his plea deal, like Flynn's, includes a section stating that his sentencing may be delayed while he's working with Mueller's team. The lawyers are scheduled to check in with the court by phone on Jan. 22.
Flynn agreed to "cooperate fully, truthfully, completely, and forthrightly" with Mueller's office and other law enforcement authorities on "any and all matters" that the special counsel's office considers relevant. His cooperation could include interviews, giving written statements, taking a polygraph exam, and participating in undercover law enforcement activities, according to the plea agreement.
He's required to turn over evidence of any crimes that he's aware of, and to testify before grand juries or at trial if the special counsel's office believes he has relevant testimony.
Mark Lee, a white collar defense lawyer and former federal prosecutor, said that with a cooperator as high up in the chain as Flynn, Mueller's team will be taking the time to make sure they've learned all they can from him, as well as to consult with him on any information they're getting from interviews with other individuals and other evidence.
"You are going to have to do all of your diligence to make sure you're checking what Mr. Flynn knew against what other witnesses told you, the other information, and objective evidence," Lee said. "It could be a lengthy process."