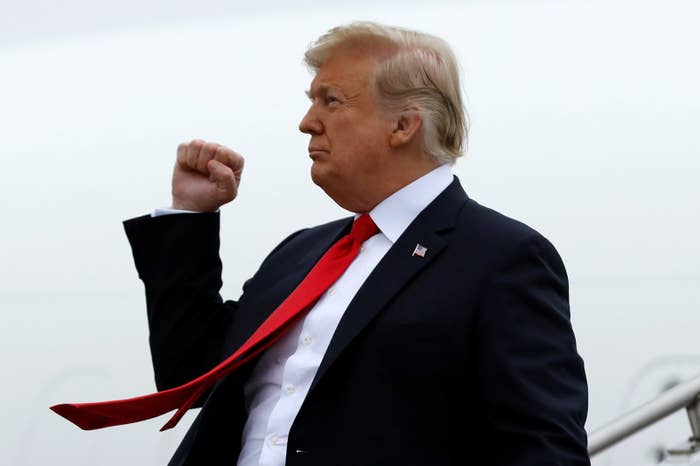 WASHINGTON — Justice Brett Kavanaugh's confirmation to the US Supreme Court over the weekend is a double win for the Trump administration, not only securing a conservative majority on the high court but also opening up a new seat for President Donald Trump to fill on an influential federal appeals court.
Kavanaugh's former court, the US Court of Appeals for the DC Circuit, is often referred to as the second-most powerful court in the country. It's the primary venue for fights over executive power, federal regulations, and political controversies — last month, the court heard arguments about the Trump administration's authority to stop pregnant undocumented teens from getting abortions, and next month will take up a challenge to special counsel Robert Mueller's authority.
It's also long been a springboard to the Supreme Court. DC Circuit alumni include Chief Justice John Roberts Jr.; justices Ruth Bader Ginsburg and Clarence Thomas; and the late justice Antonin Scalia. Whoever Trump nominates will be seen as a potential future Supreme Court pick. When Kavanaugh joined the DC Circuit in 2006, his position on that court, combined with his conservative bona fides — he worked for independent counsel Ken Starr during the Clinton administration and served under former president George W. Bush — quickly put him on Supreme Court watch lists.
The White House has been waiting to actively vet candidates for Kavanaugh's seat until after his confirmation, out of respect for the process and also a healthy dose of superstition, according to one person familiar with the vetting who was not authorized to speak publicly. Other variables include the imminent departure of White House counsel Don McGahn — who has overseen the administration's push on judges — and the outcome of the midterm elections.
Still, lawyers connected to the conservative legal community in Washington told BuzzFeed News that a small number of people are already considered top contenders for Kavanaugh's seat, including Neomi Rao, the head of the Office of Information and Regulatory Affairs at the Office of Management and Budget; Kannon Shanmugam, a veteran appellate lawyer; Kate Todd, the former chief counsel of the US Chamber Litigation Center; Christopher Landau, also a prominent appellate lawyer; and US Department of Justice appellate lawyer Hashim Mooppan, who argued cases over the travel ban executive orders and the Deferred Action for Childhood Arrivals program on behalf of the Trump administration.
The White House will be looking for a nominee with solid conservative credentials and an impressive résumé. Trump's circuit court nominees so far have held clerkships with prominent conservative judges, and many served under Trump or in the Bush administration; nearly all have some connection to the Federalist Society, a conservative lawyers group that has long served as a pipeline for federal judgeships.
Other names floated as possible DC Circuit candidates include DC US attorney Jessie Liu, appellate lawyers Helgi Walker and Erin Murphy, and White House lawyer Claire Murray, who clerked for Kavanaugh and Justice Samuel Alito and was part of the team working on Kavanaugh's Supreme Court nomination.
If Republicans lose the Senate, one lawyer who spoke with BuzzFeed News on condition of anonymity suggested the White House might look for a nominee who recently went through the confirmation process with little fanfare to try to get confirmed during a lame-duck session — such as Carl Nichols, whose nomination for a seat on the US District Court for the District of Columbia is pending a final Senate vote.
Legal challenges to the Trump administration have regularly come up on the DC Circuit's docket. Looking ahead to later this year and into 2019, appeals are already being briefed on the administration's decision to terminate federal funding for teen pregnancy prevention programs, Trump's decision to end DACA, and the AT&T–Time Warner merger, which the Justice Department opposed.
There's a good chance any more appeals coming out of Mueller's investigation would go to the DC Circuit — the majority of cases filed by his office so far have been brought in the federal district court in Washington.
"Because the Supreme Court reviews such a small percentage of cases, all circuit court nominees are important, but the DC Circuit in particular plays an outsized role in resolving disputes challenging administration priorities," said Michael McGinley, a former lawyer in the White House counsel's office under Trump who worked on judicial nominations.
One thing that will make it easier for the White House to choose a nominee is the fact that DC has no formal representation in the US Senate, so the White House doesn't have to worry about getting the support of home-state senators. Democratic presidents have consulted with DC Rep. Eleanor Holmes Norton on DC federal court nominees in the past, but the Trump administration has not done so.
A White House spokesperson did not return a request for comment.
Trump has already filled one seat on the DC Circuit. The Senate confirmed Judge Gregory Katsas in late November 2017, replacing retired judge Janice Rogers Brown, a George W. Bush appointee. Katsas, who was McGahn's deputy in the White House counsel's office, was the frontrunner from the start. This time, lawyers told BuzzFeed News the field is more open.
The majority of active judges on the DC Circuit were nominated by Democratic presidents, so replacing Kavanaugh won't shift the ideological balance. Still, given the range of politically important cases that come through the court, a seat there provides judges with an opportunity to raise their profile.
Kavanaugh established himself as a prominent conservative legal voice nationwide through his opinions and dissents about the limits of federal agency power — his writings in recent years included an opinion finding the structure of the Consumer Financial Protection Bureau unconstitutional (he was later reversed by the full court); a dissent when his colleagues denied a request to reconsider upholding net neutrality rules; and a dissent when the court ruled that an undocumented teenager in US custody could get an abortion.