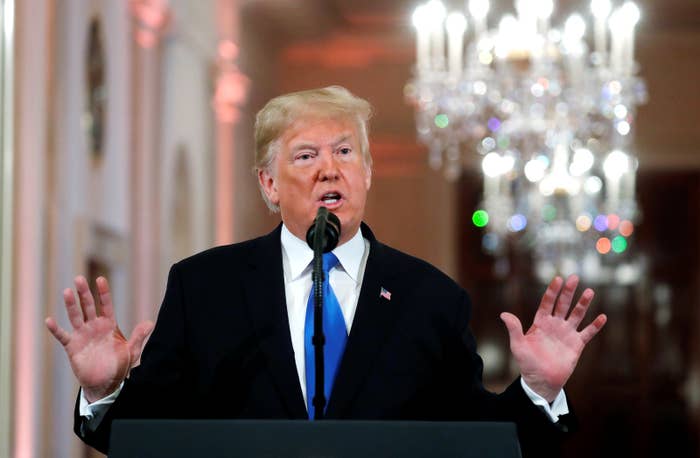 WASHINGTON — President Donald Trump on Friday signed a presidential proclamation that gives teeth to new regulations that bar individuals crossing the US–Mexico border without authorization from seeking asylum.
The proclamation takes effect at 12:01 a.m. ET Saturday, according to officials with the departments of Homeland Security and Justice, and will be in effect for 90 days. The proclamation is not retroactive and will only apply to migrants trying to enter the United States going forward. It applies to unaccompanied minors, although they'll still be covered by other legal protections for migrant children under US law; a Justice Department official appeared to say the ban wouldn't apply to unaccompanied children on a call with reporters Friday, but immigration officials and a DOJ spokesperson later clarified that it would.
The proclamation suspends entry into the United States from across the US–Mexico border. It's already against the law to cross the border without authorization, but the president's action on Friday gives legal effect to new regulations announced Thursday by DHS and DOJ that place additional restrictions on asylum-seekers.

The proclamation does not apply to people trying to enter the United States through ports of entry; those migrants can still apply for asylum through the regular processes. But migrants have reported being turned away at ports of entry, with officials citing capacity issues; immigrant advocates have accused the administration of willfully failing to address the demand. The proclamation directs the secretary of homeland security to commit "additional resources" to ports of entry at the southern border, but asked about that on a call with reporters on Friday, DHS and DOJ officials didn't provide details. An official said there were "ongoing" discussions.
The new policy is expected to be challenged in court. Civil liberties and immigrant advocacy groups have denounced the move by the administration and pointed to a section of the Immigration and Nationality Act that states that anyone in the United States can apply for asylum, regardless of whether they arrived at a port of entry.
"U.S. law specifically allows individuals to apply for asylum whether or not they are at a port of entry. It is illegal to circumvent that by agency or presidential decree," Omar Jadwat, director of the American Civil Liberties Union's Immigrants' Rights Project, said in a statement.
DHS and DOJ officials on Friday countered that US immigration law does include exceptions when it comes to who can seek asylum — for instance, people convicted of serious crimes or who pose a danger to the United States — and gives discretion to the attorney general and homeland security secretary to restrict eligibility. The proclamation states that the entry of people without authorization across the southern border "would be detrimental to the interests of the United States."

The proclamation directs the secretary of state, attorney general, and secretary of homeland security to submit a recommendation within 90 days about whether to extend the suspension. It also orders US officials to consult with Mexico "to address the approach of large groups of aliens traveling through Mexico with the intent of entering the United States unlawfully."

CORRECTION
The presidential proclamation will apply to unaccompanied children. A previous version of this story incorrectly stated that it would not.