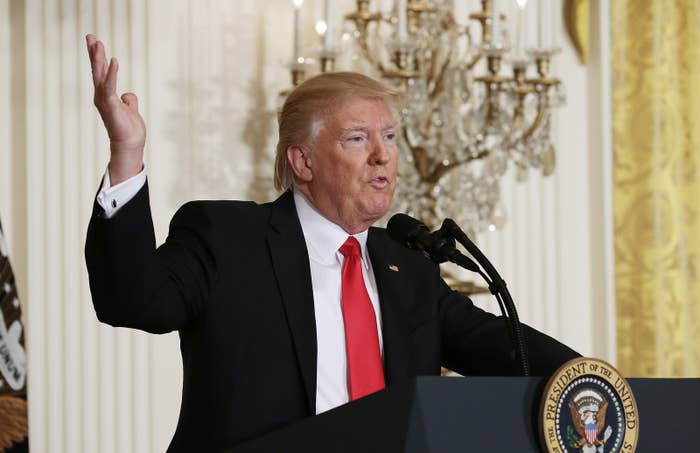 WASHINGTON — President Trump said at a press conference on Thursday that he has asked the US Department of Justice to investigate leaks from his administration to reporters.

"I've actually called the Justice Department to look into the leaks. Those are criminal leaks," he said.
Trump didn't specify if he'd asked the Justice Department to investigate any specific leaks, but his ire this week has been especially focused on information reportedly disclosed to reporters about the resignation of Michael Flynn as Trump's national security adviser and connections between Russia and Flynn and other individuals with ties to the Trump administration.
"We will decline to comment at this time," Justice Department spokesperson Peter Carr said of Trump's remarks.

On Feb. 14, the morning after news broke that Flynn had submitted his resignation, Trump tweeted:
It's not new for the federal government to pursue leaks. The Justice Department under Obama aggressively pursued investigations and prosecutions under the federal Espionage Act, more so than under previous administrations.
Obama-era prosecutions under the Espionage Act included the case against Thomas Drake, a former National Security Agency senior executive charged with leaking information related to alleged government waste to the Baltimore Sun. Prosecutors later dropped the felony charges against Drake — he was facing up to 35 years in prison — and he pleaded guilty in 2011 to a misdemeanor charge and was sentenced to community service and probation.
Drake's supporters hailed him as a whistleblower wronged, and the case was held up as an example of the Obama administration's overzealous approach to tackling leaks.
In 2013, the administration faced criticism after the Associated Press revealed that the Justice Department secretly obtained the telephone records of several Associated Press journalists as part of an investigation into leaked information about a failed terrorist attack.
Obama at the time expressed concerns about the Justice Department's investigations of journalists, and then-US attorney general Eric Holder conducted a review of the department's policies. In January 2015, Holder announced new guidelines for obtaining information from or about journalists, which require the attorney general to sign off on all subpoenas related to newsgathering activities.
In tweets this week, Trump signaled that rooting out leakers would be a priority for his administration. Yesterday morning, he tweeted:
And then on a few hours before his Thursday press conference, he sent out another round of tweets.