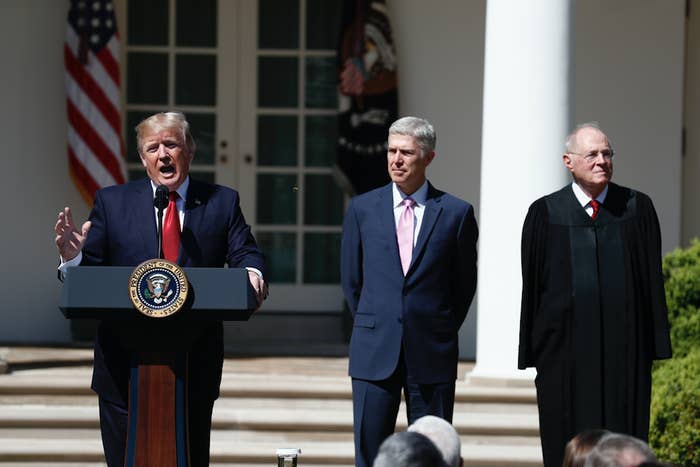 President Donald Trump is set to act quickly to name a nominee to replace Justice Anthony Kennedy on the US Supreme Court, now that Kennedy's announced he's stepping down at the end of July.

Trump made the unusual move of sharing a list of high court contenders during the 2016 campaign, and he has added to that list since he took office. The White House has said Trump will select the next Supreme Court nominee from the 25 names announced to date — giving both conservatives and liberals a head start in preparing for the upcoming confirmation fight.

Speaking to reporters in the Oval Office on Wednesday shortly after Kennedy announced his retirement, Trump said the replacement process would "begin immediately," and confirmed that he still planned to choose a nominee from his current list.
"Hopefully, we will pick someone who is just as outstanding," Trump said of Kennedy.
Later at a rally in North Dakota, Trump told supporters he was also honored by Kennedy's timing.
"I'm very honored that he chose to do it during my term in office because he felt confident in me to make the right choice and carry on his great legacy," he said.
With Republicans in control of the US Senate, there is nothing Democrats can do to block Trump from getting his nominee confirmed if no Republican switches sides. It took two months last year for the Senate to confirm Justice Neil Gorsuch; at that pace, Kennedy's announcement gives the White House plenty of time to get another nominee through before the midterm elections in November. Senate Majority Leader Mitch McConnell has made clear that getting judges confirmed is a top priority, and that will be especially true for the Supreme Court.
Although they lack the votes in the Senate, Democrats are expected to fight whoever Trump chooses. A new liberal advocacy group launched this year to oppose Trump's judicial nominees, Demand Justice, has already been running digital ads critical of judges on Trump's list, calling their campaign, "Ditch the List." Advocacy groups on both sides are likely to spend millions of dollars on the fight over Kennedy's successor.
The Judicial Crisis Network, which supports the nomination of conservative judges to the federal bench and had pledged to spend up to $10 million to support Gorsuch's nomination, announced Wednesday afternoon that it is launching a seven-figure digital and cable ad campaign supporting Trump's shortlist of nominees. The ad buys will be targeted at "vulnerable Democratic incumbents," according to the group's press release.
There are a few clues as to where the White House might be leaning as far as nominees to replace Kennedy. In the past year and a half, Trump has gotten a number of state supreme court justices on his list confirmed to seats on the federal appeals courts, a common launching pad for future Supreme Court justices. Amid criticism about the lack of racial diversity among Trump's judicial nominees, Republicans have stressed the number of women they've gotten confirmed to the circuit courts, suggesting that may be a focus in narrowing down the list.
The judicial nomination process largely takes place in secret, with the White House and Justice Department quietly vetting candidates and trying to keep names under wraps until the background check is done and the administration is ready to announce the president's pick. But in May 2016, then-candidate Trump took the unusual step of releasing a list of potential Supreme Court nominees. At the time, he said that the Federalist Society, the nation's leading conservative lawyers group, and the Heritage Foundation, a conservative think tank, had helped him craft the list.

Federalist Society executive vice president Leonard Leo will be serving as an outside advisor to Trump on the Supreme Court vacancy — a role he played last year on Gorsuch's nomination — and will take a leave of absence from the organization as of Wednesday, according to a spokesman. Leo released a statement praising Kennedy as "a most dedicated public servant"; he did not immediately return an interview request.
Leo said in a statement that he expects Trump's nominee for Kennedy's seat "to be like Justice Gorsuch, to demonstrate excellence in every respect, and to earn widespread support from the American people, and bipartisan support for confirmation in the Senate."

The first iteration of Trump's Supreme Court shortlist featured 11 state and federal court judges, all of whom were chosen by Republican presidents or governors. From the federal courts at the time: Third Circuit Judge Thomas Hardiman, Sixth Circuit Judge Raymond Kethledge, Seventh Circuit Judge Diane Sykes, Eighth Circuit Judge Raymond Gruender, Eighth Circuit Judge Steven Colloton, Eleventh Circuit Judge William Pryor Jr.

Last year, Hardiman and Pryor were reportedly among Trump's top candidates for the late justice Antonin Scalia's seat.
Of the five state supreme court judges on the list, four have been confirmed to federal appeals court judgeships since Trump took office: Fifth Circuit Judge Don Willett, formerly of the Texas Supreme Court; Sixth Circuit Judge Joan Larsen, formerly of the Michigan Supreme Court; Tenth Circuit Judge Allison Eid, formerly of the Colorado Supreme Court; and Eighth Circuit Judge David Stras, formerly of the Minnesota Supreme Court. The list also included Utah Supreme Court Justice Thomas Lee.
After Trump secured the Republican nomination, he released a list of 10 more names in September 2016 — his campaign touted the list in an effort to convince wary Republicans to back his candidacy. This list included one senator — Sen. Mike Lee of Utah — and a mix of state and federal judges, including then-Tenth Circuit Judge Neil Gorsuch, who would ultimately get the nomination for Scalia's seat. Gorsuch was confirmed by a 54-45 Senate vote in April 2017.
Other names on the second list were: Sixth Circuit Judge Amul Thapar, a former federal district judge in Kentucky who was Trump's first lower court nominee in 2017 and has long been backed by McConnell, and who also interviewed with Trump for Scalia's seat — he also ; Tenth Circuit Judge Timothy Tymkovich; Judge Margaret Ryan of the US Court of Appeals for the Armed Forces; Iowa Supreme Court Justice Edward Mansfield; Georgia Supreme Court Justice Keith Blackwell; Florida Supreme Court Justice Charles Canady; Florida federal district court judge Federico Moreno; and Michigan Supreme Court Justice Robert Young.
The White House announced in November that Trump had added five more names to the list. It included four judges who already had been confirmed or nominated to a federal judgeship under Trump: Seventh Circuit Judge Amy Coney Barrett, Eleventh Circuit Judge Kevin Newsom, Georgia Supreme Court Justice Britt Grant, who has been nominated for the Eleventh Circuit, and Oklahoma Supreme Court Justice Patrick Wyrick, who has been nominated for a federal district judgeship. The latest additions also included DC Circuit Judge Brett Kavanaugh, a former senior White House official in the George W. Bush administration — and former Kennedy clerk — who has long been considered a favorite for the high court.
UPDATE
Updated with information about a new ad campaign from the Judicial Crisis Network.