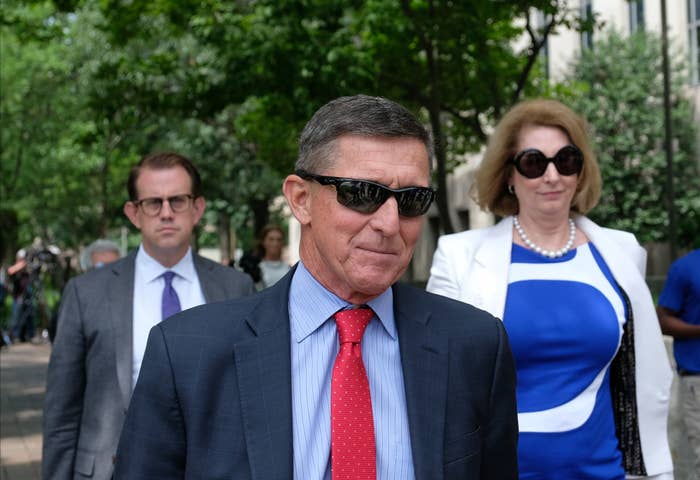 WASHINGTON — President Donald Trump announced on Wednesday that he had pardoned Michael Flynn, his former national security adviser who pleaded guilty to lying to the FBI as part of the investigation into Russian interference in the 2016 election.
"It is my Great Honor to announce that General Michael T. Flynn has been granted a Full Pardon," Trump wrote on Twitter. "Congratulations to @GenFlynn and his wonderful family, I know you will now have a truly fantastic Thanksgiving!"
Flynn's pardon didn't come as a surprise, although it did underscore speculation that Trump would use his final months in office to reward allies who were still under the cloud of a federal prosecution or investigation. Trump has repeatedly and publicly denounced the criminal case against Flynn, which began under former special counsel Robert Mueller, and backed the Department of Justice's effort this year to drop the case entirely.
Flynn originally appeared in court to enter a guilty plea in December 2017 — but he hadn't been sentenced yet, which meant there was no final judgment on the record making his conviction official. The Justice Department moved to dismiss the case earlier this year, but US District Judge Emmet Sullivan had yet to rule on whether he would allow that to happen by the time Trump announced the pardon.
It was Trump's 29th pardon or act of clemency, and his first exercise of clemency since the Nov. 3 election; he can issue pardons and commute sentences related to federal criminal cases up until President-elect Joe Biden is sworn in on Jan. 20, 2021. The president's clemency power does not extend to cases brought by state prosecutors.
In the weeks since the election, Sidney Powell, Flynn's lawyer, has publicly backed Trump's legal efforts to contest Biden's win, at one point appearing at a press conference with campaign lawyers Rudy Giuliani and Jenna Ellis; the campaign later tried to distance itself from Powell as she promoted baseless conspiracy theories about foreign interference with voting equipment and claimed public officials, including Republicans, had been paid off.
Flynn is the first former Trump administration official to receive presidential clemency, but the president has used the power before to benefit supporters. Trump's first pardon in 2017 went to Joe Arpaio, the former sheriff of Maricopa County, Arizona, who backed the president's hard-line immigration policies. Earlier this year, Trump commuted Roger Stone's sentence; the former campaign adviser and longtime ally, like Flynn, faced criminal charges from Mueller's investigation.
Flynn admitted to lying to the FBI about his contacts with a Russian official in late 2016 and agreed to cooperate with Mueller's investigation. But by summer 2019, he had dramatically changed course, attacking the prosecution and attempting to withdraw his plea. There were signs early this year that Attorney General Bill Barr might step in on his behalf; the New York Times reported in February that Barr had tapped the US attorney in St. Louis, Jeffrey Jensen, to examine how Flynn's case had been handled.
In May, the Justice Department notified Sullivan that it no longer wished to pursue the case against Flynn, citing newly discovered evidence from Jensen's probe that Barr and other senior department officials argued undermined the validity of the prosecution. None of the career prosecutors involved in the case signed on to those court filings, and Democrats swiftly denounced the move as a political ploy to reward a Trump ally and bolster the president's effort to undermine Mueller's work.
The Justice Department couldn't just drop the case on its own, however — it had to get the judge's approval. In the months that followed the May announcement, Flynn's case became mired in legal complications. The government and Flynn had objected to Sullivan's plan to hold a hearing to probe the department's decision to dismiss the case, as well as the judge's appointment of an outside lawyer — former federal judge John Gleeson — to present opposing arguments now that Flynn and the Justice Department were on the same side.
In a 2–1 decision in June, a panel of the US Court of Appeals for the DC Circuit agreed with the Justice Department and Flynn, ordering Sullivan to grant the motion to dismiss the case. Two months later, though, the full DC Circuit reversed that decision and sent the case back to Sullivan. A majority of the judges concluded it was premature for the appeals court to consider the case before Sullivan finally ruled on the department's request to dismiss Flynn's case.
Sullivan heard arguments on Sept. 29. A week later, Flynn's legal team filed a motion arguing that Sullivan should recuse; the judge, represented by his own lawyer, had opposed the effort by the Justice Department and Flynn to convince the DC Circuit to force him to dismiss the case. Sullivan hadn't ruled on the Justice Department's motion to dismiss the case or Flynn's recusal request by the time Trump announced the pardon.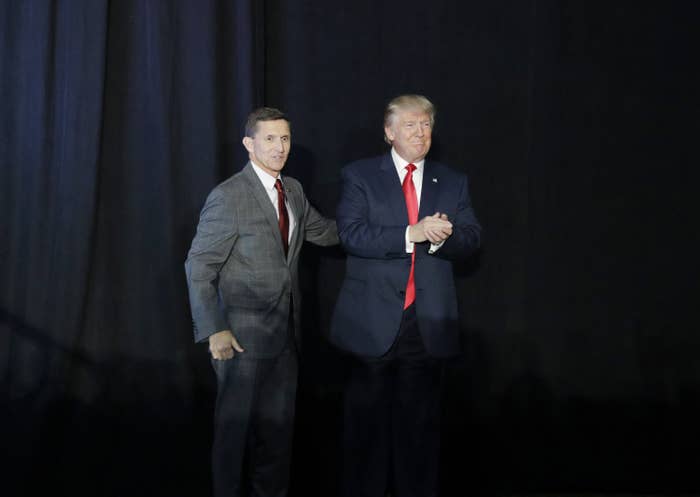 Flynn briefly served as Trump's first national security adviser. He resigned in mid-February 2017 amid reports that he had misled Vice President Mike Pence about his communications in late 2016 with Sergey Kislyak, then the Russian ambassador to the US. Several weeks before he resigned, Sally Yates, the acting attorney general, had warned the White House that Flynn could be subject to blackmail by the Russian government because it knew that he had made false statements.
In December 2017 — right after Flynn's plea deal became public — Trump tweeted that he "had to fire General Flynn because he lied to the Vice President and the FBI." But the administration's attitude toward Flynn has evolved since then. Pence told reporters in late April that he was "inclined, more than ever" to believe that any of Flynn's omissions about his contacts with Kislyak had been "unintentional."
Early on in Mueller's investigation, Flynn had been part of a joint defense agreement with Trump, but withdrew in November 2017 as he finalized a deal with prosecutors, according to the former special counsel's final report.
As part of his plea deal, Flynn admitted that during an interview with FBI agents on Jan. 24, 2017, just four days after Trump's inauguration, he had lied about interactions with Kislyak during the presidential transition period. He told agents he hadn't asked Kislyak to avoid escalating Russia's response to the Obama administration's sanctions in December 2016, when, in fact, he had. He also told agents that he hadn't asked any countries to take a specific position on a United Nations resolution about Israeli settlements, when, again, he'd discussed it with Kislyak.
Flynn was only charged with one count of making false statements regarding his contacts with Kislyak, but his plea agreement included an admission that he'd also made false statements to the Justice Department about work he'd done for the benefit of the Turkish government. In filings to the department under the Foreign Agents Registration Act, Flynn had represented that he didn't know the extent of the Turkish government's involvement in a project he was working on, when in fact Turkey was involved in overseeing it.
Flynn appeared for a sentencing hearing before Sullivan in December 2018 — but in a surprise move, he cut the hearing short and told the judge he wanted a delay.
During the hearing, Sullivan had repeatedly questioned whether Flynn wanted to be sentenced before he completely finished all possible cooperation with the government and could present the court with information about the totality of his assistance to the feds. The judge also had harsh words about the crimes Flynn pleaded guilty to, and warned that he couldn't guarantee he would avoid prison time even though he'd cooperated.
"I'm not hiding my disgust, my disdain for this criminal offense," Sullivan said at the time. Flynn took Sullivan up on his offer to delay the sentencing to allow him to finish his cooperation.
In advance of the December 2018 hearing, prosecutors had asked that Flynn get credit for his cooperation. He had met with the special counsel's office and other Justice Department offices 19 times, for a total of 63 hours, according to court filings.
But that relationship turned sour, at least publicly, starting in June 2019, when Flynn replaced his former lawyers with a new team led by Powell — a Trump supporter, Mueller critic, and regular commentator on Fox News. Trump praised the pick, tweeting on June 13 that Flynn "has not retained a good lawyer, he has retained a GREAT LAWYER, Sidney Powell."
Flynn's lawyers attacked the prosecution from multiple angles. They argued that the case should be dismissed because prosecutors had failed to fulfill a legal requirement to turn over evidence that might be helpful to Flynn's defense. But Sullivan ruled in December 2019 that Flynn's lawyers hadn't proven any violations by the government.

They tried again after the Justice Department's inspector general released a report identifying problems with applications submitted by the department to the Foreign Intelligence Surveillance Court to carry out surveillance of former Trump campaign adviser Carter Page as part of the Russia investigation. Flynn's lawyers argued the inspector general's report was proof that his case was rooted in "egregious government misconduct."
At each turn, the prosecutors handling the case argued that none of the information presented by Flynn's lawyers had changed the fact that he'd lied to the FBI, the only crime he was charged with and had admitted.
Meanwhile, Powell's campaign on television and Twitter on Flynn's behalf got Trump's attention. On April 30, the president went on a retweeting tear, sharing articles about new documents produced by the Justice Department that Flynn's lawyers said bolstered their claims of government misconduct. Although the president wouldn't publicly confirm that he planned to pardon Flynn, he tweeted, "What happened to General Michael Flynn, a war hero, should never be allowed to happen to a citizen of the United States again!"