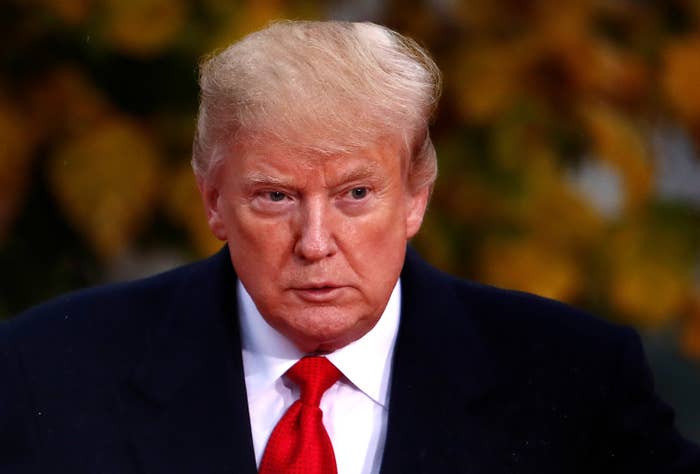 WASHINGTON — President Donald Trump announced Tuesday that he will nominate Neomi Rao, the lawyer spearheading his administration's deregulation push, for US Supreme Court Justice Brett Kavanaugh's former seat on the US Court of Appeals for the DC Circuit.
Rao was considered a frontrunner for Kavanaugh's spot from the start. She has significant expertise in administrative law, which makes up a major part of the DC Circuit's docket, as well as deep conservative bona fides — she clerked for Justice Clarence Thomas, served in the George W. Bush administration, and is a member of the Federalist Society. As a DC Circuit judge, Kavanaugh was an influential voice in favor of limiting the power of federal agencies, and Rao is expected to pick up that mantle if confirmed.
Trump announced he was nominating Rao, who is Indian American, at a Diwali ceremony at the White House on Tuesday afternoon, according to a White House pool report.

If confirmed, Rao would be the second judge nominated by Trump for the DC Circuit. Judge Gregory Katsas, a former deputy White House counsel, was confirmed in November 2018. Filing another seat on the DC Circuit would be a significant win for an administration that has already broken records getting judges confirmed to the federal bench.
The DC Circuit is often referred to as the second-most important court in the country after the US Supreme Court, both because of the major political controversies that end up there and because it's been a springboard for future justices. Three of Kavanaugh's new colleagues also previously served on the court — Chief Justice John Roberts and Justices Ruth Bader Ginsburg and Clarence Thomas — as did the late justice Antonin Scalia.
Rao's nomination was backed by Don McGahn before he stepped down as White House counsel in mid-October, according to sources familiar with the process. McGahn's top priorities as Trump's first White House counsel were the appointment of young, conservative judges and deregulation.
"Her distinguished career makes her uniquely qualified for that court. She will be oustanding and fair," McGahn said in a message to BuzzFeed News on Tuesday.
Criticism from liberal advocacy groups poured in after Trump announced Rao's nomination, focusing on her record on deregulation.

"Rao has never seen a regulation she didn't hate, and as a judge would dismantle 40 years of environmental and social progress," Brett Hartl, government affairs director at the Center for Biological Diversity, said in a statement. "Her confirmation would be the most damaging and regressive yet by Trump after Kavanaugh and Gorsuch."
The US Senate in July 2017 confirmed Rao as administrator of the Office of Information and Regulatory Affairs, an office within the Office of Management and Budget that reviews executive branch regulations. Just last month, she wrote an op-ed in the Washington Post touting the benefits of deregulation.
"We are pushing back the expansion of the administrative state, which has too often imposed immense regulatory costs without any benefit. At the same time, we work with agencies to meet the regulatory responsibilities Congress has required. Agencies now focus on developing common-sense regulatory policies that work for the American people by protecting health and safety while minimizing costly, unnecessary burdens," Rao wrote.
There are dozens of judicial nominees further along in the confirmation process, but the White House's speed in getting Rao's nomination out just a month after Kavanaugh was confirmed suggests they consider that seat a priority. It's been rare for lower court nominees to meet with Trump, but Axios reported in late October that the president had interviewed Rao.
Rao previously taught at Antonin Scalia Law School at George Mason University, where she founded the Center for the Study of the Administrative State. An alumna of the University of Chicago School of Law, Rao clerked for Fourth Circuit Judge J. Harvie Wilkinson III before clerking for Thomas. She also briefly served as a lawyer for the Senate Judiciary Committee and worked in private practice.
UPDATE
Updated with comment from Brett Hartl.
CORRECTION
Judge Gregory Katsas was confirmed to the DC Circuit in November 2017. An earlier version of this post misstated the month and year.