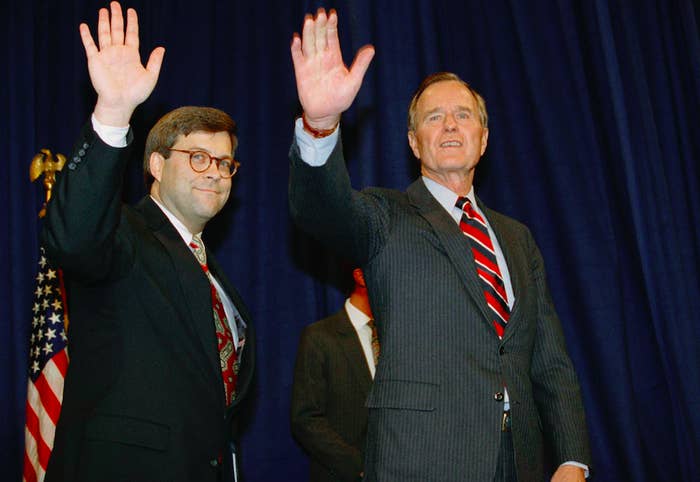 WASHINGTON — President Donald Trump announced Friday that he plans to nominate William Barr, who served as attorney general under former president George H.W. Bush, to be his next attorney general.
The announcement comes exactly one month after Trump forced out his first attorney general, Jeff Sessions, the day after the midterm elections. Trump told reporters Friday that Barr was "my first choice since day one," according to a White House pool report.
If confirmed, Barr would take over responsibility for the special counsel investigation into Russian interference in the 2016 election, assuming there are no legal or ethical reasons he can't. He'll likely face a barrage of questions from Senate Democrats about the Russia probe at his confirmation hearing, although Democrats in the new year will continue to lack the votes to block a nomination on their own.
Should Barr assume oversight of the Russia investigation, it wouldn't be the first time he's supervised special counsel Robert Mueller — Mueller led the Criminal Division at the Justice Department during Barr's time as attorney general.
Barr would take over from acting Attorney General Matthew Whitaker, who has been leading the department since Sessions left last month. In a speech on Friday, Whitaker said that Trump's decision to pick Barr "is a continuation of this law and order presidency," according to text made available by the Justice Department.
"Bill is supremely qualified, highly respected at the Department of Justice and will continue to support the women and men in blue. I commend the President for this excellent choice," Whitaker said.
There are multiple constitutional challenges to Whitaker's appointment pending in federal courts across the country; no judge has ruled on the lawfulness of his appointment yet, but hearings are scheduled to begin taking place in some of these cases later this month. Even a swift confirmation of Barr might not end the Whitaker challenges, however. Cases could still proceed challenging the validity of any actions he took while he was in office, for instance.
The Senate does not plan to act on his nomination until next year. In a statement, Senate Judiciary Committee Chair Chuck Grassley said he looked forward to working with Trump and incoming committee chair Sen. Lindsey Graham "to move forward with former Attorney General Barr's nomination in the next Congress."
Whitaker's critics have argued that, setting aside constitutional questions about whether Whitaker can serve as acting attorney general, he shouldn't oversee the Mueller probe given his previous public comments criticizing the investigation. The Justice Department has yet to confirm that Whitaker is, in fact, overseeing the Russia probe since taking office and hasn't commented on the status of any ethics review.
Barr is expected to face questions about a July 2017 Washington Post article, where he was quoted questioning Mueller's decision to hire prosecutors who had made campaign donations to Democratic candidates.
"In my view, prosecutors who make political contributions are identifying fairly strongly with a political party," Barr told the Washington Post. "I would have liked to see him have more balance on this group."
Barr is also likely to face questions about comments he's made on a host of subjects related to the Trump administration, especially his defense of some of the president's most-criticized personnel decisions.

In May 2017, Barr published an op-ed in the Washington Post defending Trump's decision to fire former FBI director James Comey. In the same piece, Barr praised the two officials overseeing the Russia investigation since Sessions had recused himself, Deputy Attorney General Rod Rosenstein and Dana Boente, who at the time was the acting head of the Justice Department's National Security Division. Barr wrote that "both men have long and exemplary service as career prosecutors in the department."
Barr previously had written an op-ed in the Washington Post in October 2016 defending Comey's decision to announce that the FBI had found additional emails in its investigation of Hillary Clinton's use of a private email server — an announcement that Clinton supporters blamed for shifting public opinion days before the election.
In February 2017, Barr wrote another op-ed in the Washington Post defending the president's decision to fire then–acting attorney general Sally Yates after she said she would not defend the president's travel ban executive order in court. He rejected arguments at the time that the ban discriminated against Muslims trying to come to the United States.
In a November 2017 article in the New York Times, Barr said he supported the prospect of an investigation into Rosatom, the Russian nuclear energy agency, securing a controlling interest in Uranium One, a Canadian company that operated in the United States. Trump had called for an investigation into Hillary Clinton's role in approving the sale when she was secretary of state (the secretary of state is a member of the Committee on Foreign Investment, which reviews these types of deals). Trump has falsely said that Clinton was responsible for the sale, according to FactCheck.org.
Barr told the Times that "there is nothing inherently wrong about a president calling for an investigation," although he said that the president's interest shouldn't be the only reason to do it.
On policy, Barr just last month indicated he would carry on much of Sessions' legacy at the Justice Department on everything from immigration and protections for transgender people to his adoption of tough-on-crime policies that had been rolled back during the Obama administration. In a Nov. 9 piece in the Washington Post that Barr coauthored with two other former attorneys general, Edwin Meese III and Michael Mukasey, the three men wrote that Sessions had been an "outstanding attorney general."
Sessions "attacked the rampant illegality that riddled our immigration system, breaking the record for prosecution of illegal-entry cases and increasing by 38 percent the prosecution of deported immigrants who reentered the country illegally," Barr, Meese, and Mukasey wrote. "Such numbers are impressive, but just as impressive has been the refocusing of the department's efforts under Sessions' leadership to protect the liberties of Americans."
They continued:
"To help restore the rule of law, Sessions has opposed sweeping nationwide injunctions by federal district courts; forbidden settlements in which the Justice Department has directed payments from settling defendants to third parties so as to circumvent the appropriation authority of Congress; withdrawn policies that expanded statutory protections based on gender identity that Congress had not provided for in law; and rescinded guidance documents previously issued by the Justice Department that were outdated, inconsistent with existing law or otherwise improper."
Barr is currently an attorney at the law firm Kirkland & Ellis in Washington. In the 25 years since he left the Justice Department, he's had a practice largely focused on corporate law — he's a former executive vice president of Verizon Communications and GTE Corporation. Barr did not immediately return a request for comment. Mark Filip, a partner at Kirkland & Ellis and a member of the firm's management committee, said in a statement that Barr "is an exceptional lawyer who has a career of distinguished service to his country, his clients and the profession. He is broadly respected for intellect, judgment and collegiality."

Barr became acting attorney general in 1991 after the departure of former attorney general Dick Thornburgh. In October of that year, Bush nominated him for the job, and he was confirmed less than a month later via an uncontested voice vote in the Senate. He had previously served as deputy attorney general and as head of the Office of Legal Counsel. He worked in the White House under former president Ronald Reagan as a lawyer on domestic policy issues.
Barr earned his law degree in 1977 from George Washington University Law School. He clerked for the late Judge Malcolm Wilkey on the US Court of Appeals for the DC Circuit. A 1991 article in the New York Times described him as "a bagpipe-player, China scholar and one-time employee at the Central Intelligence Agency who got his law degree in night school and has never prosecuted a criminal case in court."
UPDATE
Updated with comment from Acting Attorney General Matthew Whitaker.
UPDATE
Updated with a statement from Senate Judiciary Committee Chair Chuck Grassley.