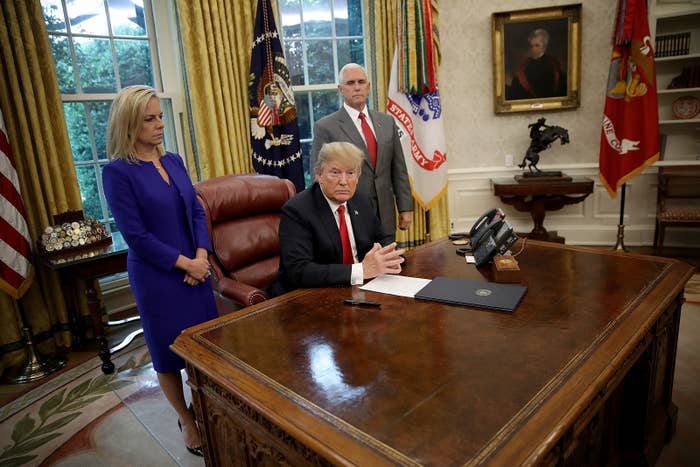 President Donald Trump signed a hurriedly drafted executive order Wednesday that addresses children being separated from their families at the border, but it was not immediately clear to what extent the order will halt border separations in the short term.
The order directs the Department of Homeland of Security to keep detained families together, but any long-term enforcement of the order is contingent on a judge approving changes to a 1997 settlement agreement that restricts the detention of children. The administration can detain families together for up to 20 days — a deadline based on earlier court rulings interpreting the 1997 settlement — but then will have to separate them absent action by a judge or Congress.

"We're signing an executive order. I consider it to be a very important executive order. It's about keeping families together, while at the same time being sure we have a very powerful very strong border and border security," Trump said in the Oval Office while flanked by Vice President Mike Pence and Homeland Security Secretary Kirstjen Nielsen.

The White House released details about the order shortly after Trump spoke. The move itself came after days of muddled responses from various administration officials, who insisted they could not resolve the issue through executive action alone.
Under the order, DHS will keep custody over families while both criminal and administrative immigration proceedings are pending. It directs the defense secretary to provide any existing facilities that could be used to detain families together, and to build more as needed; it also directs other agency heads to make facilities available for families while court cases are pending.
But for the children already separated from their parents after crossing the border, the Department of Health and Human Services was unclear Wednesday night on how or whether they would be reunited with their families, despite Trump's executive order.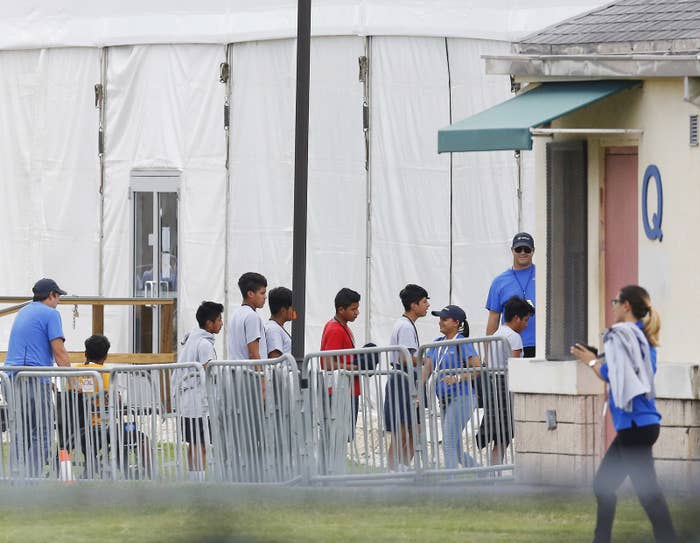 Trump's order directs Attorney General Jeff Sessions to file a request with the federal judge in California overseeing the 1997 settlement, known as the Flores Settlement Agreement, to ask for changes that would allow DHS to detain families for as long as their cases are pending, as spelled out in the executive order. Until the judge approves any changes, the government cannot hold children in facilities that don't meet the standards spelled out in the settlement past 20 days.

Gene Hamilton, counselor to Sessions, told reporters on Wednesday that the Justice Department would be filing court papers soon to ask US District Judge Dolly Gee, who sits in Los Angeles, to amend the Flores settlement agreement. But Hamilton said the Trump administration's preference is for Congress to pass legislation overriding the settlement and what he characterized as "loopholes" that allow people who enter the United States illegally to remain free while their cases are pending.
"Congress needs to provide a permanent fix for this situation and it can do so immediately," Hamilton said.

Trump himself last week said that he could not solve the border separations crisis via executive order. Asked what had changed since then, Hamilton did not directly respond, but said that the order signed on Wednesday was legal.
Immigration advocates slammed Trump's order, saying it would change little in the short term and that a policy of detaining children indefinitely was inhumane.
"Today's order is likely to have the effect of jailing families who are seeking safety for months and years," Karen Tumlin, director of legal strategy at the National Immigration Law Center, told reporters on Wednesday.

Republican Rep. Raúl Labrador told BuzzFeed News that at a meeting with members on Wednesday, Nielsen said the administration recognized that detaining families together now would violate the Flores settlement agreement, and that the Justice Department's request to change the agreement would fail. But Nielsen said the goal of the order was to buy Congress time to pass legislation.

Trump and his administration have come under withering criticism for their "zero tolerance" policy, which orders US attorney offices to prosecute all illegal entry cases referred by the Department of Homeland Security. While parents are held in criminal custody by the US Marshals Service, they are separated from their children, who are classified as unaccompanied minors and sent to a network of facilities in Texas and around the country.

Despite images of young children in cages all over cable news, Trump held firm on his "zero tolerance" position, blaming Congress and Democrats instead for the separations. Several members of the administration and White House backed him up all week, giving responses that ranged from the position not being new to one that is a deterrent for undocumented immigrants seeking to cross into the US.

The president and his cabinet members — especially Nielsen — have defended the practice with false or incomplete information, such as saying it was the "law," that it was the fault of Democrats, or by painting everyone who crosses the border as a hardened criminal. Trump made clear on Wednesday that the administration is not ending the zero tolerance policy.
"It continues to be a zero tolerance. We have zero tolerance for people that enter our countries illegally," Trump said, using the term of the policy that began the practice of separating families at the border. "I think the word 'compassion' comes into it. But it's still equally as tough, if not tougher."

The order itself came together so quickly that when it first was posted online, its title was misspelled. Republican lawmakers were told the administration was still drafting the order while they were at the White House Wednesday afternoon. Trump signed the order just a little after 3 p.m. — minutes before leaving Washington for his scheduled trip to Minnesota for a campaign rally.
Even as it's uncertain what exactly this order will accomplish, a former White House official said it's "wholly unsurprising" that Trump eventually did something to at least try to change the optics around his policy. "Who would have thought separating small children from their parents and keeping them in cages like a dog kennel for humans would play poorly with people," the official said.

As for next steps, Defense Secretary Jim Mattis on Wednesday said that his department would house immigrant children separated from their parents on its bases if it was asked to do so. He maintained it would not be a departure from the US military's usual mission.
"We have housed refugees, we have housed people thrown out of their homes by earthquakes and hurricanes," Mattis told reporters outside the Pentagon ahead of a meeting with his German counterpart Ursula von der Leyen. "We do whatever is in the best interest of the country."
The Pentagon is looking at four US bases to house unaccompanied children and detained immigrant families, although the Department of Health and Human Services would be in charge of caring for them — Fort Bliss, Goodfellow Air Force Base and Dyess Air Force Base in Texas, and Little Rock Air Force Base in Arkansas.
"Without unnecessary delay"
Border separations are already being challenged in court, with the American Civil Liberties Union pushing for a nationwide injunction that would block the administration from separating families in immigration detention absent a finding that a parent is unfit or presents a danger to the child. An order that results in the indefinite detention of children is likely to face legal challenges as well.
The Flores settlement broadly requires a policy of releasing children from immigration detention "without unnecessary delay." The settlement does not completely block the government from holding children, but it lays out a series of rules and restrictions for when that can happen, and for how long.
The settlement states that authorities must release children if detention isn't necessary to secure a child's appearance at future court dates, or isn't necessary to protect the child's safety. It includes a list of people that a child can be released to — in order of priority — starting with a parent and ending with a licensed program or another adult or organization seeking custody if there is no alternative to long-term detention, and family reunification isn't possible.
The settlement generally requires officials to place a child within five days, but there is an exception when the government is faced with an "influx" of children entering the United States — at that point, the settlement says officials must place children "as expeditiously as possible." The settlement doesn't give a specific deadline, but judges have held that a 20-day period for release would be reasonable, so that's the timing used by the Department of Homeland Security.
Trump and administration officials have said the Flores settlement ties their hands, and in one sense that is true. When a parent is prosecuted for illegal entry and is in the custody of the US Marshals Service, their children cannot come with them. And under the Flores settlement, children cannot be held indefinitely at secure immigration detention facilities; absent an adult who can take custody, they must be placed in a state-licensed program that provides education, recreation, counseling, and a range of other services, as well as a "reasonable right to privacy."
The Obama administration attempted to keep families together in immigration detention facilities and argued that the Flores settlement did not apply to accompanied children, but the US Court of Appeals for the Ninth Circuit rejected that argument in a 2016 decision. The court also held that the settlement did not give parents any release rights in these circumstances.
The court rejected the government's request to change the agreement in light of the surge of undocumented Central Americans crossing the border at the time, finding that the Flores agreement already accounted for this scenario, and still required the release of children either to an appropriate adult or a licensed facility.
The 9th Circuit said the government was correct to note that the agreement did not address "the potentially complex issues" involving parental rights when adults were arrested at the border along with their children.
If parents are held in facilities that don't comply with Flores, the administration would violate the settlement if it placed children with them there. But immigration advocates counter that given the lack of facilities that would comply with the Flores settlement, the Trump administration made a choice to separate families when it adopted the zero-tolerance policy in the first place.
The settlement does require immigration authorities to make "prompt and continuous efforts" towards reunifying families, as well as releasing children. A lawsuit filed on Tuesday in federal court in Washington, DC, accuses the administration of failing to reunite a child with his mother even after the parent was released on bond pending asylum proceedings. The ACLU's proposed class action similarly accuses officials of failing to reunite families while parents are waiting for the resolution of their asylum cases.
In another earlier case, R.I.L-R v. Johnson, a judge in 2015 blocked the Obama administration from invoking the goal of deterring mass migration in decisions about whether to detain undocumented immigrants. That case was closed after the administration said it would stop including deterrence as a factor, but left the door open to doing so in the future, with the understanding it would likely spur more legal challenges.
The plaintiffs in the Flores case are separately pursuing legal action against the Trump administration claiming violations of the settlement that are not directly related to the issue of family separation. In court papers filed in mid-April, lawyers claimed officials were moving minors from shelters into more secure facilities without giving the children an opportunity to object; getting released from a secure facility becomes "exponentially more difficult," the lawyers said. The plaintiffs also accuse officials of giving children psychotropic drugs without trying to get consent from a parent.
The Justice Department argued that the government is in compliance with the settlement terms, defending the placement of children with certain special needs, who needed greater supervision, or who had been charged with a crime in more secure facilities. The agreement did not require giving children notice in advance about placement decisions or an opportunity to object, the government said. A hearing is scheduled for June 29.
Tarini Parti, Adolfo Flores, Paul McLeod, and Vera Bergengruen contributed to this report.