Some Of Trump's Judicial Nominees Have Private Twitter Accounts They Aren't Sharing With The Public
Nominees have to tell the Senate Judiciary Committee about "published writings." Some disclose Twitter and Facebook accounts. Others don't.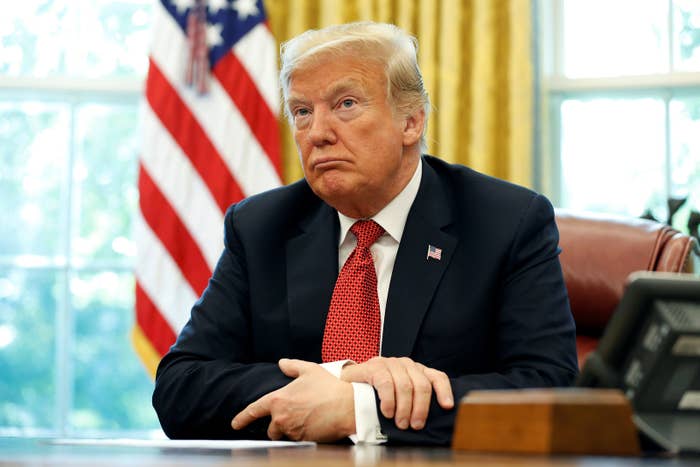 Several of President Donald Trump's judicial nominees have private, locked Twitter accounts that they didn't share with the Senate Judiciary Committee, underscoring the lack of clear rules about what nominees are required to disclose about their online lives.
Sitting judges are hesitant to join Twitter and Facebook, worried that even a well-intentioned tweet or "like" would violate ethics rules, but the new generation of younger nominees are bringing internet baggage with them to the bench. Two hundred eighty characters is more than enough space to say something controversial, and Democrats have probed Trump nominees' tweets, blog posts, and message board entries. Judge Don Willett of the US Court of Appeals for the Fifth Circuit — whose meme-filled Twitter account went viral after Trump named him as a potential US Supreme Court pick — was grilled at his confirmation hearing in November about his tweets.
A review of nominees' social media activity by BuzzFeed News showed inconsistency in what they're disclosing to committee members in their Senate questionnaires — which are public and posted online — and what they're not.
At least six of Trump's pending and confirmed nominees have locked Twitter accounts. Four of those didn't list the accounts in their Senate questionnaires; two of the nominees are new and haven't given their materials to the committee yet. A half dozen other nominees did include Twitter and Facebook accounts in their questionnaires, and produced posts from those accounts for the committee.
The Senate Judiciary Committee questionnaire directs nominees to "List the titles, publishers, and dates of books, articles, reports, letters to the editor, editorial pieces, or other published material you have written or edited, including material published only on the Internet." The question isn't limited to writings about the law or current affairs — nominees have listed horror novels, a magician's manual, and a family history book. But the questionnaire does not explicitly ask for nominees' social media accounts.
In April, court transparency advocacy group Fix the Court wrote a letter to committee chair Sen. Chuck Grassley and ranking member Sen. Dianne Feinstein asking them to amend the questionnaire to request social media handles. The committee hasn't acted on the request.
"Though I would assume that the White House and home state senators would ask a nominee about his or her social media handles as standard practice nowadays, making such a question public via [the questionnaire] would give senators and their constituents another important tool for evaluating individuals interviewing for lifetime positions," Fix the Court executive director Gabe Roth told BuzzFeed News in an email.
Social media commentary has been an issue for judicial nominees. Federal district court nominee Brett Talley withdrew his nomination last year after BuzzFeed News uncovered previously undisclosed posts on an Alabama football message board that included entries about politics, the Sandy Hook shooting, and gun control; Talley had also faced scrutiny over his legal experience.
The Trump administration has advocated a narrow interpretation of what nominees should have to disclose. In the Talley case, White House spokesperson Hogan Gidley said in an email to BuzzFeed News at the time that, "The Senate Judiciary Committee questionnaire asks for published writings and public statements — not everything that's ever been typed on a keyboard." The Justice Department in the past has considered personal accounts nonresponsive to the committee's requests.
Willett, too, faced questions about his social media use during his confirmation hearing in November, although he was ultimately confirmed. Willett, who was out of the country and could not speak over the phone, agreed to an interview via Twitter DMs with BuzzFeed News — as he called it, a "Twitterview."
Willett's social media prowess as a justice on the Texas Supreme Court was well known in legal circles by the time Trump nominated him for the Fifth Circuit, but he didn't list his Twitter account in his Senate questionnaire. He did include his title as "Tweeter Laureate of Texas" in the "Honors and Awards" section.
In direct messages to BuzzFeed News via Twitter, Willett wrote that, as he told Feinstein when asked about this previously, the Justice Department "advised there was no need to mention my verified, publicly accessible Twitter account, particularly given my disclosure of numerous articles about the account."
"I wouldn't presume to instruct the Committee on how to wordsmith its questionnaire. But social media is ubiquitous," he told BuzzFeed News via Twitter this week. "Here in Texas, the Governor's Office has updated its appointments application to ask specifically about social media activity when vetting prospective appointees. Question 12 casts a wide net, but nothing in its five subparts mentions social media."
During his confirmation hearing, Democrats pressed Willett about a few tweets that they argued were insensitive and demeaning. Responding to an article about a California law that allowed a transgender student to join the girls softball team, Willett had tweeted, "Go away A-Rod," and when the Supreme Court heard arguments in the same-sex marriage case, Willett tweeted, "I could supported [sic] recognizing a constitutional right to marry bacon." Willett told the senators his tweets were meant as jokes and not intended to disparage anyone. He was confirmed in December.
Judge Tilman Self III, confirmed in March to the US District Court for the Middle District of Georgia, disclosed his public Twitter account in his questionnaire. In an interview with BuzzFeed News, he said his Justice Department handler told him that when it came to disclosing social media accounts, Twitter was considered "public" and Facebook "private."

"They emphasized, don't change anything, don't delete anything," Self said. He added that he wasn't offended by the request for his tweets, "because every law clerk I interview, I look at theirs."
Asked why nominees should have to disclose personal social media accounts, Roth replied: "Counterpoint: Do you believe that a 'personal' account run by an aspiring federal judge will have zero hot takes on the latest legal news of the day? Doubtful."
Feinstein spokesperson Ashley Schapitl said in an email to BuzzFeed News that nominees "must disclose social media posts in their questionnaires."
"The credibility of the judiciary depends on judges being perceived as impartial by litigants who appear before them. We've seen many Trump judicial nominees with highly political and otherwise controversial social media posts. Some have disclosed posts, while others have not. For example, Brett Talley failed to disclose 15,000 pieces of online commentary, including posts that defended the KKK and statutory rape," Schapitl wrote.
A spokesperson for Grassley, Taylor Foy, said in an email that the question about a nominee's writings "is generally understood to be public writings such as blog posts and the like" and that the committee "routinely reviews nominees' public social media accounts as a part of the vetting process." A Justice Department spokesperson declined to comment.
BuzzFeed News identified locked Twitter accounts for Sixth Circuit judges John Nalbandian and Amul Thapar. Thapar confirmed his account and allowed this reporter to see the tweets; they were a mix of motivational quotes and posts about sports and honoring the US military.
"I didn't believe that the twitter account was responsive to any question in the Senate Judiciary Questionnaire. The account is locked and not accessible to the public. Only my friends and family can see my tweets," Thapar wrote in an email to BuzzFeed News. "My twitter account (tweets, retweets, and individual responses) consists mainly of inspirational quotes, comments about treating coaches and referees with respect, and individual responses to friends about sports."
Nalbandian didn't respond to a request for comment, but the account has his photo and was cited by lawyers from his home state of Kentucky congratulating him on his confirmation; he acknowledged having an account in follow-up written questions from Feinstein. Eighth Circuit nominee Jonathan Kobes, a lawyer for South Dakota Sen. Mike Rounds, also has a locked Twitter account; Rounds' communication director Natalie Krings cited the account in a tweet praising his nomination in June. Rounds' office did not respond to a request for comment. US District Judge Thomas Kleeh in West Virginia, who also has a locked account, approved a follow request by BuzzFeed News — the account was mostly posts about sports.
None of these accounts were listed in the nominees' questionnaires.
At least two district court nominees announced on Oct. 10 have locked accounts: Brian Buescher, a Nebraska lawyer whose account links to his former campaign website and is tagged in tweets from lawyers in his home state, and Ohio Fourth District Court of Appeals Judge Matthew McFarland, whose account was cited by lawyers in his home state as well as by Ohio Secretary of State Jon Husted when he swore in McFarland in 2017. There is a locked account with the name and photo of California nominee Mark Scarsi, which has sent a single tweet, but BuzzFeed News was unable to find additional information confirming that it belongs to the nominee.
Judges and lawyers contacted for this story declined to comment or did not respond.