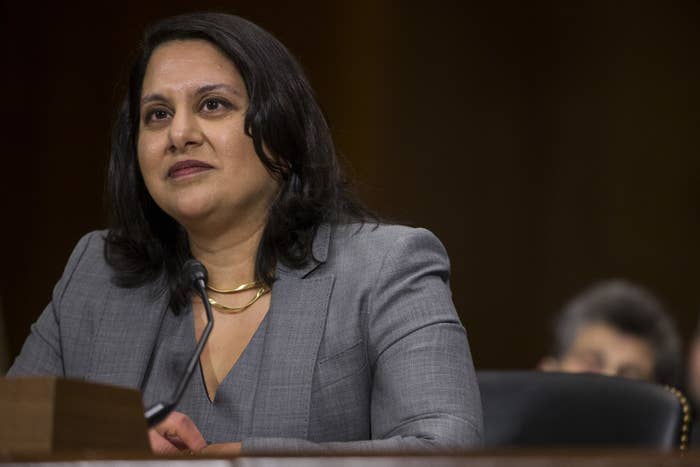 WASHINGTON – For a very brief time, it appeared Neomi Rao's nomination to the US Court of Appeals for the DC Circuit might be in trouble.
Rao's inflammatory op-eds as an undergraduate at Yale University drew a rebuke from Sen. Joni Ernst, one of the new Republicans on the Senate Judiciary Committee, when Rao appeared for her confirmation hearing on Feb. 5. Ernst, who has spoken about being a victim of sexual assault, said Rao's writings about date rape "give [her] pause." A few weeks later, Axios reported that Sen. Josh Hawley, another new Republican on the committee, had concerns about Rao's judicial philosophy on abortion.
In the end, both Hawley and Ernst threw their support behind Rao, and whatever small chance there was of Rao's nomination getting pulled or delayed disappeared. The Senate confirmed her on Wednesday by a party-line vote. She'll take Justice Brett Kavanaugh's former seat on the DC Circuit, a court that handles high-profile fights over executive power and federal agency actions, and has long been a springboard to the US Supreme Court.
The fact that Rao and other controversial nominees have made it through while some have failed in the Republican-controlled Senate shows where the line seems to be for GOP members to break with President Donald Trump on judicial nominees. Filling judicial vacancies has been a top priority for the White House and Senate Majority Leader Mitch McConnell, and Trump has already broken records with the number of judges confirmed in his first two years in office. Republicans are not eager to get in the way of that progress.
A common thread among unsuccessful nominees to date have been accusations of racism and of withholding information from key decision-makers. Thomas Farr's nomination to a North Carolina district court never went to final vote amid scrutiny of whether he was involved in efforts to suppress minority voters in the 1980s and early 1990s. Brett Talley's nomination to a seat in Alabama was pulled in part because of online writings he didn't disclose to the Senate, including one where he defended the early Ku Klux Klan.
Ryan Bounds' nomination to the 9th Circuit blew up over his college writings, which he hadn't disclosed to a home-state nominating commission, including one where he accused campus "multiculturalists" of stereotyping minorities with conservative views, and then listed some of the derogatory terms he claimed were used to describe those minorities. Bounds said he'd followed the nominating commission's instructions, and acknowledged using "overheated" and "overzealous" language, but insisted he was criticizing others who used offensive terms.
South Carolina Sen. Tim Scott, the only black Republican senator, became a key vote to watch last year in situations where a nominee was accused of racism or racial insensitivity; he came out against Farr and Bounds. Republicans have a stronger hold on the Senate this year, though, making the dissent of one senator less impactful.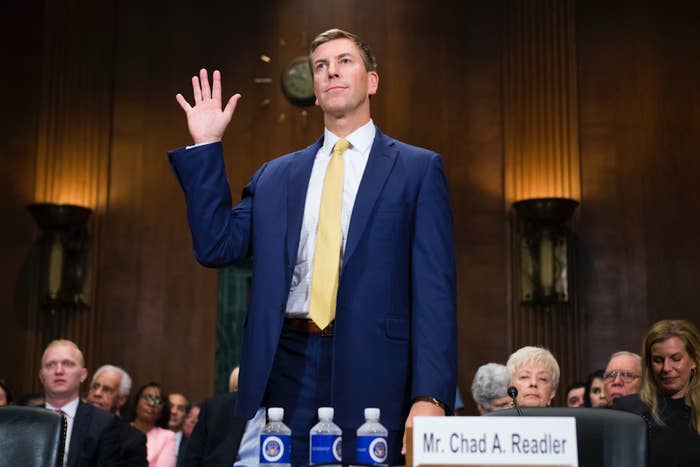 McConnell has already shown he's willing to hold a vote over opposition within his party — the Senate last week confirmed Chad Readler to the 6th Circuit even though Republican Sen. Susan Collins said she would vote no. Collins cited Readler's role as one of the senior Justice Department officials involved in the administration's decision to not defend the Affordable Care Act in court.
A poor performance in the Senate that goes viral can also sink a nomination. Matthew Petersen, a commissioner of the Federal Election Commission who was nominated for the federal district court in Washington, DC, withdrew his nomination after a video of him struggling to answer questions about court procedures and legal principles shot around the internet. Nominees since then have come prepared for those types of questions, hoping to avoid a similar fate.
Republicans have pushed ahead with appeals court nominees over objections from Democratic home-state senators, but Judiciary Committee chair Lindsey Graham, like his predecessor Sen. Chuck Grassley, has said that he will not move district court nominees forward if there's Democratic home-state opposition. Grassley did not proceed last year on Wisconsin lawyer Gordon Giampietro's district court nomination after Sen. Tammy Baldwin said she would not give her approval. BuzzFeed News reported that Giampietro made disparaging comments about diversity, same-sex relationships, and birth control in his writings and in interviews.
In other areas, Democrats' attacks on nominees have fallen flat with their Republican colleagues. A nominee's history of opposition to same-sex marriage and legal protections for LGBT individuals has not been a problem for the GOP, although the White House decided not to go forward with Texas district court nominee Jeff Mateer after Sen. John Kennedy indicated he had concerns about Mateer's comments about transgender children. CNN reported that Mateer said transgender children were evidence of "Satan's plan."
Republicans have brushed off claims that Trump's nominees are anti–abortion rights, anti-environment, anti-worker, and hostile to the rights of women and Native Americans. They've countered that positions lawyers took on behalf of clients shouldn't disqualify them from serving as a judge, and that even if those did reflect a nominee's personal opinions, they were satisfied these nominees could put their own views to the side. Democrats and liberals warn that these new judges will impose extreme right-wing views from the bench.
Complaints that nominees are too closely tied to the Federalist Society, a conservative lawyers group that counts anonymous donors among its biggest backers, have been dismissed by Republicans as overblown.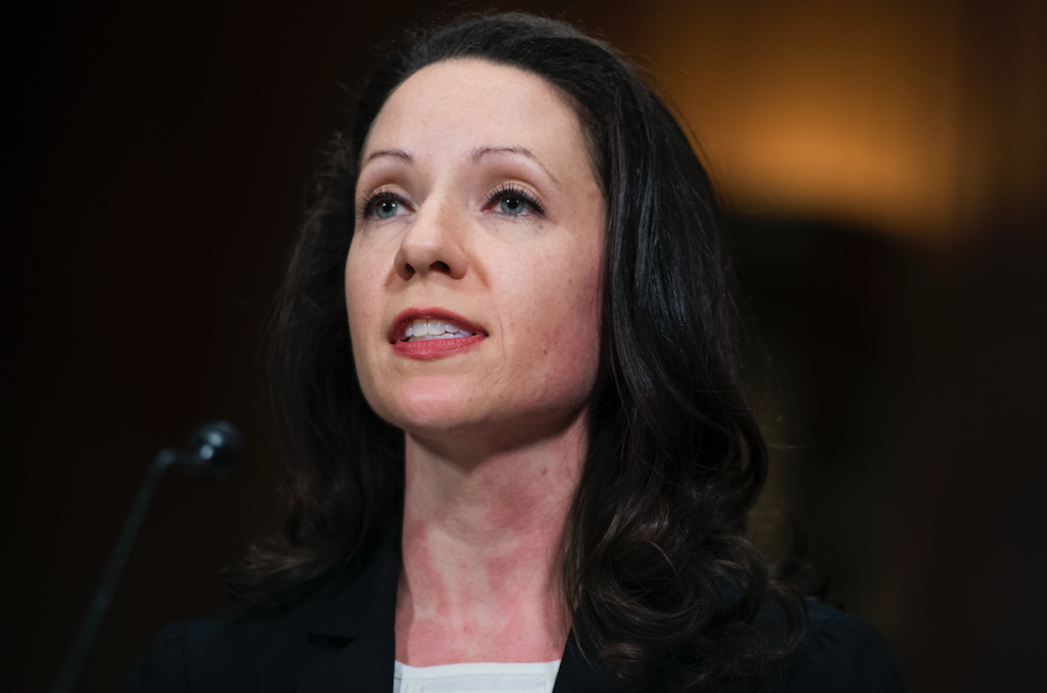 A nominee's youth or relative lack of experience also has not been a deal-breaker for Republicans. The Senate last week confirmed Washington attorney Allison Rushing to the 4th Circuit — Rushing, 36, is the youngest appeals judge confirmed in years, and hadn't yet spent the 12 years practicing law recommended by the American Bar Association.
Rao's nomination was particularly high-profile, given the connection to Kavanaugh and the significance of the DC Circuit. Her op-eds as a conservative campus leader at Yale in the 1990s became a centerpiece of the opposition campaign against her by Democrats and liberal advocacy groups.
In these op-eds, which were first reported by BuzzFeed News, Rao wrote on date rape that if a woman "drinks to the point where she can no longer choose, well, getting to that point was part of her choice." She also described race as a "hot, money-making issue," affirmative action as the "anointed dragon of liberal excess," welfare as being for "for the indigent and lazy," and LGBT issues as part of "trendy" political movements.
Democrats also pointed to Rao's position as the head of the Office of Information and Regulatory Affairs, which coordinates agency rulemaking. She's led the administration's push to roll back federal regulations, a fact that her opponents tried to highlight, given the DC Circuit's heavy administrative law docket. That line of argument — as has been true of other nominees criticized by the left for their ties to the Trump administration — gained no traction among Republicans.