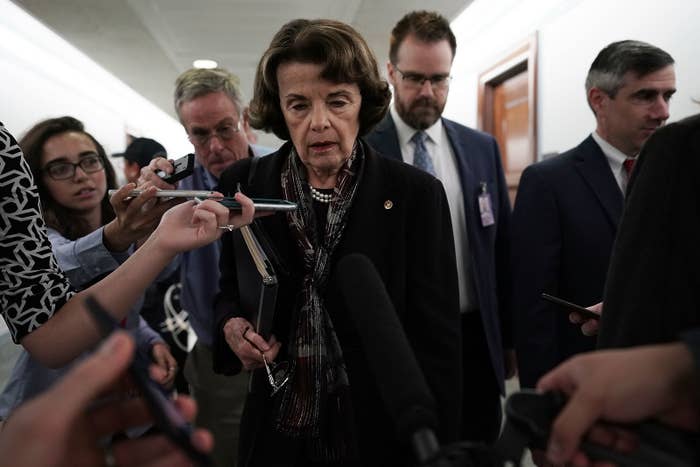 WASHINGTON — Less than a week after the Senate confirmed Justice Brett Kavanaugh, the White House had more bad news for Democratic Sens. Dianne Feinstein and Kamala Harris, announcing a slate of California federal court nominees that didn't include any names the senators had pitched.
The prospect of a deal between President Donald Trump and Feinstein and Harris, two of his outspoken critics, always seemed like a long shot. Still, the White House and the senators traded lists of names over the past year and at times suggested they were willing to compromise. The administration has worked with some Democrats on other nominations in the past. On Oct. 5, Feinstein, the top Democrat on the Senate Judiciary Committee and a leading opponent of Kavanaugh's nomination, wrote the White House that she was open to supporting a "consensus" package that included one of her picks.
In the end, there was no agreement. The White House on Wednesday night announced nominees for three California seats on the US Court of Appeals for the 9th Circuit: federal prosecutor Patrick Bumatay and two appellate lawyers in private practice, Daniel Collins and Kenneth Lee. Confirming judges has been a top priority for the White House and Senate Republicans. Senate Judiciary Committee Chair Chuck Grassley and Senate Majority Leader Mitch McConnell have been pushing to get as many nominees through as possible by the end of the year; the Senate was voting on 15 nominees Thursday afternoon.
The 9th Circuit has been a persistent foil to the Trump administration, blocking the president's travel ban order, ruling that the administration couldn't withhold funds from so-called sanctuary cities, and declining to delay an injunction that stopped the administration from enforcing a ban on transgender people serving in the military.
In a letter White House counsel Don McGahn sent to Grassley the same day the latest group of nominees were announced, which was obtained by BuzzFeed News, McGahn said he met with Feinstein multiple times and attempted to engage her staff, but the White House "received no meaningful feedback on the White House's proposed nominees and made no constructive progress with the Senators on Circuit Court vacancies." He said Harris's office "refused to engage with the White House at any level, whatsoever on the issue."
"Given the White House's extensive attempts at consultation, the President is exercising his prerogative to nominate his own, well-qualified nominees to the US Court of Appeals for the Ninth Circuit," McGahn wrote.
Feinstein said in a statement that Trump's decision to move ahead with the nominees reflected his "desire to remake the court."
"I repeatedly told the White House I wanted to reach an agreement on a package of 9th Circuit nominees, but last night the White House moved forward without consulting me, picking controversial candidates from its initial list and another individual with no judicial experience who had not previously been suggested," Feinstein said.
Collins and Lee were on a list of potential candidates the White House sent Feinstein and Harris last summer. Feinstein said that she and Harris "strongly opposed" Collins and had concerns that Lee failed to disclose "controversial writings on voting rights and affirmative action" to the senators' nominating commissions. Bumatay wasn't on the White House's original list. If confirmed, he would be the second openly gay federal appeals court judge in the country.

Harris's office released a statement denouncing the president's decision.
"Instead of working with our office to identify consensus nominees for the 9th Circuit, the White House continues to try to pack the courts with partisan judges who will blindly support the President's agenda, instead of acting as an independent check on this Administration," Harris spokesperson Lily Adams said in an email to BuzzFeed News.
A source familiar with the California nominations, who asked for anonymity to share information about internal discussions, said the White House rollout seemed to come together at the last minute, with the nominees finding out earlier in the day. The White House on Wednesday also announced three California district court nominees — McGahn in his letter to Grassley said California was the only state with federal court vacancies where home state senators hadn't recommended candidates for the district courts.
White House spokesperson Raj Shah declined to comment.
No agreement
As previously reported by BuzzFeed News, the White House in July 2017 sent Feinstein and Harris a list of five candidates for what was at the time just one vacant California seat on the 9th Circuit. Of the three 9th Circuit nominees announced Wednesday, two were on that original list, Collins and Lee. Another name on the list, Jeremy Rosen, was nominated for a California district court seat.
In May, Feinstein and Harris submitted three names of their own to the White House — US District Judge Lucy Koh, US District Judge Andrew Guilford, and attorney Boris Feldman. In a joint statement at the time, they said they had interviewed the nominees proposed by the White House. McGahn said in his letter to Grassley that Feinstein didn't provide feedback on the names that the White House had sent.
McGahn said he met with Feinstein and her staff at Feinstein's office on June 27, and that after that meeting the White House proposed "different approaches to try to reach consensus," including possibly choosing one circuit court nominee from Feinstein's list. McGahn didn't say who that potential nominee would be.
On Oct. 5 — the day before the Senate took a final vote on Kavanaugh's nomination — Feinstein sent a letter to McGahn about questions she'd gotten from a reporter who said he had sources saying the White House would support a package with Koh, Collins, and another name from the White House's original list, James Rogan. Feinstein told McGahn she was open to this deal, although she suggested she might want to negotiate a different candidate besides Collins.
"While the White House rejected my initial offer, I remain hopeful that we can work together to come to a consensus on a package of three nominees," Feinstein wrote in the letter, which was first reported by the Daily Journal.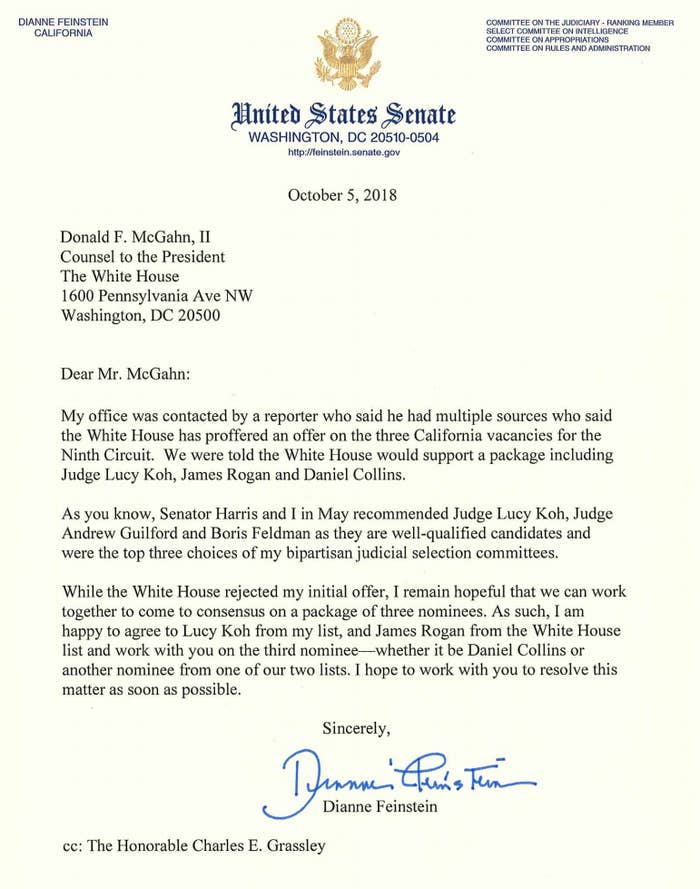 McGahn told Grassley that it was "not the case" that the White House was willing to support that package of nominees, however.
The White House doesn't have to compromise with Democrats on federal court nominees. Republicans hold a majority in the Senate. The committee in the past hasn't acted on nominees if both home state senators didn't sign off, an informal practice known as the "blue slip" process that was intended to give senators of both parties leverage with the White House. But Grassley has been willing to move ahead with appeals court nominees even if Democratic home state senators object.
There are seven vacancies on the 9th Circuit, which covers states in the western United States, Hawaii, Alaska, Guam, and the Northern Mariana Islands. Nominees are already pending for three seats representing Arizona, Idaho, and Washington state. The court has a majority of judges nominated by Democratic presidents, and that would not change if the Senate confirms nominees for all of the seats that are currently vacant.
The 13 judicial nominees announced by the White House on Wednesday also included two nominees for New York seats on the 2nd Circuit. One nominee, attorney Michael Park, was on a list of candidates the White House sent last summer to Senate Minority Leader Chuck Schumer and New York Democratic Sen. Kirsten Gillibrand. A spokesperson for Schumer declined to comment, and a representative of Gillibrand's office did not immediately return a request for comment.
All 13 nominees are men. Chris Kang, the chief counsel for Demand Justice, an advocacy group that has opposed Trump's judicial nominees, said he thought it was a surprising move so soon after the controversy over Kavanaugh's nomination and the national conversation it launched about how allegations of sexual assault and misconduct against women are handled.
"At best it's tone-deaf or dismissive of the entire debate we've just had, or at worst it's part of an ongoing pattern where they don't care ... about diversity at all," said Kang, who worked on judicial nominations in the Obama administration.
UPDATE
This post was updated with information about the Senate voting on judicial nominees.