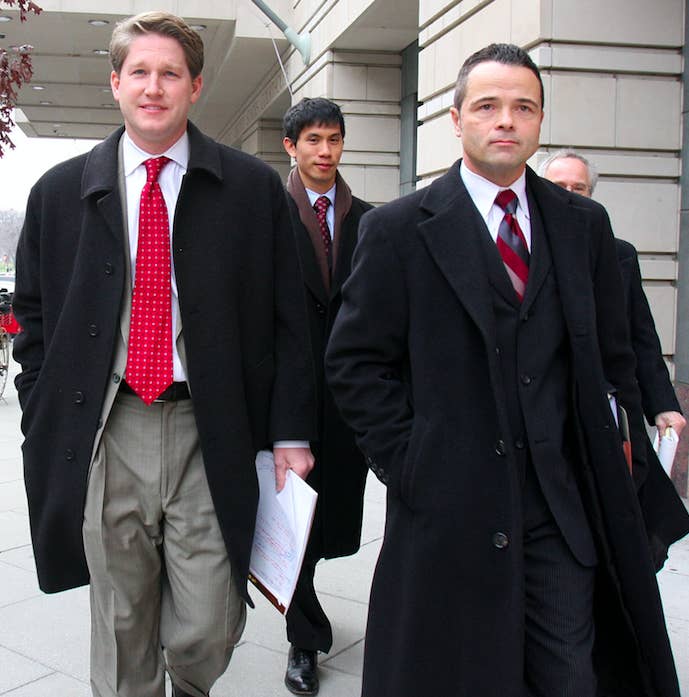 President Donald Trump is expected to nominate Carl Nichols, a former senior official in the US Department of Justice under former President George W. Bush, for a federal judgeship that the administration failed to fill last year, according to multiple sources familiar with the situation.
Trump's first nominee for the seat on the US District Court for the District of Columbia, Federal Election Commission, member Matthew Petersen, withdrew in December after he struggled to answer basic questions about court procedure and the law at his confirmation hearing.
Nichols is undergoing an FBI background check, according to one source close to the situation. The FBI background check, which can take at least a month and sometimes takes two to three months, is typically one of the final steps in the vetting process before a nomination is announced. Nichols and the White House declined to comment.
Nichols brings far more courtroom experience than Petersen. Nichols is a partner at the law firm Wilmer Cutler Pickering Hale and Dorr in DC, where he litigates cases in federal and state courts. He clerked for US Supreme Court Justice Clarence Thomas and Judge Laurence Silberman of the US Court of Appeals for the DC Circuit.

From 2005 to 2009, Nichols served in the Justice Department, first as deputy assistant attorney general for the Federal Programs Branch of the Civil Division, which defends federal agencies against lawsuits. He was later promoted to principal deputy associate attorney general, serving under the associate attorney general, who is the third-ranking official in the department. Nichols' immediate predecessors in that post were recently confirmed DC Circuit Judge Greg Katsas and US Supreme Court Justice Neil Gorsuch.

Petersen is a lawyer, but never made an appearance in court; he spent the bulk of his career as a lawyer in Congress and then as an FEC commissioner. Courtroom experience isn't a requirement to be a federal judge — academics, congressional lawyers, and other nonlitigators have become judges — but it can mean a steeper learning curve and, in Petersen's case, tougher questions during the confirmation process about qualifications.
Republican Sen. John Kennedy has made a point of grilling Trump's nominees about their courtroom experience, and it was his exchange with Petersen in December that tanked the nomination.
Asked about the possibility of Nichols being nominated, Jamie Gorelick, one of Nichols' law partners at WilmerHale and a former senior Justice Department official in the Clinton administration, said it would be a "spectacular" choice that would get bipartisan support.

The federal district court in DC is the main venue for lawsuits against the federal government. Since Trump took office, it's been a forum for legal fights over Trump's executive actions on everything from immigration to transgender military service, as well as a large number of public records lawsuits against federal agencies. It's also one of the courts where special counsel Robert Mueller has convened a grand jury as part of the Russia investigation, and where special counsel's office prosecutors have pursued multiple criminal prosecutions.
Trump so far has had three judges confirmed to the federal district court in DC.
During his time at the Justice Department, Nichols was involved in litigation in the DC court over efforts by Congress to gather information about the forced resignations of a group of US attorneys in 2006. In a September 2008 report, the Justice Department inspector general's office concluded that there was "significant evidence that political partisan considerations were an important factor" in the removal of some of the US attorneys.
The Justice Department fought a lawsuit filed by the House Judiciary Committee seeking to force the White House to turn over documents and to require former White House counsel Harriet Miers to testify. In July 2008, US District Judge John Bates — now a senior judge on the DC court that Nichols is up for a seat on — ordered the administration to produce documents and found that Miers was "legally required" to appear. The Justice Department appealed. Nichols argued the case before Bates and later successfully argued for the DC Circuit to put Bates's ruling on hold while the appeal went forward.
The Justice Department reached a settlement with the House Judiciary Committee, and in October 2009, the Justice Department — then under the Obama administration — ended the appeal and the committee dropped its lawsuit.