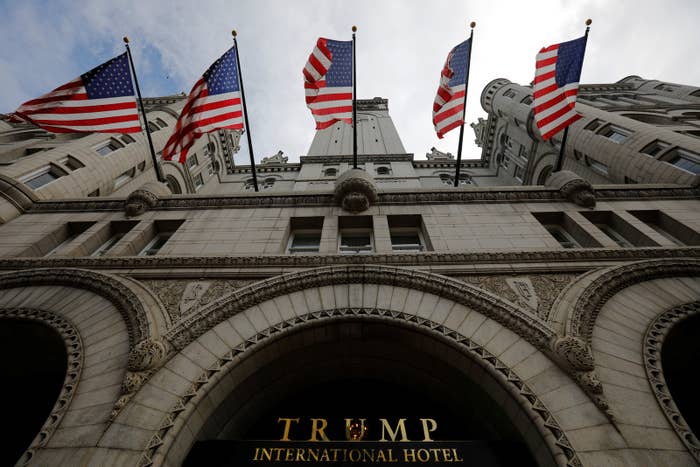 WASHINGTON — A federal judge in Washington, DC, on Monday dismissed a lawsuit filed by a local restaurant accusing the Trump International Hotel of having an unlawfully unfair advantage in attracting customers because of its ties to the president.
The owners of Cork Wine Bar filed suit in March 2017, arguing that they competed with the hotel not only for customers in general, but specifically with clients who wanted to do business with or influence US government and elected officials. They pointed to news reports about foreign diplomats and lobbyists patronizing the hotel in the hopes of gaining favor with the administration.
US District Judge Richard Leon ruled Monday that Cork Wine Bar failed to raise specific enough claims of unfair competition against Trump and his hotel — the restaurant didn't allege that Trump actively tried to dissuade customers from going to Cork, for example. The fact that the hotel was profiting from its connection to President Donald Trump — who has not given up his interests in his eponymous businesses — wasn't a specific enough harm for the lawsuit to go forward, Leon concluded.
"To hold actionable Cork's allegations in this case, I would be condemning a broad swath of legitimate business conduct," Leon wrote. "I would be foreclosing all manner of prominent people — from pop singers to celebrity chefs to professional athletes — from taking equity in the companies they promote. Indeed, I would be reading the 'unfair' right out of 'unfair competition.' This I cannot do!"
Trump was named individually as a defendant in the case along with his hotel, and Leon heard arguments in September about whether the president should be immune from lawsuits that relate to his professional responsibilities. Leon noted in his opinion that there were "constitutional questions of profound weight and import lurking within the contours of this case," but found that he didn't need to address them because the lawsuit failed for other reasons.

Lawyers for Cork, Trump, and the hotel did not immediately return requests for comment.
Trump's refusal to divest his interests in his hotel in Washington, along with his other businesses, is at the heart of two other lawsuits that are still pending in federal courts. Maryland and the District of Columbia are suing Trump in federal court in Maryland, accusing him of violating a section of the US Constitution that bars federal officials from accepting gifts or other foreign and domestic "emoluments" — broadly defined as financial benefits — while in office.
The Maryland judge has rejected Trump's early efforts at getting the case dismissed, finding that DC and Maryland had standing to sue and siding with their broader definition of "emoluments."
In federal court in Washington, Democrats in Congress are suing Trump specifically under the Foreign Emoluments Clause, which gives Congress the power to approve or reject the receipt of such benefits. They've also cleared early phases of the litigation, with one of Leon's peers on the DC federal bench, US District Judge Emmet Sullivan, ruling in September that the Democrats had standing to bring the case.