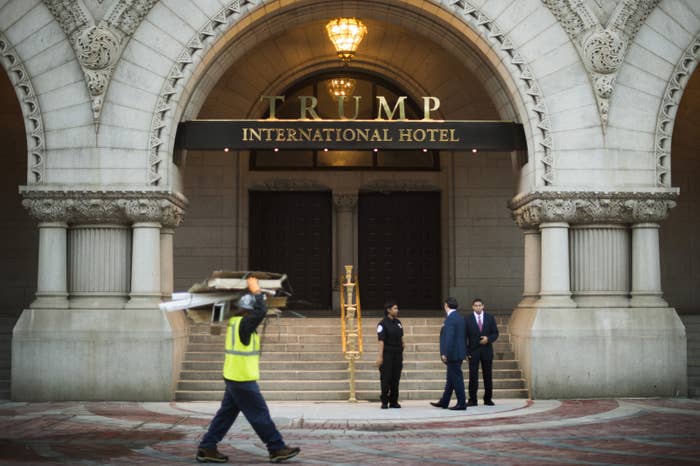 WASHINGTON — An electrical contractor has dropped a lawsuit claiming that the Trump International Hotel in Washington, DC, owed more than $2 million in unpaid bills.
The contractor filed court papers on Friday dismissing the suit against the hotel. The move came after settlement negotiations with the hotel's lawyers, according to court filings, but the dismissal notice didn't offer any details about whether a settlement was reached and, if so, the terms.
The Trump Organization and President Donald Trump personally remain involved in several lawsuits related to the DC hotel, including one filed last month by restaurant owners in Washington who claim the hotel has an unfair edge now that Trump is president. Trump has said he's given up control in his eponymous companies, but Trump and his family members haven't divested their interests.

AES Electrical, which does business out of Maryland as Freestate Electrical Construction Company, filed a lawsuit earlier this year against the Trump hotel seeking more than $2 million. The contractor said it had an original contract for $13 million to perform electrical work, but the cost later went up to $17 million in part because the hotel asked to speed up that work in time for a"soft opening" in September.
According to the lawsuit, the hotel had offered to pay a third of the value of the allegedly unpaid invoices. The contractor took a swipe at the Trump Organization, claiming that its "actions in refusing to pay for work performed, after a project has opened, is a repeated practice of the Trump organizations on various projects; evidencing a typical business practice meant to force subcontractors to accept 'pennies on the dollar' with respect to amounts owed for the cost of the work performed."
The hotel didn't file a response to the allegations, instead filing papers starting in March asking for a deadline extension. On March 23, the hotel's lawyer, Matthew Foster, told the court in a written filing that the two sides had "substantive settlement discussions."

AES Electrical is one of four companies that filed liens in Washington against the Trump hotel, collectively claiming more than $5 million in unpaid bills. All four of those liens have since been released, which means that the companies are no longer pursuing them; a release does not mean that the full amount sought by the company was paid.

Foster and a Trump Organization representative did not immediately return a request for comment, nor did a lawyer for the contractor.