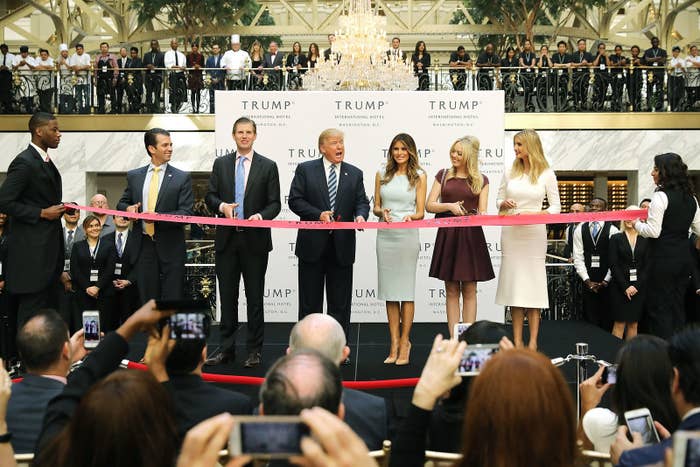 WASHINGTON — The owners of a restaurant in Washington, DC, are suing President Donald Trump, claiming that his eponymous hotel — which features a steakhouse, a bar, and other dining options — has an unfair and unlawful edge in the market.
The lawsuit, filed in DC Superior Court on Thursday by the owners of Cork Wine Bar, alleges that Trump's hotel not only competes for general customers, but also specifically for clients seeking to do business with and influence US government and elected officials.
"The effects of that unfair advantage are magnified greatly by marketing activities of the Hotel's officers and employees and the similar activities of defendant Trump, his family, and the White House staff and/or advisors," the lawsuit says.
Alan Garten, chief legal officer for the Trump Organization, called the suit "a wild publicity stunt completely lacking in legal merit" in an email to BuzzFeed News.
The lawsuit cites news reports about foreign diplomats patronizing the hotel and about how the hotel is now the place to be for lobbyists hoping to influence the new administration. For his first meal out in the city since becoming president, Trump in late February chose to dine at BLT Prime, the steakhouse at his hotel. He reportedly dined with his daughter Ivanka Trump, his son-in-law and senior adviser Jared Kushner, Florida Gov. Rick Scott, and far-right British politician Nigel Farage.
"It's clear that those who are looking to influence this administration are going to look to that business first," Scott Rome, one of the lawyers who filed the suit, said at a press conference on Thursday morning announcing the case.

Cork's owners are not seeking money damages. They've instead asked the court to enter an order halting the unfair competition they say is taking place, which their lawyers say could be accomplished by the hotel and restaurants closing during Trump's tenure as president, Trump and his family fully divesting their interests in the hotel, or Trump resigning.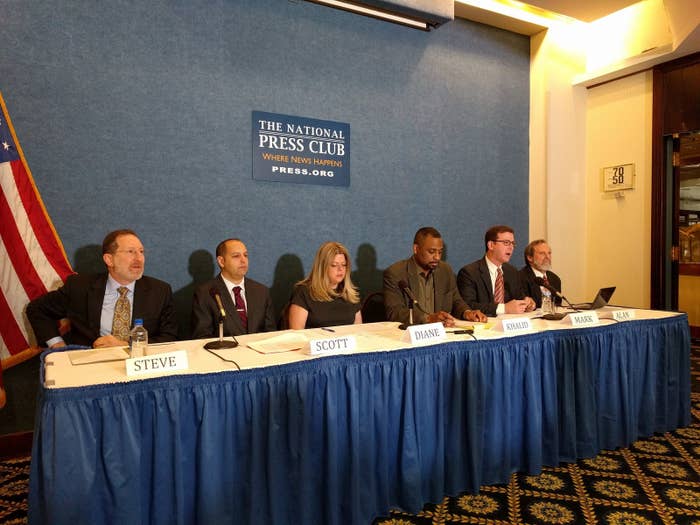 Trump's DC hotel has been the subject of litigation even before Trump won the election in November.
Since 2015 Trump has been suing two celebrity restaurateurs, José Andrés and Geoffrey Zakarian, who dropped plans for restaurants in the hotel after Trump made disparaging remarks about immigrants and Mexicans during the campaign. Andrés and Zakarian have countered that Trump's comments made their restaurant plans untenable. Those cases are pending.
In January, an electrical contracting company sued the hotel, claiming more than $2 million in unpaid bills for work on the project. The hotel has yet to file a response in court.
Although Trump has given up day-to-day control of his businesses, he hasn't divested his financial interests. He's facing one lawsuit claiming that those interests, including the hotel, create unconstitutional conflicts of interest. The legal and ethics scholars who filed the case in January pointed to the fact that foreign diplomats and governments had been reserving rooms and using other services at the Trump International Hotel in Washington as examples of how Trump was allegedly violating the Foreign Emoluments Clause in the Constitution.
The Emoluments Clause says that, "no Person holding any Office of Profit or Trust under them, shall, without the Consent of the Congress, accept of any present, Emolument, Office, or Title, of any kind whatever, from any King, Prince, or foreign State."
The lawsuit filed by Cork's owners, Khalid Pitts and Diane Gross, doesn't raise an Emoluments Clause claim. Gross told reporters on Thursday that they viewed the case strictly as business litigation. They are claiming that the hotel, which is on property leased from the General Services Administration, is in violation of a section of the lease that says no elected official can benefit from the project.
"We're challenging the actions that he's taken as a business owner," Gross said. "We're not challenging his policies as president."
Asked about their political affiliations, Pitts and Gross at first demurred, saying it wasn't relevant to the suit, but Pitts said later that he is a registered Independent and Gross said she is a Democrat. Gross previously worked as a counsel to former Democratic senator Barbara Mikulski, and, according to news reports, they've both worked in Democratic politics. Pitts said the suit wasn't politically motivated but was about two businesses in the same market.
The complaint says that Cork had suffered losses to its business, but didn't specify any particular events or patrons that the restaurant lost out to the hotel. Pitts and Gross told reporters that no prospective clients had specifically said they were choosing Trump's hotel over Cork, but that there had been a decline in business as compared to previous years. They declined to put a dollar amount on those losses.
Read the complaint in K&D LLC v. Trump Old Post Office:

UPDATE
This story was updated with comment from the Trump Organization and additional information about the lawsuit.