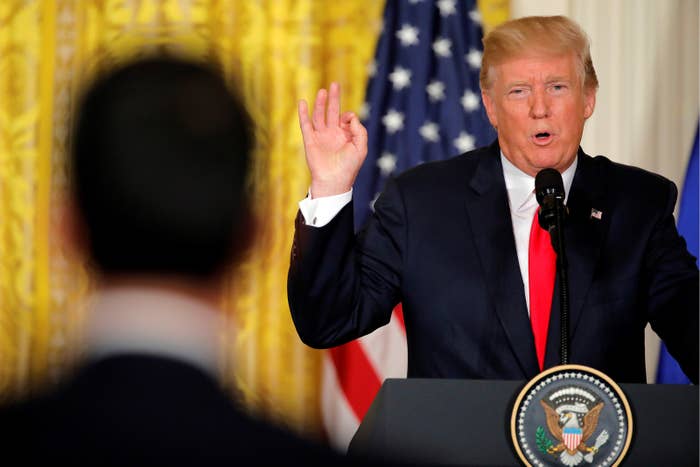 On Friday, the White House announced President Trump's sixth wave of US attorney nominees. The latest batch brought the total number of nominees for the nation's top federal prosecutor jobs up to 42.
Of that group, one nominee — Jessie Liu, nominated to lead the US attorney's office in Washington, DC — is a woman. The rest are men.
The numbers stand in contrast to the US attorneys that President Obama nominated after he took office in 2009. Of Obama's first 42 nominees, 12 were women.
"It's a slap in the face," said Joyce Vance, a former US attorney in Alabama who was one of Obama's early nominees in 2009, of Trump's decision to nominate predominantly men. "It's a statement that this is not a priority."
Vance said that in not elevating women to these positions, the administration was starting a chain reaction that would keep women lawyers out of leadership posts in the future.
"US attorneys often become judges, partners in big law firms, even senators, and restricting women from advancing by excluding them from the US attorney positions is really a giant step backwards," Vance said.
Other former government lawyers have criticized the numbers on social media since they were announced. Mary Carney, a former Justice Department attorney, called the situation was "infuriating."
Ira Goldman, a lawyer who used to work for a US senator, tweeted that the numbers suggested "no effective outreach" by the Trump administration.

The president nominates the nation's 93 US attorneys, but traditionally works with home state senators in choosing the nominees. Senators can try to block nominees they don't approve of through an informal system known as the "blue slip" process, in which the Senate Judiciary Committee won't act on a nominee until both senators sign off, giving them leverage with the White House.

Christopher Kang, who worked on federal court and law enforcement nominees in the White House counsel's office under Obama, said that the White House tries to accommodate senators' preferences, but the president sets the tone. Obama communicated to senators that diversity was a priority, he said, so senators had to consider that as they pitched candidates to the White House.
"When you're talking about the justice system — and with respect to US attorneys the criminal justice system in particular — having a more diverse set of US attorneys really helps instill greater confidence in the entire system. It is more reflective of the entire population," Kang said. "It gives you a better sense that these are candidates being selected from the broadest and deepest pool of potential applicants."
The one woman nominated by Trump so far, Jessie Liu, is for the US attorney's office in the District of Columbia, which doesn't have a senator. The District's sole official representative in Congress, Rep. Eleanor Holmes Norton, has said that she was not consulted about Liu's nomination.

While both Trump and Obama's early US attorney nominees were predominantly white, Obama's nominees were more racially diverse. In a piece published on the blog of the American Constitution Society, a liberal lawyers group, two contributors reviewed the race of Trump's first 29 nominees in July, and found they were less diverse.
A White House spokesperson did not immediately return a request for comment on Sunday evening.
Trump has moved faster than Obama in announcing nominees for US attorneys, but Trump is also contending with more vacancies. The Trump administration in March asked 46 US attorneys who were still serving from the Obama administration to step down, instantly creating dozens of open seats. Obama did replace Bush-era holdovers, but did not ask for resignations all at once.