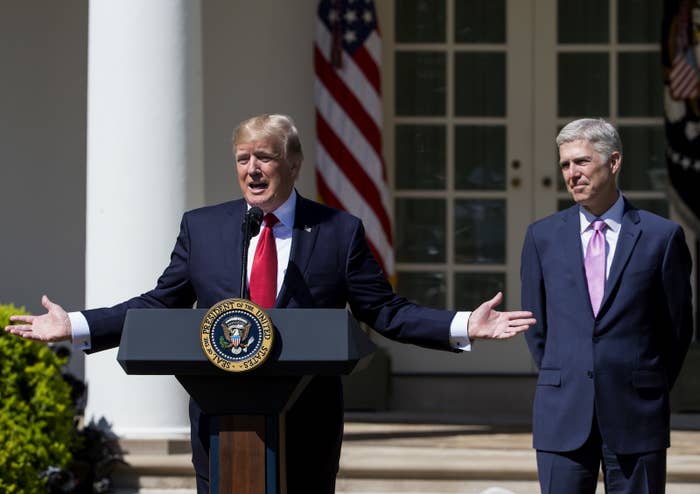 President Donald Trump made good this year on a campaign pledge he hoped would convince nervous Republicans to back him: the confirmation of young, conservative judges to lifetime seats on the federal bench.
But Trump's potential to shift the ideological balance of the courts is far from fully realized: There are still 160 vacancies in the federal appeals and district courts and 870 active judgeships. Republicans hold on to a slim majority in the Senate, and three failed nominations caused no small embarrassment for the White House. Several judges appointed by Democratic presidents told BuzzFeed News they are hesitant to step down and create new vacancies while Trump is in office.
"Given the caliber of nominees I'm seeing, I'm not comfortable creating a spot that might be filled by someone consistent with the qualifications, or lack of qualifications, of some of the folks I've seen nominated," a federal appeals judge confirmed under President Bill Clinton said.
That's not to say Trump hasn't been successful. The Senate this year confirmed a US Supreme Court justice and 18 lower court judges, including a record-setting 12 appeals court judges. At the end of a year dominated by the Russia investigation, court injunctions, and legislative setbacks, the White House and Senate Republicans can point to progress on the bench. Republican Majority Leader Mitch McConnell called the confirmation of Neil Gorsuch to the Supreme Court and the pace of lower court confirmations the greatest achievement of his career.
Nineteen is a solid number for year one — it's more than the number of judges President Barack Obama got confirmed in his first year. It's less than President George W. Bush's year-one total, but the bulk of those judges were for district courts. Conservative legal groups are thrilled, and even some Never Trumpers have praised the president's picks.
The White House is preparing to make a push on nominations in the new year. Trump's supporters say the three unsuccessful district court nominees don't mean there's a widespread problem with how the White House is vetting people.
"There's no need for the White House to adjust what it did, because the bottom line is, when you have over 160 [vacancies] there are bound to be instances when something or another is going to fall through the cracks," said Leonard Leo, an adviser to the White House on judicial nominations. "It's a natural consequence of a process that involves lots of moving parts and many, many, many people, and lots of backgrounds."
But 2017 highlighted some of the challenges administration officials face in keeping up or expanding the pace of confirmations next year: They'll still have to figure out how to sell candidates with limited experience or questionable backgrounds to skeptical senators, including Republicans, and they'll now have to work with a narrowed Republican majority in the Senate. Alabama Democrat Doug Jones' January arrival will bring the party split to 51-49.
"Any idea that the Republican Senate would confirm anyone who has a pulse is subject to some doubt," said Russell Wheeler, a visiting fellow at the Brookings Institution who follows nominations. "They're not willing to go along with anybody. Either the administration is going to get a little more careful in how it vets these candidates or it will have more embarrassments."
Looking farther ahead, Trump's ability to flip courts with a majority of active judges appointed by Democratic presidents — particularly appeals courts, which are considered more politically significant because they set precedent for their region of the country — will depend in large part on those judges stepping aside.
The fact that some judges consider politics in deciding when to open up their seat isn't unique to the Trump administration, but it is already an issue, sitting federal appeals and district judges told BuzzFeed News.
The appeals judge appointed by Clinton is eligible to take senior status — a form of semi-retirement that opens up a vacancy while allowing the judge to still hear cases — but said they would not do so while Trump is in office. The judge, like several others who spoke to BuzzFeed News, requested anonymity in order to talk about the current administration; ethics rules limit how much judges can publicly discuss politics.
That Trump is a Republican is not the main problem, the judge said, but rather that there is reason to doubt the "judicial integrity and honesty" of some nominees.
Democrats and liberal groups are digging in for a fight, even if there is little they can do to change the eventual outcome. A Republican, Louisiana Sen. John Kennedy, proved more effective this year at stopping nominees than any Democrat; the most Senate Democrats have been able to do so far is use Senate rules to slow down confirmations. Outside groups that criticized many of Trump's nominees as unqualified and hostile to the rights of women, workers, LGBT people, and the environment took heart from the handful of failed nominations they spent significant energy and financial resources trying to defeat.
Sharon McGowan, director of strategy at Lambda Legal, pointed to a question that Kennedy asked nominees this fall about whether they had ever blogged that a Supreme Court justice was a "judicial prostitute." It was a reference to a blog post written by US Court of Federal Claims nominee Damien Schiff, in which he used the phrase to describe Supreme Court Justice Anthony Kennedy. McGowan said Lambda Legal and other groups had been working for months to raise public awareness about the post. Schiff's nomination is still pending.
"It has seemed to have a cumulative snowballing effect," McGowan said. "With each one of these nominees that he put forth, the pattern really does emerge."
Flipping the bench
By Dec. 26, there were 160 vacancies in the federal appeals and district courts — including seats that aren't open yet but which judges have announced they're leaving — and 50 nominees still awaiting action in the Senate. The vacancies make up about 18 percent of active judgeships nationwide.
The judges confirmed this year mostly filled seats previously occupied by Republican appointees. Supreme Court Justice Neil Gorsuch replaced the late conservative justice Antonin Scalia. Just four of the 18 new lower court judges took a seat previously occupied by a judge confirmed under a Democratic administration; the rest replaced a Republican appointee.
There are 22 appeals court vacancies. Even if Trump fills all of those seats, it wouldn't be enough to flip courts with a majority of active judges tapped by a Democratic president, although he could create an even split between Democratic and Republican appointees on the US Court of Appeals for the 3rd Circuit, which covers Pennsylvania, New Jersey, Delaware, and the US Virgin Islands. The Senate this year confirmed three judges to the 6th Circuit, which covers Michigan, Ohio, Kentucky, and Tennessee, but that court already had a majority of Republican appointees.
Judges will push back against the idea that the party of the president who nominated them determines their ideology and how they'll rule in a particular case. But in aggregate, courts do develop reputations for leaning left or right based on the balance of judges appointed by Democrats versus Republicans.
The presence of senior judges can alter the balance of Republican and Democratic appointees in rotation to hear cases at any given time, but for the most part only active judges handle full caseloads and hear cases when an appeals court sits en banc — with a full complement of judges instead of the usual three-judge panel. En banc panels set precedent that can only be reversed by the Supreme Court.
The majority of new vacancies announced since Trump was elected were created by Republican appointees stepping down. Judges take senior status or retire for a variety of reasons. There are financial incentives: A judge with senior status continues to get a full salary and can control their caseload. Some judges factor in politics and some don't. There's a famous story that the late Supreme Court Justice Thurgood Marshall once told his clerks, "If I die while Reagan is in office, prop me up and keep on voting."
A federal appeals judge appointed by Obama expressed concern about stepping down before Trump's term is up.
"I would not say I have to have a Democrat in the White House before I would leave," the judge told BuzzFeed News. "This president is someone who I am just so anxious about what he might do, and also the quality of some of the nominees, some of whom have now withdrawn. That makes it a greater concern for me than if it were a different president who happened to be Republican but was making wise decisions with respect to the judiciary and wasn't so blatantly politicizing it."
A federal district judge in Washington, DC, appointed by Obama, said they thought politics would be more of a factor for appeals judges, given their role in setting precedent and the fact that most cases don't go beyond that point to the Supreme Court.
In a survey of judges who took senior status or retired between 1970 and 2009, researchers found that few judges reported politics as a factor in their decision to step down, and that it was more of an issue for district judges. That study pre-dated the confirmation battles under Obama and now Trump, however.
Judge Leslie Southwick of the US Court of Appeals for the 5th Circuit, who was confirmed under George W. Bush, told BuzzFeed News in an email that "surely there are federal judges to whom the choice of a successor matters a great deal. Many others would at most pause only slightly to consider who is in the White House before making a retirement decision." He noted there are many examples of judges who have stepped down while a president of the opposite party was in power.
"One significant reason not to make such political calculations is that a change in who occupies one seat on a 17-judge court like the Fifth Circuit is in most situations not going to affect outcomes of those few cases for which judicial philosophy could play a role. And each judge is only making one retirement decision," he wrote.
Looking ahead to 2018
Three of Trump's district court nominees failed in 2017: Brett Talley, who appeared to have anonymously written on a sports message board, including political posts and one defending the early Ku Klux Klan; Jeff Mateer, who was recorded on video making anti-LGBT comments, including referring to accommodations for transgender children as evidence of "Satan's plan"; and Matthew Petersen, a member of the Federal Election Commission whose struggle to answer questions from Kennedy about legal procedure produced a viral video.
Leo disputed the claim that what happened to Talley, Mateer, and Petersen was a sign of deeper issues with the vetting process. He accused liberal groups and the press of taking a piece of a nominee's social media history and magnifying it in a way that distorted "a person's background and life and experiences and context." Leo is executive vice president of the Federalist Society, a conservative lawyers group that's been an effective pipeline for judgeships, but he was not speaking on its behalf.
Vincent Eng, CEO of the VENG Group, which works with judicial nominees, said it was common for a new administration to have hiccups early on. But he said the Trump administration would have to deal with unresolved questions about how much of what nominees had ever written online or posted on social media should be a factor during vetting and disclosed to the Senate and the public.
"In the age of the internet, where people are blogging on secondary email addresses and secondary names, unless the nominee discloses it, it's very difficult to find that information," Eng said.
Trump's critics say the three failed nominees do represent deeper problems with his picks. They point to other nominees with minimal courtroom experience, who have written controversial tweets and blog posts, or who have records of opposing LGBT rights, abortion rights, and backing other conservative causes in court. The majority of Trump's judicial nominees have been white men, although half of the latest 10 nominees announced on Dec. 20 are women.
Judges will continue to watch who the White House picks as their new colleagues. US District Judge John Jones III, who sits in the US District Court for the Middle District of Pennsylvania and was confirmed under George W. Bush, said that he hoped the White House would recognize the importance of trial experience for district court nominees.
"You may have superb intellectual chops but at the trial court level I really believe that learning on the job is not the way to go. I wouldn't recommend that for district judges; that doesn't seem to be the right way to go," Jones said. "On the appellate courts, you can pull somebody out of academia; they'll do just fine."
Democrats are watching to see how Senate Judiciary Committee Chairman Chuck Grassley follows through on his announcement this year that he would break with his previous practice and schedule hearings for nominees even if both home state senators hadn't given their approval via forms known as blue slips. Grassley said he would defer more heavily to blue slips for district court nominees, but Democrats say Grassley is diminishing the Senate's power in order to accommodate the White House.
"Changing the treatment of the blue slip, stacking multiple circuit court nominees in one hearing, ignoring unanimous 'not qualified' [American Bar Association] ratings, disregarding failures to disclose information to the committee — these are the tools Republicans are using to undermine the Senate's constitutional role of advise and consent in the name of confirming judges who are as young and right-wing as possible," California Sen. Dianne Feinstein, the ranking Democrat on the Senate Judiciary Committee, said in a statement to BuzzFeed News.
There have been signs that the Trump administration is working with Democrats, at least on district court nominations. The nominees announced on Dec. 20 included several from states with at least one Democratic senator. Delaware Sens. Tom Carper and Chris Coons, both Democrats, put out a joint press release praising the two Delaware nominees on the list.
"I'm pleased that the White House consulted with Senator Carper and me and accepted our recommendations for the U.S. District Court bench," Coons said in a statement.
McGowan said the latest list of nominees was encouraging, but her optimism was muted.
"I am not convinced that Jeff Mateer's nomination being withdrawn means that we will not continue to see Jeff Mateer-like nominees," she said.