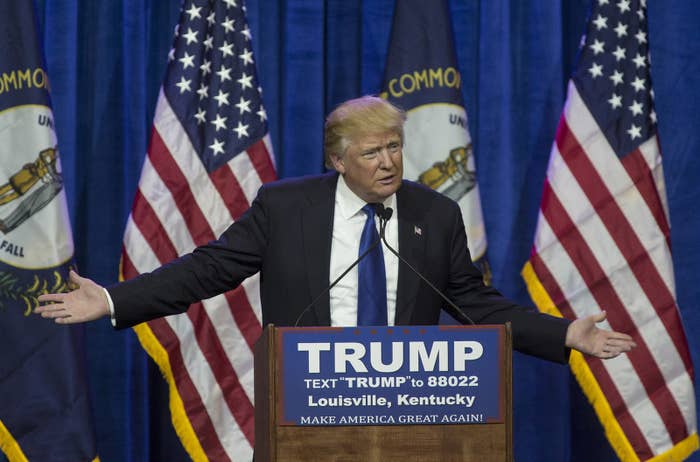 President Donald Trump can't be sued by protesters who accused him of inciting violence at a 2016 campaign rally, a federal appeals court ruled Tuesday.
In response to protests during a March 1, 2016, rally at the Kentucky International Convention Center in Louisville, Trump repeatedly said "get 'em out of here." The protesters who sued said those comments prompted Trump supporters in the audience to assault them; one protester was punched in the stomach.
A lower court judge had previously denied Trump's request to have the case tossed out. And Tuesday, a three-judge panel of the US Court of Appeals for the 6th Circuit sided with the president, finding that Trump's comments at the rally were vague enough to be shielded by the First Amendment. They also found that his conduct didn't fall under Kentucky's anti-rioting law.

"Speech is powerful," Judge David McKeague wrote in the majority opinion, quoting from another case. "Yet, as a nation, we have chosen to protect unrefined, disagreeable, and even hurtful speech to ensure that we do not stifle public debate."
Dan Canon, a lawyer for the protesters, told BuzzFeed News in an email that although they respected the court's opinion, they planned to "seek further review." The plaintiffs could ask the three-judge panel to reconsider its decision, or they could ask a full sitting of the 6th Circuit to take up the case.
"Mr. Trump, throughout his campaign, intentionally used crowd violence to suppress dissident speech — the kind of core speech that the First Amendment traditionally protects. The Court's opinion today gives him a free pass for that conduct, even though he had publicly been asking for violence to occur at these rallies for months, and even though his co-defendants have said they would not have attacked our clients if Trump had not directed them to do so," Canon said. "Allowing a candidate for public office to use the First Amendment as a shield under these circumstances is unprecedented and dangerous."
Trump's lead attorney in the case, Michael Carvin, did not immediately return a request for comment.
Trump's campaign rallies in 2016 were often raucous, and sometimes turned violent, with the president's supporters clashing with his detractors. Videos of the March 2016 rally in Louisville show Trump's supporters pushing protesters in the middle of the crowd, as Trump says "get 'em out" and "get 'em out of here" from the stage.
McKeague wrote in Tuesday's opinion that the idea that Trump's conduct at the Louisville rally met the standard under Kentucky law for inciting a riot was undermined by the fact that at one point he said "Don't hurt 'em." The judge wrote that Trump's remarks fell under the First Amendment "because he did not specifically advocate imminent lawless action."

"It follows that if Trump's speech is protected ... then the fact that audience members reacted by using force does not transform Trump's protected speech into unprotected speech. The reaction of listeners does not alter the otherwise protected nature of speech," McKeague wrote.
The decision was unanimous, but one member of the panel, Judge Helene White, thought it was a closer call. In a one-page concurring opinion, White wrote that the majority opinion "elides salient details of Trump's speech" — she didn't specify what details — and gave too much weight to the "don't hurt 'em" comment. White wrote that she agreed Trump's conduct didn't meet the standard for inciting a riot, but she said the court should have stopped there and not delved into the First Amendment question.