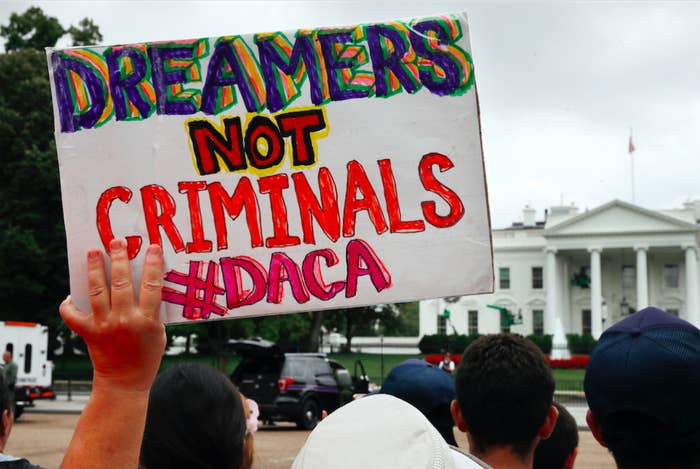 The Trump administration on Tuesday said it would end the program that gives some young undocumented immigrants who were brought to the US as children protection from deportation.
The Department of Homeland Security said it would shut down the Deferred Action for Childhood Arrivals program in six months — what officials called an "orderly wind down" — with the intent of giving Congress time for a potential legislative fix.

"As President, my highest duty is to defend the American people and the Constitution of the United States of America. At the same time, I do not favor punishing children, most of whom are now adults, for the actions of their parents," President Trump said in a statement sent by the White House early Tuesday afternoon. "But we must also recognize that we are nation of opportunity because we are a nation of laws."
Attorney General Jeff Sessions, officially announcing the policy change at the Department of Justice Tuesday morning, said, "We cannot admit everyone who would like to come here. That is an open border policy and the American people have rightly rejected it."
Sessions said that limiting the number of immigrants admitted to the US "does not mean they are bad people or that our nation disrespects or demeans them in any way."

He said former president Barack Obama had implemented the program "unilaterally to great controversy and legal concern."
"This Administration's decision to terminate DACA was not taken lightly," Acting Homeland Security Secretary Elaine Duke said in a statement. "The Department of Justice has carefully evaluated the program's Constitutionality and determined it conflicts with our existing immigration laws."

She said the administration chose the "least disruptive option" to end the Obama-era program under which undocumented immigrants who came to the US as children could apply for temporary protection against deportation as well as work authorization.

Nearly 800,000 current DACA beneficiaries will not be impacted before March 5, 2018, giving Congress nearly six months to "deliver on appropriate legislative solutions," Duke said.

"However, I want to be clear that no new initial requests or associated applications filed after today will be acted on," Duke added.
Immigration officials said that they would continue to adjudicate pending DACA renewal requests and those requests received between Tuesday and Oct. 5 under the guidelines of Obama's 2012 memo.
Obama, in a Facebook post Tuesday afternoon, defended his program, saying he acted to protect DREAMers because Congress did not. "Some 800,000 young people stepped forward, met rigorous requirements, and went through background checks," he wrote. "And America grew stronger as a result." He went on to describe Trump's decision to end the program as "cruel."
"Let's be clear: the action taken today isn't required legally. It's a political decision, and a moral question," he said.

Former vice president Joe Biden, in his own Facebook post, said deporting DREAMers is both "cruel" and "inhumane."
In a letter to Duke on Monday, Sessions said that Obama's executive action to enforce DACA was "an unconstitutional exercise of authority by the Executive Branch."
He said that DACA "was effectuated by the previous administration through executive action, without proper statutory authority and with no established end-date, after Congress' repeated rejection of proposed legislation that would have accomplished a similar result."

"Such an open-ended circumvention of immigration laws was an unconstitutional exercise of authority by the Executive Branch," Sessions said in the letter.
In brief remarks to reporters Tuesday after a tax reform meeting at the White House, Trump said he has "a great heart for these folks we're talking about," specifying that "people think in terms of children, but they're really young adults." He added that "hopefully now Congress will be able to help them and do it properly."
"I think it's going to work out very well," he said.

Trump hinted at the coming plan with a tweet Tuesday morning, calling on Congress to prepare to deal with his imminent decision.

White House press secretary Sarah Huckabee Sanders said at Tuesday's press briefing that the administration has "confidence that Congress is going to step up and do their job."
Asked why the administration has that confidence, despite concern from Republicans that the path ahead will be a challenge, Sanders said, "With all due respect, I don't think the American people elected Congress to do things that were easy. They elected them to make a government that works, to work properly, and to work for American people, and that's their job."
"It's not cold-hearted for the president to uphold the law. We are a nation of law and order," Sanders said.
The president later tweeted support for "immigration reform" with Congress.
Trump's move leaves open a lot of questions about how the details for existing DACA recipients will play out.

In his statement, Trump suggested immigration enforcement would not target people who had been protected under DACA. "Our enforcement priorities remain unchanged. We are focused on criminals, security threats, recent border-crossers, visa overstays, and repeat violators," he said. "I have advised the Department of Homeland Security that DACA recipients are not enforcement priorities unless they are criminals, are involved in criminal activity, or are members of a gang."
Trump had demurred for months on what he would do about DACA — giving hope to immigrant rights groups and frustrating immigration hardliners who felt the president was shirking his campaign pledges. Trump's move heads off a legal challenge from a cohort of Republican state attorneys general who threatened to take the administration to court if DACA continued, after the Trump administration had earlier advised that the program would continue.
The delay will put extraordinary political pressure on a Republican-held Congress that has so far not been successful legislatively and may be lukewarm to the cause. In recent days, though, a number of high-profile Republican lawmakers including Speaker Paul Ryan have said that they would like to see a legislative fix for the DACA program. Texas Republican Sen. John Cornyn, the No. 2 Republican in the Senate, said after the administration officially announced its decision that Trump "now has the chance to work with Congress towards finding a solution to this issue where his predecessor failed."
After the Trump administration announced the move Tuesday, several Republicans lamented the move.
In a statement, Sen. John McCain called it "the wrong approach," saying that the US needs to protect its borders, "but we must do so in a way that upholds all that is decent and exceptional about our nation." McCain said that while he, like many other Republicans, disagreed with Obama's decision to handle the issue unilaterally, "rescinding DACA at this time is an unacceptable reversal of the promises and opportunities that have been conferred to these individuals."
Oklahoma Republican Sen. James Lankford, while agreeing with Sessions' call that the Obama's order was the "wrong approach," said in a statement that "we as Americans do not hold children legally accountable for the actions of their parent," adding that Congress "must address this issue" in the coming months.
Florida Republican Sen. Marco Rubio also called for Congress to "deal with this the right way," but said it is "important that the White House clearly outline what kind of legislation the president is willing to sign."

The president, so far, has not given specific parameters of the type of legislation he is looking for to address DREAMers. But the White House on Tuesday said his priorities would be to "secure" the US border with Mexico with the construction of a wall; "improving" vetting for the country's asylum and refugee system; quickly deporting people who enter the US illegally or violate their visas; cutting down on the hiring of undocumented workers as a means of boosting employment and wages for American citizens; and setting up an immigration system that would "prioritize immigrants based on skills."
Those priorities, though, do not specifically address how the Trump administration would like to see DREAMers who had been protected by DACA dealt with.
Asked at the White House press briefing if Trump would sign a standalone bill that would just implement DACA legislatively, Sanders said, "The president wants to see responsible immigration reform and he wants that to be part of it. Again, we can't take just a one-piece fix."
"The president is hoping to work with Congress on responsible immigration reform," she added.

Obama, in his Facebook post, also called on Congress to act on behalf of DREAMers, saying he hopes members "step up and do it with a sense of moral urgency that matches the urgency these young people feel."
Illinois Sen. Dick Durbin, the Democratic whip, and Republican Sen. Lindsay Graham held a joint press conference on Capitol Hill Tuesday calling on the Senate to pass their bipartisan Dream Act by the end of September. The legislation would grant permanent residency to undocumented immigrants who were brought to the US as children by their parents and who meet certain criteria, including attending university or serving in the military.
Graham, addressing DACA recipients, said, "There are a lot of people on the Republican side of the aisle who understand your dilemma and we want to find a fair solution because you have done nothing wrong." He also called on Trump to "work the phones" and help garner support for the bill, especially in the House, where it is likely to face resistance from conservatives.
In his own statement, Trump said "Congress now has the opportunity to advance responsible immigration reform that puts American jobs and American security first," saying the country's green card system needs to be reformed and that future immigration should be based on merit.
There's been immediate blowback against the administration from outside Congress. Javier Palomarez, president and CEO of the US Hispanic Chamber of Commerce, announced that he had quit Trump's National Diversity Coalition after the DACA decision, saying in a statement the administration's "pro-growth agenda has sadly fallen to irrelevancy with the President's lack of leadership, constant distractions, and inability to unite the country."
There were some efforts from within Trump's White House to save DACA in recent days, but there was consistently limited support among senior staff for keeping the Obama program.

White House counselor Kellyanne Conway recruited Hispanic Trump supporters to reach out to the president in a behind-the-scenes bid to get him to keep the program, according to a source. As it became clearer that Trump was leaning towards ending it, a source said Conway supports "POTUS outcomes on this. Period."
The Obama administration announced DACA in June 2012. Under the program, undocumented immigrants who came to the United States as children can apply for temporary protection against deportation as well as work authorization. The program does not give recipients legal status and does not provide a path to citizenship, but Obama at the time called it a "temporary, stopgap measure that lets us focus our resources wisely while giving a degree of relief and hope to talented, driven, patriotic young people."
Between 2012 and 2016, US Citizenship and Immigration Services approved more than 700,000 initial requests for DACA status, as well as more than 500,000 renewal applications, according to agency statistics. Officials rejected approximately 60,000 initial requests and 4,700 renewals. According to the Justice Department on Tuesday, approximately 800,000 people have been approved to date.
In 2014, the Obama administration expanded the class of immigrants who were eligible for DACA, and launched a new program, Deferred Action for Parents of Americans and Lawful Permanent Residents (DAPA). Under DAPA, certain parents of US citizens or permanent residents could apply to stay in the US and get permission to work.
Legal action against the original DACA program failed, but Texas and 25 other states won a court order in February 2015 from US District Judge Andrew Hanen temporarily blocking DAPA and the DACA expansion from taking effect. A federal appeals court upheld Hanen's order. In June 2016, the US Supreme Court upheld the injunction in a 4–4 order.
The case then went back to Hanen, who sits in the US District Court for the Southern District of Texas in Brownsville, Texas. Shortly after the election, the Justice Department asked the judge to delay the case, citing the upcoming presidential transition. Hanen agreed.
Since taking office, Trump had signaled that he might not get rid of DACA, or at least not in its entirety. In February, he said in an interview that the administration was looking at DACA "with great heart."
"To me, it's one of the most difficult subjects I have because you have these incredible kids — in many cases, not in all cases," he said. "In some of the cases, they're having DACA and they're gang members and they're drug members, too. But you have some absolutely incredible kids — I would say mostly — they were brought in here in such a way. It's a very, very tough subject."
The administration in June rescinded the DAPA program, but Trump's efforts in his first few months to expand immigration enforcement left DACA intact.
In June, Texas and nine other states that sued over DAPA and the DACA expansion sent a letter to Sessions putting him on notice that if the administration did not roll back DACA by early September, the states would press ahead with litigation. Late last week, The Tennessean reported that Tennessee Attorney General Herbert Slatery, who signed the letter to Sessions, had notified his state's senators that he no longer planned to pursue legal action over DACA.
Texas Attorney General Ken Paxton commended the Trump administration's move Tuesday, saying, "Had former President Obama's unilateral order on DACA been left intact, it would have set a dangerous precedent by giving the executive branch sweeping authority to bypass Congress and change immigration laws."
On Fox and Friends, after receiving the letter, Sessions made it clear he supported the actions by the states. "I like it that our states and localities are holding the federal government to account, expecting us to do what is our responsibility to the state and locals, and that's to enforce the law," he said.
Earlier this month, BuzzFeed News reported that the American Civil Liberties Union was investigating whether the states were coordinating with Sessions — who called DACA constitutionally "questionable" during his confirmation hearing — and the Justice Department to try to force Trump to end the program.
A White House official said Sessions had Trump "in a box" on DACA, because he made it clear he didn't want to, and didn't think he could, defend the program in court.

The states gave the administration until Sept. 5 to make a decision. If Trump agreed to phase out DACA, the states said they would drop the lawsuit. But if not, they said that they would amend the case to challenge the DACA program in its entirety. Hanen agreed to keep the case on hold until Sept. 5.
Early in Trump's presidency, BuzzFeed News reported on an emerging rift, with Sessions and his protégé senior adviser Stephen Miller adamantly opposed to keeping DACA and former chief of staff Reince Priebus and former chief strategist Steve Bannon in favor of keeping the program for leverage in future immigration negotiations with Democrats.
While McClatchy reported that hopes of a grand immigration bargain are still flickering among some White House advisers, any return of protections for DREAMers could now have to come through legislation, perhaps with demands for concessions from Democrats like funding for Trump's long-promised border wall.
Additional reporting contributed by Emma Loop.
This is a developing story. Check back for updates.
Outside Your Bubble is a BuzzFeed News effort to bring you a diversity of thought and opinion from around the internet. If you don't see your viewpoint represented, contact the curator at bubble@buzzfeed.com. Click here for more on Outside Your Bubble.

CORRECTION
In 2015, Texas and 25 other states challenging DAPA and the DACA expansion won a court order. A previous version of this story incorrectly stated the number of states involved.