The Trump Administration Is "Rescinding" DACA
Since the Deferred Action for Childhood Arrivals program began in 2012, the federal government has provided temporary protection against deportation to nearly 800,000 undocumented immigrants who came to the United States as children.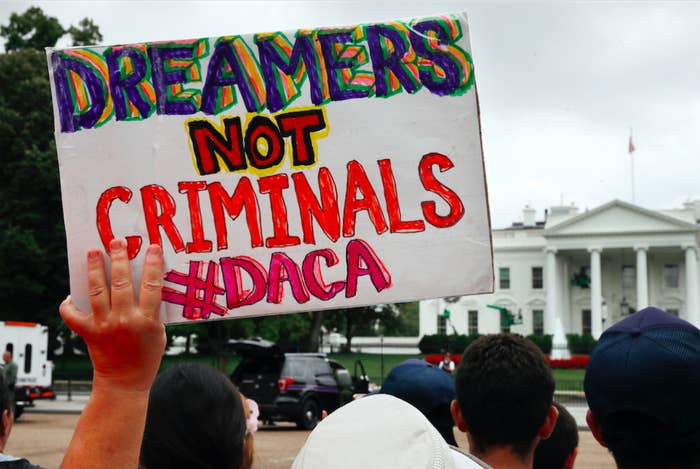 The Trump administration on Tuesday said it would end the program that gives some young undocumented immigrants who were brought to the US as children protection from deportation.
The Department of Homeland Security said it would shut down the Deferred Action for Childhood Arrivals program in six months — what officials called an "orderly wind down" — with the intent of giving Congress time for a potential legislative fix.

"As President, my highest duty is to defend the American people and the Constitution of the United States of America. At the same time, I do not favor punishing children, most of whom are now adults, for the actions of their parents," President Trump said in a statement sent by the White House early Tuesday afternoon. "But we must also recognize that we are nation of opportunity because we are a nation of laws."
Attorney General Jeff Sessions, officially announcing the policy change at the Department of Justice Tuesday morning, said, "We cannot admit everyone who would like to come here. That is an open border policy and the American people have rightly rejected it."
Sessions said that limiting the number of immigrants admitted to the US "does not mean they are bad people or that our nation disrespects or demeans them in any way."

He said former president Barack Obama had implemented the program "unilaterally to great controversy and legal concern."
"This Administration's decision to terminate DACA was not taken lightly," Acting Homeland Security Secretary Elaine Duke said in a statement. "The Department of Justice has carefully evaluated the program's Constitutionality and determined it conflicts with our existing immigration laws."

She said the administration chose the "least disruptive option" to end the Obama-era program under which undocumented immigrants who came to the US as children could apply for temporary protection against deportation as well as work authorization.

Nearly 800,000 current DACA beneficiaries will not be impacted before March 5, 2018, giving Congress nearly six months to "deliver on appropriate legislative solutions," Duke said.

"However, I want to be clear that no new initial requests or associated applications filed after today will be acted on," Duke added.
Immigration officials said that they would continue to adjudicate pending DACA renewal requests and those requests received between Tuesday and Oct. 5 under the guidelines of Obama's 2012 memo.
Obama, in a Facebook post Tuesday afternoon, defended his program, saying he acted to protect DREAMers because Congress did not. "Some 800,000 young people stepped forward, met rigorous requirements, and went through background checks," he wrote. "And America grew stronger as a result." He went on to describe Trump's decision to end the program as "cruel."
"Let's be clear: the action taken today isn't required legally. It's a political decision, and a moral question," he said.

Former vice president Joe Biden, in his own Facebook post, said deporting DREAMers is both "cruel" and "inhumane."
In a letter to Duke on Monday, Sessions said that Obama's executive action to enforce DACA was "an unconstitutional exercise of authority by the Executive Branch."
He said that DACA "was effectuated by the previous administration through executive action, without proper statutory authority and with no established end-date, after Congress' repeated rejection of proposed legislation that would have accomplished a similar result."

"Such an open-ended circumvention of immigration laws was an unconstitutional exercise of authority by the Executive Branch," Sessions said in the letter.
In brief remarks to reporters Tuesday after a tax reform meeting at the White House, Trump said he has "a great heart for these folks we're talking about," specifying that "people think in terms of children, but they're really young adults." He added that "hopefully now Congress will be able to help them and do it properly."
"I think it's going to work out very well," he said.

Trump hinted at the coming plan with a tweet Tuesday morning, calling on Congress to prepare to deal with his imminent decision.