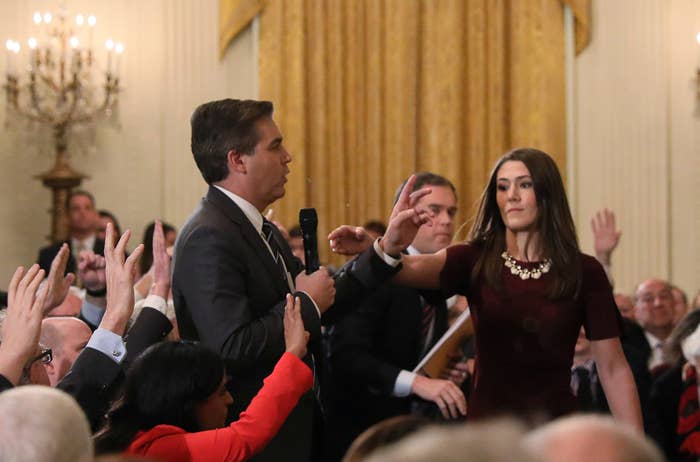 WASHINGTON — A Justice Department official argued Wednesday that President Donald Trump has complete discretion over press access to the White House, and can kick out any reporter — or all reporters, for that matter — for any reason.
Lawyers from the Justice Department and CNN sparred in federal court in Washington, DC, over the network's bid to reinstate chief White House correspondent Jim Acosta's hard pass access, which was revoked after a tense exchange with Trump at a press conference on Nov. 7. The federal judge overseeing the case did not rule on CNN's request for an immediate order, saying he would announce his decision from the bench the following day.
US District Judge Timothy Kelly asked Justice Department Deputy Assistant Attorney General James Burnham if the White House could revoke a reporter's press pass because it didn't like their reporting. Burnham said yes. If the president wanted to exclude all reporters from the White House, Burnham said, he could do that, too.
"This is an inherently discretionary decision," he said.
Kelly asked Burnham who made the initial decision to take away Acosta's hard pass. Burnham said that was not "clear" from the record. He said that at a minimum, press secretary Sarah Huckabee Sanders made the decision per a statement released by the White House, and the president affirmed it the next day. CNN's lawyer Ted Boutrous argued that the lack of clarity on who made the decision underscored the lack of due process afforded to Acosta.
Burnham acknowledged that he wasn't aware of any other White House reporter who had lost their credentials in this way, but said that just because other presidents handled press access a certain way did not mean Trump was bound to do so. Kelly asked if it mattered if there were written standards governing these sorts of decisions. Burnham said no.
Acosta attended Wednesday's crowded hearing, bypassing a line of reporters — he greeted several colleagues — and members of the public to enter the courtroom with his lawyers. As he passed, a man shouted that Acosta should be "lawfully hung."

The judge also pressed Boutrous Wednesday on his argument that the decision to strip Acosta of his hard pass was based on "content" or "viewpoint" in violation of the First Amendment's speech protections. Kelly noted that the Trump administration didn't revoke access for any other CNN journalist and hadn't previously taken away Acosta's press pass, even as Trump personally criticized him. On Trump's comments that Acosta lost access because he lacked respect, Kelly suggested that could be interpreted multiple ways.
Boutrous pointed to Trump's long record of attacking CNN, and Acosta specifically, on Twitter as "fake news."
"Rudeness is really a code word for, I don't like you being an aggressive reporter," Boutrous said, citing an email sent by Trump's campaign this week about Acosta and CNN's lawsuit saying the president wouldn't put up with "liberal bias."
Boutrous also argued that the White House had put forward shifting explanations for why Acosta lost his hard pass, undermining the government's credibility. The White House initially pointed to Acosta's physical interactions with an intern trying to take away his microphone at the press conference, but by this week they had largely abandoned that rationale, and Justice Department lawyer James Burnham said in court Wednesday that the Justice Department wasn't taking a position on what happened.
Acosta's hard pass was revoked Nov. 7 after he refused to give up the microphone during a White House press conference with Trump. Acosta was trying to ask the president about the Russia investigation, and a White House intern went up to him to take the microphone and move on to another reporter.

Acosta wouldn't sit down, however, and briefly made contact with the woman's arm as he tried to dodge her efforts to take the microphone from him. In a statement explaining the decision to revoke his hard pass, White House press secretary Sarah Huckabee Sanders accused Acosta of "placing hands on a young woman just trying to do her job as a White House intern."
Sanders pointed to a video of Acota's interaction with the intern, which was tweeted by Paul Joseph Watson, an editor of the conspiracy site Infowars, and sparked a days-long argument over whether it was doctored.
CNN called the accusation "fraudulent," and the White House's decision "a threat to our democracy." White House Correspondents' Association president Olivier Knox issued a statement backing CNN, calling the revocation of Acosta's credentials a "disproportionate reaction."
"The President of the United States should not be in the business of arbitrarily picking the men and women who cover him," Knox said.
Sanders later said that the White House had revoked Acosta's hard pass because he was acting unprofessionally in continuing to ask questions after the president had moved on to another reporter, adding, "This was not the first time this reporter has inappropriately refused to yield to other reporters."
Boutrous argued Wednesday that the White House's different explanations for pulling Acosta's pass and the lack of clear standards meant Acosta was denied due process under the Fifth Amendment. Acosta wasn't given advance notice or a way to contest the decision before it took effect, Boutrous argued. He relied heavily on a 1977 decision by the US Court of Appeals for the DC Circuit in a case called Sherrill v. Knight, in which the court found that there were First Amendment interests at stake when the White House denied access to a reporter, and that the White House had to have clear standards for "eligible" reporters to get credentialed.
Burnham argued that even if the judge found that Sherrill meant the president didn't have free rein to make access decisions, the amount of due process that Acosta received was "good enough." He insisted the White House had been consistent in saying that it revoked Acosta's credentials because of the disorder he'd caused at the press conference. He disputed that the decision was based on the content of Acosta's reporting.
"A single journalist's attempt to monopolize a press conference is not a viewpoint," Burnham said.
Burnham argued that a judicial order giving access to someone the president had decided to exclude from the White House premises would be unprecedented. Boutrous countered that the judiciary was a co-equal branch of government, and judges had authority to review decisions by the executive branch and the president.
Trump v. CNN
CNN filed suit on Tuesday in the US District Court for the District of Columbia, asking a judge to find that the revocation of Acosta's hard pass access violated the First Amendment's free speech protections, the Fifth Amendment's right to due process, and the Administrative Procedure Act's provision barring "arbitrary and capricious" actions by federal agencies — in this case, the US Secret Service.

CNN also filed a request for an immediate temporary restraining order restoring Acosta's hard pass, which gives him unescorted access to the White House. Shortly before Wednesday's hearing, a coalition of media companies — including BuzzFeed News — filed a friend-of-court brief supporting CNN in the litigation.
"Defendants' transparent attempt to ban from the White House a reporter the administration sees as a critic constitutes nothing more than a raw content- and viewpoint-based penalty for Acosta's and CNN's protected First Amendment activity," lawyers for CNN argued in court papers.
CNN has been a constant target of the president's rage, with Trump routinely lobbing barbs at the network on Twitter as "fake news," "unwatchable," and, riffing on the network's slogan, "the least trusted name in news." Last year, Trump shared a tweet depicting a train with "TRUMP" written on the side hitting a person with the CNN logo over their body; he later deleted it.

In a response to CNN filed earlier on Wednesday, the Justice Department disputed that the decision to revoke Acosta's hard pass was because of the content of his reporting, saying it was because he had disrupted the press conference. The government argued that the president has "broad discretion" to decide how and when reporters get access to the White House.

"The President and his staff have absolute discretion over which journalists they grant interviews to, as well as over which journalists they acknowledge at press events. That broad discretion necessarily includes discretion over which journalists receive on-demand access to the White House grounds and special access during White House travel for the purpose of asking questions of the President or his staff," the Justice Department lawyers wrote in their court papers. "No journalist has a First Amendment right to enter the White House."
The Justice Department also argued that there was no immediate need for Acosta to get his hard pass back as the litigation proceeded, since dozens of other CNN employees had hard pass access and Acosta could still report on the White House.