Trump's Attorney General Nominee Says He Doesn't Think Mueller Would Be Involved In A "Witch Hunt"
Barr also said he would not fire Mueller without cause — even if Trump asked him to do so — in a long day of testimony on Capitol Hill.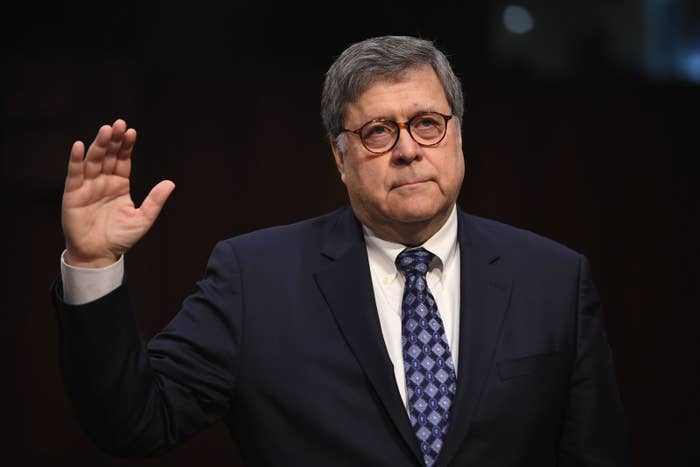 WASHINGTON – Bill Barr, President Donald Trump's nominee for US attorney general, testified Tuesday that he does not believe special counsel Robert Mueller would be involved in a "witch hunt."
"Witch hunt" has been Trump's go-to insult against the investigation into whether his campaign colluded with the Russian government during the 2016 election. The future of Mueller's work was a central theme as Barr testified Tuesday before the Senate Judiciary Committee and new committee chair Lindsey Graham kicked off the hearing with a series of questions about the special counsel's office.
Later in the day, Barr committed to certain ideas that would provide some protections to Mueller's investigation. In an exchange with Sen. Chris Coons, Barr said that the regulations covering Mueller's appointment — which limit how the special counsel can be removed — should not be changed while Mueller's investigation remains ongoing.
If Trump asked Barr to fire Mueller without cause or change the governing regulations, Barr said bluntly: "I would not carry out that instruction."
Earlier, Graham asked whether Barr would say that Mueller is "fair-minded." Barr replied, "Absolutely." Would Barr trust Mueller "to be fair to the president?" Graham asked. "Yes," Barr said. Would Barr share Mueller's final report with Congress "as much as possible?" Barr said he would make as much information available as possible, to the extent allowed under federal regulations — a point that Democrats pressed him on throughout the day.
Graham asked: "Do you believe Mr. Mueller would be involved in a witch hunt against anybody?"
"I don't believe Mr. Mueller would be involved in a witch hunt," Barr replied.
Later in the morning, Barr said that he believed the Russian government attempted to interfere in the 2016 election, "and I think we have to get to the bottom of it."