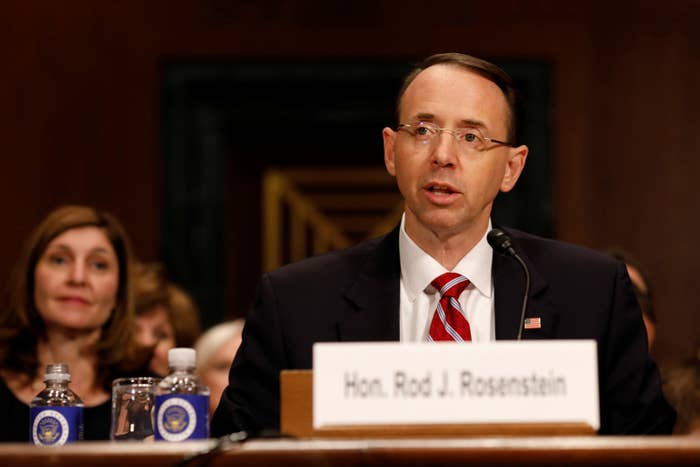 WASHINGTON — The nominee for a top Justice Department job, who likely would oversee any investigation into Russian influence in the 2016 campaign if he's confirmed, would not say on Tuesday if would appoint a special counsel to investigate the matter.
Rod Rosenstein, appearing before the Senate Judiciary Committee on his nomination for deputy attorney general, said that he could not make such a commitment without having access to all the facts. He did, however, defend the department's ability to carry out independent investigations on its own.
Rosenstein, who would have the number two job at DOJ if confirmed, noted that former Attorney General Loretta Lynch rejected calls for an special counsel to investigate Russian influence in the 2016 election while she was still head of the Justice Department.
But, acknowledging that the special counsel issue was the hot topic on Capitol Hill, Rosenstein said that, if confirmed, he would approach all matters the same way: He would evaluate the facts and the law, consult with career experts at the department, and then exercise his judgment about how to proceed.
"It's my job to make sure that all investigations are conducted independently, and whether it's a law or a statute or some other mechanism, I would ensure that every investigation is conducted independently," Rosenstein said.

The Independent Counsel Law, which most people know for its role in leading the investigation that ended with President Clinton's impeachment, expired in 1999. No replacement law has ever been passed, but the attorney general does maintain, under Justice Department regulations, the ability to appoint a special counsel.
A special counsel, a lawyer from outside of federal government, can be appointed by the attorney general — or a person acting as attorney general — to investigate or prosecute a case in which the Justice Department has a conflict of interest or in which it is in the public interest to do so. Many Democrats have called for a special counsel to be appointed to handle any campaign-related investigation.
Attorney General Jeff Sessions announced last week that he would recuse himself from any investigation about Russian contacts during the 2016 campaign. Sessions' recusal announcement came after revelations that he met with Russian ambassador Sergey Kislyak during the campaign, despite testimony at his confirmation hearing that he did not have communications with Russians during the campaign.
Sessions has defended his testimony, however, saying that he didn't discuss the campaign during those conversations and met with Kislyak in his capacity as a senator, not on behalf of the campaign. In announcing his recusal, Sessions said he was not confirming that there was any investigation at the moment.
With Sessions recused, though, the next highest Senate-confirmed Justice Department official takes over under a succession order that Trump signed in February. Until Rosenstein is confirmed, that job falls to acting deputy attorney general Dana Boente, who is also the US attorney for the Eastern District of Virginia.
Senate Judiciary Committee Chairman Chuck Grassley kicked off Tuesday's confirmation hearing with a series of questions about the special counsel issue. Democrats have called for a special counsel to oversee decisions about an election investigation; Grassley said in his opening remarks that a special counsel-led investigation was "not the best way to ensure transparency and accountability."
Grassley asked Rosenstein if he'd ever met with representatives of the Russian government. Rosenstein said that he was not aware of having done so. Rosenstein also said that he'd never spoken with Sessions about the issue of Russian contacts with Donald Trump's campaign, and wasn't aware of any reason that he'd have to recuse himself from handling decisions about investigating Russian influence in the election if he's confirmed.
The committee's ranking member, Sen. Dianne Feinstein, asked if Rosenstein supported appointing a special prosecutor. Rosenstein said that, without knowing all the facts, he wasn't in a position to answer the question or to say if decisions made by Lynch or Boente were right or wrong. Asked by Sen. Dick Durbin if he would tell the public if the department decided to close or end any investigation into the election, Rosenstein said he would if it was appropriate.

Sen. Lindsey Graham, a leading Republican proponent of a bipartisan congressional inquiry into Russian influence in the election, asked Rosenstein if he could assure the committee that any DOJ investigation is overseen by a lawyer who is independent. Rosenstein said he believed that was his responsibility in every case.
Rosenstein has spent the bulk of his career at the Justice Department and has served as the US attorney for Maryland since 2005 — a job that he kept throughout the Obama administration, making him the rare political appointee to carry over across presidents.

In 2012, then-Attorney General Eric Holder Jr. tapped Rosenstein and Ronald Machen, the US attorney for the District of Columbia at the time, to lead an investigation into national security leaks. In the questionnaire that he submitted to the Senate Judiciary Committee, he listed a criminal prosecution that came out of that investigation as among the most significant cases he had handled in his career.

The Senate Judiciary Committee also heard on Tuesday from Rachel Brand, Trump's nominee for associate attorney general, the third-ranking official at the Justice Department.