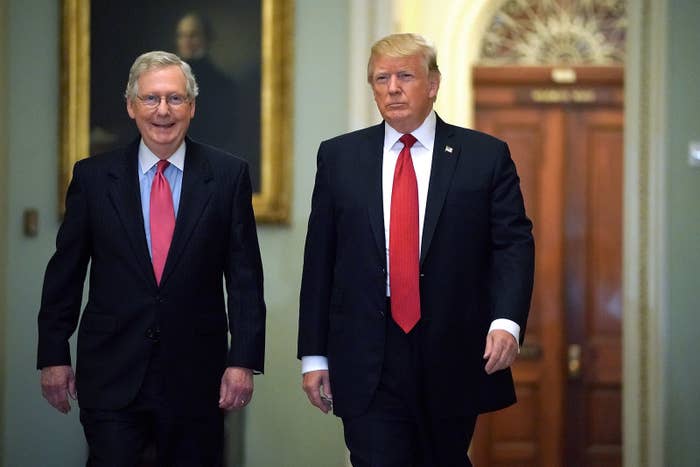 The White House on Tuesday announced President Donald Trump's first wave of new judicial nominees this year, less than a week after the Senate Judiciary Committee voted to send a large number of Trump's 2017 nominees to the Senate floor for a final vote.
The moves signal that the White House and Senate Republicans are quickly trying to move past the failure of three of Trump's nominees at the end of last year. Those unsuccessful nominations raised questions about how the White House and the Justice Department vetted and prepared Trump's picks for lifetime seats on the federal bench, and gave Democrats and liberal groups a sliver of hope after a year that saw a record number of appeals court judges confirmed.
Notwithstanding Trump's success in getting 12 circuit court and six district court judges confirmed last year, federal court vacancies have continued to stack up. There are 145 current vacancies, including in the Court of Federal Claims and the Court of International Trade, and 27 upcoming vacancies that have already been announced, according to data from the Administrative Office of the US Courts.
The White House announced 12 new judicial nominees on Tuesday, including one appeals court pick, John Nalbandian, nominated for the US Court of Appeals for the 6th Circuit. Nalbandian, a lawyer who works in Cincinnati, Ohio, but lives across the state line in Kentucky, has ties to Senate Majority Leader Mitch McConnell; Nalbandian has long been involved in Kentucky Republican politics, and he was appointed by former President Barack Obama to serve on board of directors of the State Justice Institute on McConnell's recommendation.
Trump's first lower court nominee in 2017 was also a McConnell-backed pick, Judge Amul Thapar, who was confirmed with ease to the 6th Circuit.
Trump's latest list of nominees also includes Maureen Ohlhausen, a Federal Trade Commission member nominated for the US Court of Federal Claims, which is the main court for people suing the federal government for money. It hears fights over government contracts, federal employee pay, and taxes, among other things. The White House has yet to say if Trump plans to renominate two other nominees from last year for the Court of Federal Claims — Damien Schiff and Stephen Schwartz — who were returned to the White House after the Senate failed to act on their nominations by the end of the last session.
There are six open seats on the Court of Federal Claims. The Senate agreed to hold over one of Trump's nominees for that court from last year, Ryan Holte. With Ohlhausen and Holte's nominations, that still leaves four seats for the administration to fill.

Trump renominated all of the judicial nominees returned by the Senate in early January except for Schiff, Schwartz, and the three nominees that the White House has already confirmed Trump would no longer pursue — Brett Talley, Jeff Mateer, and Matthew Petersen.
Schiff previously told BuzzFeed News in an email that it was his understanding that the Trump administration wanted to prioritize nominees for the federal district and appeals courts.
Tuesday's announcement of new nominees comes on the heels of a Jan. 18 vote by the Senate Judiciary Committee to send 17 judicial nominees and three Justice Department nominees from last year to the Senate floor, in a push described by opponents as a "monster markup." Those nominees already had hearings before the committee in 2017, and 13 of them were sent to the Senate floor but didn't get a final vote before they were returned to the White House in early January.

Democrats last year accused Republicans — particularly McConnell and Senate Judiciary Committee Chair Chuck Grassley — of rushing Trump's judicial nominees through the confirmation process.
Democrats, civil rights groups, and liberal advocacy organizations have opposed the nomination of Thomas Farr for the US District Court for the Eastern District of North Carolina, for example, citing his representation of North Carolina lawmakers in defending the state's redistricting plans and voter ID law. The judiciary committee's newest members, Democratic Sens. Cory Booker and Kamala Harris, pushed at the Jan. 18 committee meeting for a new hearing on Farr's nomination, but Grassley denied that request.
The push to have Farr come back before the committee was spurred by reports about his involvement with the 1990 campaign of the late North Carolina senator Jesse Helms. Farr was a lawyer for Helms' 1990 reelection, but denied playing a role in a postcard campaign that the Justice Department charged was aimed at intimidating black voters.
Farr was voted out of committee on Jan. 18 along party lines, 11-10. No Republican voted against any of the 17 judicial nominees and the three senior Justice Department nominees before the committee — Brian Benczkowski for the Criminal Division, Jeffrey Bossert Clark for the Environment and Natural Resources Division, and Eric Dreiband for the Civil Rights Division.
Among the new nominees the White House announced on Tuesday were four candidates for district courts in Texas: Alan Albright, a partner at the law firm Bracewell, LLP; J. Campbell Barker, deputy solicitor general in the Texas attorney general's office; Jeremy Kernodle, a partner at Haynes and Boone; and Michael Truncale, a partner at Orgain Bell & Tucker.
There were two nominees for the Arizona district court — Maricopa County Superior Court Judge Susan Brnovich and Dominic Lanza, a federal prosecutor — and two nominees for district courts in Louisiana — US Bankruptcy Judge Robert Summerhays and Wendy Vitter, general counsel of the Roman Catholic Church of the Archdiocese of New Orleans. Vitter is married to former Louisiana senator David Vitter.

The White House also announced a nominee for the US Tax Court, Courtney Dunbar Jones, a senior attorney at the IRS, and a nominee for the US Court of Appeals for Veterans Claims, Joseph Falvey Jr., a US Marine Corps veteran who served as commander of the Reserve Legal Support Section and as a judge on the US Navy-Marine Corps Court of Criminal Appeals.