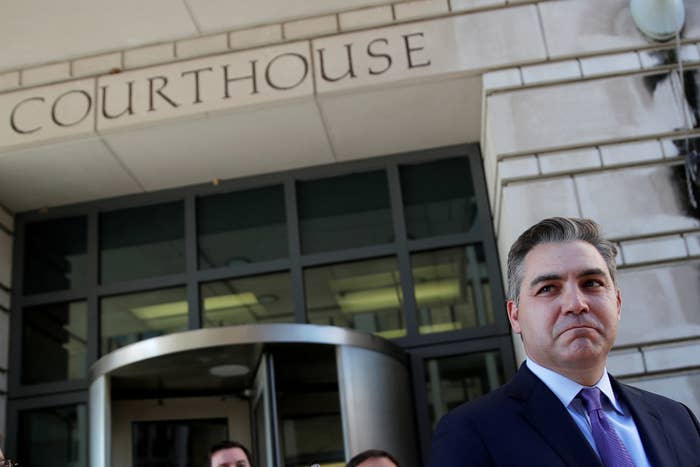 WASHINGTON — The Trump administration is fully restoring CNN chief White House correspondent Jim Acosta's credentials, dropping an earlier threat to take them away again once a judge's order expired.
CNN sued the White House last week, challenging the revocation of Acosta's hard pass access following a Nov. 7 press conference. On Monday afternoon, CNN announced via Twitter that the White House had "fully restored" Acosta's credentials and, as a result, the network's lawsuit was "no longer necessary."
White House press secretary Sarah Huckabee Sanders released a statement confirming that Acosta's hard pass had been reinstated. She also announced a set of new rules for future press conferences, including that journalists can only ask one question and then must yield the floor unless the president or other official taking questions allows a follow-up question. Sanders' statement defines "yielding the floor" as including giving up the microphone to White House staff.
Sanders said the White House was adopting the written rules "with a degree of regret," and said it would consider adopting more formal rules for other interactions with the president and White House officials on White House grounds and on Air Force One if "unprofessional behavior occurs in those settings" or if a court deemed it necessary.
"It would be a great loss for all if, instead of relying on the professionalism of White House journalists, we were compelled to devise a lengthy and detailed code of conduct for White House events," Sanders said in the statement.
Monday began with new court filings from CNN indicating the White House threatened to once again pull Acosta's credentials once they were no longer bound by a court order to give him access.
US District Judge Timothy Kelly last week had granted CNN's request for a temporary restraining order while the network's lawsuit goes forward, finding that the White House likely violated Acosta's constitutional right to due process in how it took away his pass. Later that evening, the White House sent Acosta a letter saying it had made the "preliminary decision" to suspend his hard pass, according to a copy included in court papers filed by CNN Monday morning.

The White House gave Acosta until Sunday at 5 p.m. to respond and said that after that point, the decision would become final, meaning he would lose his hard pass again once the White House was no longer bound by court order.
Given the latest communication from the White House, CNN asked Kelly to speed up the schedule for the next phase of the case, which involved the network's request for a preliminary injunction, which would be a more permanent form of relief — and an order that the White House could appeal if it wanted to escalate the fight.
Acosta's hard pass was revoked Nov. 7 after he refused to give up the microphone during a White House press conference with Trump. Acosta was trying to ask the president about the Russia investigation, and a White House intern went up to Acosta to take the microphone and move on to another reporter. Acosta wouldn't sit down, however, and briefly made contact with the intern's arm as he tried to dodge her efforts to take the microphone from him.
The White House initially cited Acosta's physical contact with the intern as one of the main reasons it was taking away his credentials, but later shifted to more broadly accusing Acosta of disrupting the press conference. In the Nov. 16 letter to Acosta, deputy chief of staff for communications Bill Shine and Sanders wrote that there were no written guidelines for press behavior at press conferences because there had been a "widely shared understanding" that reporters would ask a single question unless a follow-up was allowed, and would yield the floor after the question was answered.
"On November 7, 2018, you failed to abide by these basic, widely understood practices," Shine and Sanders wrote to Acosta.
CNN's lawyers responded to the White House's letter on Sunday afternoon. Ted Boutrous, who argued for CNN last week, wrote to the Justice Department lawyers handling the case that, "To say the least, the letter is a disappointing response to the court's decision and our attempts to resolve the matter amicably."
In a letter to Shine and Sanders, Boutrous wrote that the "ex post facto application of vague, unarticulated standards" was the same type of due process violation that led to Kelly's order last week.
CNN's lawsuit accuses the White House of violating Acosta's First Amendment rights, his Fifth Amendment right to due process, and the Administrative Procedure Act's prohibition against "arbitrary" and "capricious" actions by a federal agency. In Friday's decision on the temporary restraining order, Kelly found that there was no absolute First Amendment right for reporters to access the White House, but that once the White House started letting reporters in, First Amendment interests kicked in.
Kelly found that based on the record at this early stage of the case, CNN and Acosta were likely to succeed on their argument that Acosta wasn't given due process before his pass was revoked. Kelly, who announced his decision from the bench, said that whatever process there was, it was "still so shrouded in mystery" that lawyers for the government couldn't tell the judge during arguments earlier in the week who made the initial decision to take away Acosta's pass.
UPDATE
This story was updated with information about the White House's decision to reinstate Jim Acosta's hard pass.