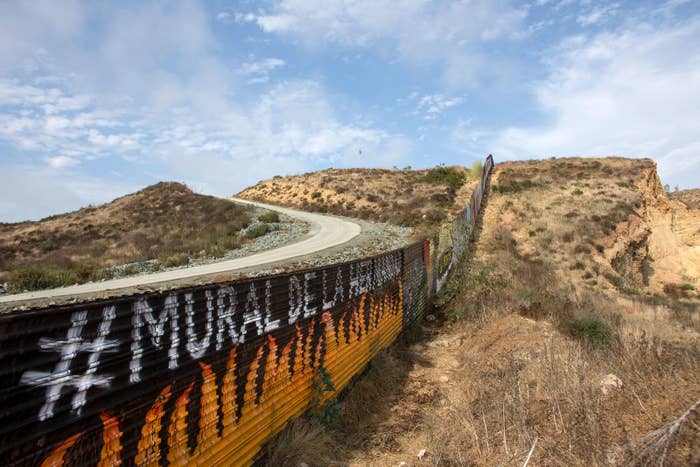 The Trump administration is again being taken to court to allow pregnant, undocumented teenagers being held in US custody to get abortions.
In court papers filed Friday evening in federal district court in Washington, DC, the American Civil Liberties Union said that two pregnant, undocumented 17-year-olds in US custody, referred to as Jane Roe and Jane Poe, were "resolute" in their desire to have abortions but were "being blocked from exercising their constitutionally protected decisions" by the Trump administration.
"They've just been waiting and waiting with no response, and no response is coming. That's why we need speedy action," ACLU lawyer Brigitte Amiri told BuzzFeed News.
The ACLU is seeking a temporary restraining order from a judge that would require federal officials to allow the teens to have the procedures. The judge handling the case already ruled in favor of another undocumented teen seeking an abortion. If the judge rules now in favor of Jane Roe and Jane Poe, it would give the Justice Department another opportunity to attempt to get a favorable ruling from either an appeals court or the US Supreme Court on the government's ability to stop undocumented minors in their custody from getting abortions.
The Department of Health and Human Services' Administration for Children and Families released a statement in response to Friday's filing: "The minors in this case — who entered the country illegally — have the option to voluntarily depart to their home country or find a suitable sponsor. If they choose not to exercise these options, HHS does not believe we are required to facilitate the abortion."
The ACLU filed Friday's papers in an already-open case that the group filed on behalf of a pregnant, undocumented 17-year-old known as Jane Doe, who was being held in US custody. US District Judge Tanya Chutkan ruled that the teen could get the abortion, and a full sitting of the US Court of Appeals for the DC Circuit reinstated Chutkan's order after a divided three-judge appeals panel initially put it on hold.
Jane Doe's case remained open as her lawyers moved to have the case become a class action on behalf of other teens facing similar circumstances. In addition to Friday's papers seeking a temporary restraining order, the ACLU has also moved to update the original lawsuit to add Jane Roe and Jane Poe.

Jane Doe obtained the abortion on Oct. 25. The Justice Department then filed papers in the US Supreme Court accusing Jane Doe's lawyers of providing misleading information about how soon after the DC Circuit's order came out that the teen would have the procedure, preventing the Trump administration from seeking intervention by the Supreme Court.
According to Friday's filing, Jane Roe learned she was pregnant about three weeks ago. The ACLU did not specify how far along Jane Poe was in her pregnancy, but said that she was coming up on the time when she would no longer be able to obtain an abortion in the state where she is being held. The filings did not say where the two teenagers were located. Private funds would be used to pay for the procedures and shelter staff would transport them, the ACLU said.
"As was the case with Ms. Doe, Defendants are exercising their veto power over Ms. Roe's and Ms. Poe's constitutionally protected abortion decisions by refusing to allow them to access an abortion. As was the case with Ms. Doe, there is no reason that remotely passes constitutional muster for Defendants to be doing so," lawyers from the ACLU wrote on Friday.

Amiri said she did not know if the teens had been taken to a crisis pregnancy center for anti-abortion counseling, which happened in Jane Doe's case.
The ACLU is also seeking a court order barring the federal government from forcing the teens to tell their parents or sponsors about their pregnancies and from retaliating against the two teens for their decision to have an abortion.
"We are hopeful about the result of this case, because it's blatantly unconstitutional, and as we've seen with Jane Doe, the courts have recognized that. I just hope that they move quickly so that they will get the care that they need," Amiri said.
The government's response is due by 5 p.m. on Dec. 17. The judge said she would hold a hearing on Dec. 18.

UPDATE
Updated with a statement from the Department of Health and Human Services' Administration for Children and Families.