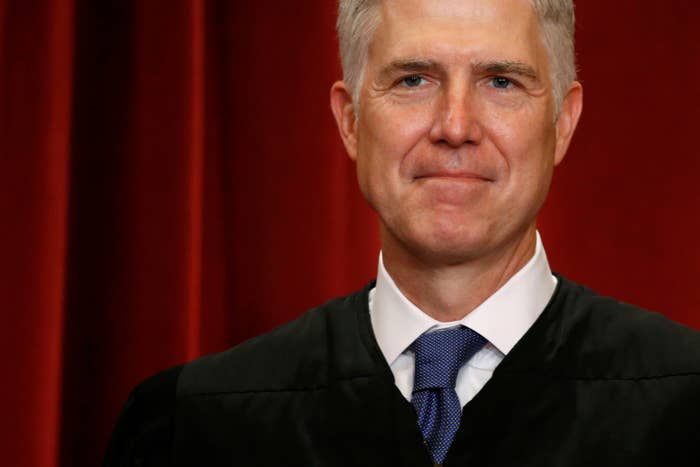 The US Supreme Court has left unanswered the question of whether Americans have a constitutional right to carry guns in public, concealed or in the open.
The court announced on Monday that the justices had voted against taking up a public-carry case out of California. Justice Clarence Thomas wrote a dissenting opinion, which Justice Neil Gorsuch joined, arguing that the court was long overdue a gun rights case.
"Even if other Members of the Court do not agree that the Second Amendment likely protects a right to public carry, the time has come for the Court to answer this important question definitively," Thomas wrote.
The Supreme Court established in 2008's District of Columbia v. Heller that there is a constitutional right to keep guns at home for self-defense. But that opinion did not directly address how the Second Amendment applies to carrying firearms in public.
The petitioners in the latest case, Peruta v. County of San Diego, had challenged gun licensing regulations in California. California requires a license for concealed carrying, and says applicants must show "good cause" to get one. The state left it up to local governments to articulate what counts as "good cause." The petitioners challenged certain locally set standards as too narrow, as well as the conclusion of a federal appeals court that the Second Amendment more broadly does not protect the right to concealed carry.
Federal appeals courts and state supreme courts have reached varying conclusions about whether, and to what extent, the Second Amendment applies to public carrying. By not hearing the Peruta case, the Supreme Court leaves in place the June 2016 decision from the US Court of Appeals for the 9th Circuit, which covers California, Alaska, Washington, Montana, Idaho, Oregon, Nevada, Arizona, Hawaii, Guam, and the Northern Mariana Islands.
A lawyer for the challengers, Paul Clement, did not immediately return a request for comment.
California Attorney General Xavier Becerra said in a statement that the court's decision not to hear the case "is welcome news for California and gun safety everywhere."
"It leaves in place an important and common-sense firearm regulation, one that promotes public safety, respects Second Amendment rights and values the judgment of sheriffs and police chiefs throughout the State on what works best for their communities," Becerra said.
Gun control advocacy group Everytown for Gun Safety praised the justices' decision not to take the case.
"The Supreme Court's decision not to review Peruta v. County of San Diego is a win for gun safety," Eric Tirschwell, the organization's litigation director, said in a statement. "The Peruta decision is consistent with four other federal appeals courts all across the country that have found the Second Amendment leaves plenty of room for states and localities to make their own determinations about who can carry a concealed handgun in public."
California is one of several states and the District of Columbia to have some version of a "good cause" or "good reason" requirement for a concealed carry license. California generally prohibits open carrying of firearms, so the challengers argued that by restricting licenses for concealed carry, the regulations function as a complete ban on public carrying.
Several circuit courts have weighed in on public carrying and "good cause" licensing restrictions, and cases continue to trickle up. The DC Circuit heard arguments in September in a challenge to the District of Columbia's "good reason" requirement for concealed carry licenses, but has yet to issue a ruling.
The Supreme Court's order on Monday did not specify how individual justices voted, but Thomas and Gorsuch clearly put themselves on the side not only of wanting to hear the case, but also of finding fault with the licensing restrictions.
"For those of us who work in marbled halls, guarded constantly by a vigilant and dedicated police force, the guarantees of the Second Amendment might seem antiquated and superfluous," Thomas wrote. "But the Framers made a clear choice: They reserved to all Americans the right to bear arms for self-defense. I do not think we should stand by idly while a State denies its citizens that right, particularly when their very lives may depend on it."
In joining Thomas's dissent, Gorsuch offered an early look at how he'll rule on Second Amendment issues going forward. Gorsuch faced a few questions about gun rights during his confirmation hearing, but declined to offer specifics on his thinking, aside from saying that the Heller decision was the "law of the land."

UPDATE
Updated with comment from California Attorney General Xavier Becerra.