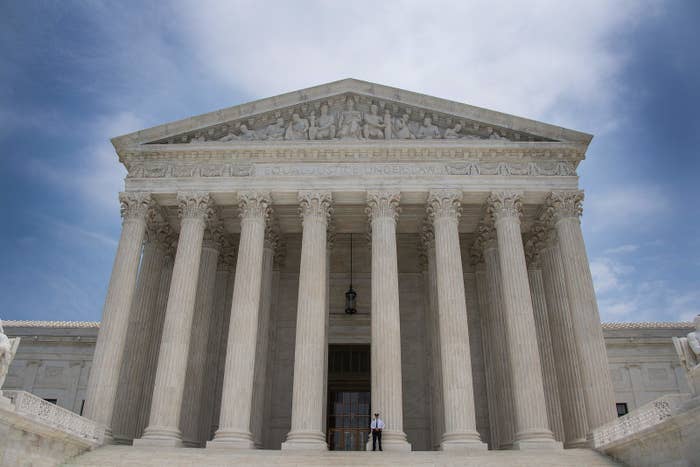 The US Supreme Court on Monday canceled arguments scheduled for Oct. 10 on President Trump's second travel and refugee ban executive order, less than 24 hours after Trump signed a new set of travel restrictions and the previous travel ban expired.
The justices ordered the lawyers in the case to file briefs on the significance of Trump's latest directive, as well as the upcoming expiration of sections of the earlier executive order that concerned refugee admissions to the United States.
The presidential proclamation that Trump signed on Sunday largely bans travel to the United States by nationals of seven countries — including five that were covered under the earlier travel ban that was the subject of the Supreme Court case. The new proclamation also places travel restrictions on certain Venezuelan government officials and their families.
US Solicitor General Noel Francisco notified the Supreme Court of the president's new directive late Sunday, and suggested that the court have the parties in the case file briefs about what they think should happen by Oct. 5. In the order issued on Monday, the justices adopted that deadline.
The court has asked for briefs, no longer than 10 pages, that address whether the new proclamation and the upcoming expiration of refugee-related sections of the earlier executive order make the case moot. A suspension of the US refugee program under the second executive order is set to expire on Oct. 27.
Several organizations involved in the court fight over the second travel ban have already signaled that they believe the new directive is still rooted in unconstitutional anti-Muslim discrimination. Although the proclamation Trump signed on Sunday adds two non-Muslim-majority countries to the list of nations subject to travel restrictions, North Korea and Venezuela, civil liberties and immigrant advocacy groups say that isn't enough to fix the problems that prompted them to sue over the president's previous orders.
"Six of President Trump's targeted countries are Muslim. The fact that Trump has added North Korea — with few visitors to the US — and a few government officials from Venezuela doesn't obfuscate the real fact that the administration's order is still a Muslim ban. President Trump's original sin of targeting Muslims cannot be cured by throwing other countries onto his enemies list," ACLU Director Anthony Romero said in a statement Sunday evening.
The new directive largely bans travel to the United States by nationals of five Muslim-majority countries that were covered under the second travel ban — Iran, Libya, Somalia, Syria, and Yemen — and adds restrictions on three new countries, Chad, North Korea, and Venezuela. Chad is also a Muslim-majority nation.
The administration removed travel restrictions on Sudan, which had been covered under the previous ban.
CORRECTION
The Supreme Court requested briefing on the significance of the upcoming expiration of refugee-related sections of a previous executive order. An earlier version of the story misstated which sections the court ordered briefing on.