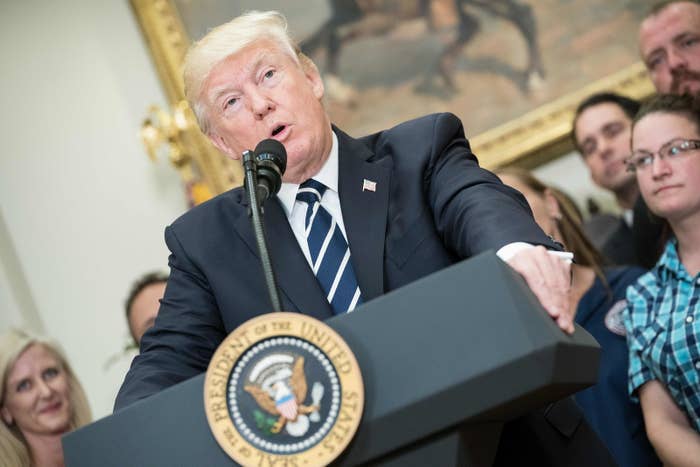 President Trump on Friday morning confirmed that he is under investigation for firing former FBI director James Comey, in a tweet that raised questions about Trump's understanding of who is in charge of that investigation.
Trump tweeted the following statement at 9:07 a.m. on Friday: "I am being investigated for firing the FBI Director by the man who told me to fire the FBI Director! Witch Hunt"
The tweet marked the first public, official confirmation that the president is under investigation for firing Comey in May. The Washington Post reported earlier this week that special counsel Robert Mueller III had expanded the scope of his investigation into Russian influence in the 2016 election to include whether the president attempted to obstruct the Russia probe, but that story was sourced to unnamed officials.
The morning after the Post story went up, Trump released a statement via Twitter that referenced the existence of an obstruction investigation, but didn't provide any details.
Friday's tweet confirmed information about the scope of the probe. The tweet came the morning after Deputy Attorney General Rod Rosenstein released a statement warning Americans to "exercise caution before accepting as true any stories attributed to anonymous 'officials.'"
But the tweet also raised a number of questions. Most importantly — who exactly was "the man" that Trump was referring to? Was it Rosenstein, who wrote the memo criticizing Comey's handling of the investigation into Hillary Clinton's use of a private email server that Trump initially cited in firing Comey on May 9?
However, that would indicate either that Trump doesn't understand Rosenstein's role in the special counsel investigation, or that Rosenstein is more directly involved in the investigation, which would go against federal regulations.
Trump could be referring to the fact that it was Rosenstein who made the decision to appoint former FBI director Robert Mueller III as special counsel to oversee the Russia investigation, and that Rosenstein has the power to fire Mueller for "good cause." But Rosenstein is not supposed to be involved in the day-to-day operations, and he testified at a Senate hearing earlier this week that he had not spoken with Mueller since he appointed him as special counsel on May 17.
ABC News reported on Friday that Rosenstein recently discussed the possibility that he may have to recuse from any involvement in the special counsel probe, given his role in writing the Comey memo, with Associate Attorney General Rachel Brand. If Rosenstein recused, Brand, the third-ranking Justice Department official, would be next in line to handle any matters related to the investigation. Rosenstein publicly acknowledged the possibility that he might have to recuse in an interview with the Associated Press earlier this month.
If Trump was instead referring to Mueller, that would also raise questions, since the tweet indicated that "the man" is someone who told the president to fire Comey, and there have been no reports that Mueller was involved in that decision.

The only other person who was involved in the decision to fire Comey, at least publicly, was Attorney General Jeff Sessions, who made the final recommendation to Trump based on Rosenstein's memo. But Sessions is recused entirely from the Russia investigation — that was reason why Rosenstein, the second-ranking official at the Justice Department, had the authority to hire the special counsel — so it's unlikely that he could be the person investigating Trump.
A White House spokesperson declined to comment, as did a Justice Department spokesperson. A spokesman for Trump's personal lawyer, Marc Kasowitz, and a representative of Mueller's special counsel team did not immediately return requests for comment.
Trump has repeatedly expressed his frustration with the special counsel investigation, calling it a "witch hunt," but he can't directly fire Mueller. He could order Rosenstein to do so, but under federal regulations Rosenstein would need to show "good cause" to fire Mueller. In his Senate testimony this week, Rosenstein said he hadn't seen any cause to fire Mueller so far.
UPDATE
Updated with information about a report that Rosenstein spoke with another Justice Department official about the possibility of his recusal.