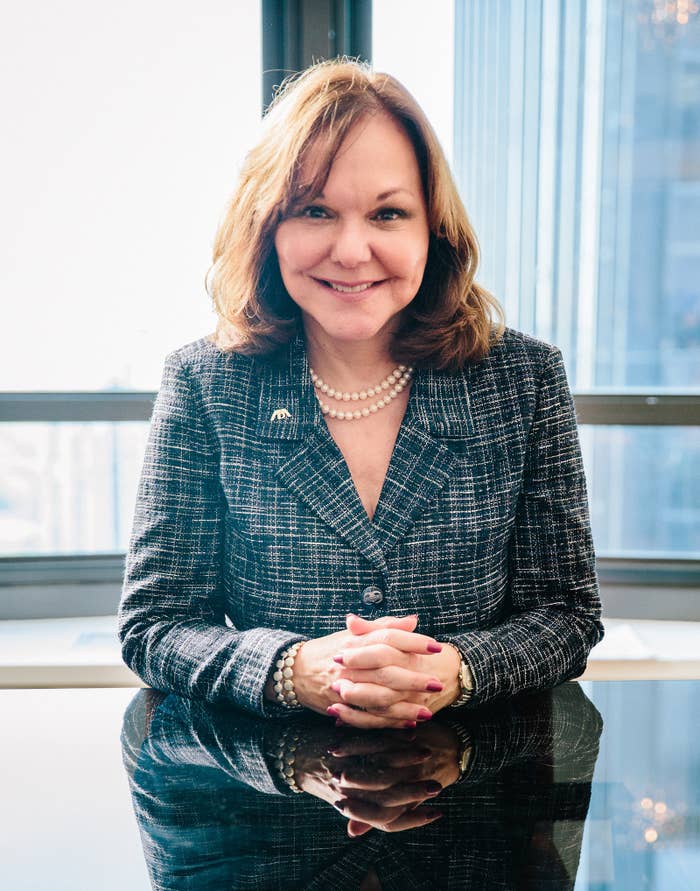 Within hours of Attorney General Jeff Sessions' announcement this week that the Trump administration was ending the Deferred Action for Childhood Arrivals program, Hilarie Bass, the new president of the American Bar Association, released a statement that lamented the move.
"Today's announced suspension of the DACA program without a ready legislative solution threatens the future of thousands of deserving people to pursue their dreams, and places them in danger of deportation," Bass said. "It also threatens our country's access to a wealth of human potential."
Bass is less than one month into her one-year term in office as the public voice of the US legal community. But for the second time in two weeks, Bass went public with her criticism of the administration. She had previously condemned President Trump's decision in August to pardon former Maricopa County, Arizona, sheriff Joe Arpaio, saying that it "undercuts judicial authority and the public's faith in our legal system."
The Trump administration has ushered in a new fascination with courts and legal issues. The president is facing dozens of lawsuits on everything from his business entanglements to his actions on immigration. Lawyers for the president are regulars on cable networks. News about how and when the president could be in legal jeopardy — not all of it accurate — has flooded the internet.
With all that outsized attention on the legal world, Bass wants the American Bar Association to be a resource for the public and the press on what the law actually says. She's launched an initiative to fact check the news. And though the ABA holds itself to be nonpartisan, she sees no conflict with that stance and her critical statements of the president's actions.
The organization stakes out positions "in favor of the democratic principles on which our country is based," she told BuzzFeed News. And that's not the same as being partisan, she argues.
"We don't come out and say this administration did something bad or inappropriate, what we always focus on is, what are the constitutional principles that underlie our democracy and are they being maintained in a particular government action," Bass said.
Bass' predecessor, Linda Klein, denounced Trump's criticisms of federal judges and issued a statement opposing the administration's travel ban executive order. The disapproval appears to be mutual: Trump has decided not to have the ABA vet his judicial nominees in advance, in a break with every president since 1953 except President George W. Bush.
More than 400,000 lawyers and judges across the United States and in US territories belong to the American Bar Association. Lawyers don't have to be members in order to practice, but it is the legal profession's most powerful trade group. The association's president speaks on its behalf, but is limited to talking about topics that relate to policies adopted by the House of Delegates, a group of nearly 600 ABA members from across the country. Some conservatives have charged that the association skews liberal, but its membership base spans the political spectrum.
Leslie Levin, a professor at the University of Connecticut School of Law and an expert on the legal profession, said that the association has struggled in the past with taking positions on controversial topics. In 1990, the ABA adopted a pro-choice stance, reversed itself in favor of neutrality six months later, and then went back to supporting abortion rights in 1992, which prompted several thousand members to quit.
Klein and Bass' statements in response to Trump so far have been in line with the association's focus on administration of justice and the rule of law, Levin said.
"Yes, they are speaking out more now that Trump is the president, but I think that's partly because he's made statements that appear to threaten the rule of law. He makes statements that undermine the legitimacy of judges and he makes statements ... that are inconsistent with some of our constitutional values. So the ABA has spoken out as a consequence," Levin said. "Obama was a lawyer, Obama understood the legal system and he didn't make those kinds of statements."
Bass said she's not going to issue a statement every time a legal issue is in the news. To that end, one of her first initiatives is ABA Legal Fact Check, a website that will offer legal context on current events. After white supremacists marched across the University of Virginia campus last month, the site featured a piece explaining First Amendment protections for hate speech. Amid reports that Trump was thinking about pardoning Arpaio, the site put up an explainer on the scope of presidential pardon power.
Bass said the website would offer another opportunity for the ABA to "stand for what the law is." The ABA's communications office will manage the site, and experienced lawyers will screen what they're putting up.
"We don't get involved in evaluating particular political issues. That being said, there are many instances in the current environment where there is political discourse about what the law is that's completely inaccurate," Bass said.
"Yes, they are speaking out more now that Trump is the president, but I think that's partly because he's made statements that appear to threaten the rule of law."
Stephen Zack, a lawyer in Florida who served as ABA president from 2011 to 2012, said there was a history of ABA presidents speaking out on the political controversies of the day — he pointed to the example of former ABA president Chesterfield Smith, who made headlines in 1973 for denouncing President Nixon for a series of high-level firings known as the Saturday Night Massacre.

"The ABA's issue is not who's there, but what they're doing to protect the rule of law," Zack said.
Bass said she realized there might be some members who disagree with the ABA's stance on a particular issue.
"We don't get a lot of pushback because our members understand that we are trying to thread that nonpartisan tightrope but still stand up for our democratic principles. Even if it means that in a particular situation it appears to be a criticism of a particular politician or administration," she said.
The American Bar Association presidency is not Bass' only job — she is also the co-president of Greenberg Traurig, a law firm that counts Trump adviser Rudolph Giuliani among its attorneys. Bass declined to talk about Giuliani and what his relationship with Trump has meant for the firm. Bass, whose office is in Miami, has a general litigation practice, largely on behalf of corporate clients, and she's long been involved with the ABA.
The association elects its presidents long before they take office. Bass was elected in February 2016, before anyone knew who would win in November, let alone the extent to which the administration would find itself mired in high-profile court battles.
"One of the things that this new administration has reminded the public is the importance of lawyers to upholding the American democracy," Bass said. "Whether or not it was young lawyers standing in airports with signs offering free legal assistance to travelers who were caught in the crosshairs of the new executive order, or state attorneys generals running into court to try and enjoin what they perceived to be unconstitutional mandates, what we recognize today is that the American democracy works best when lawyers are actively engaged in protecting it." ●