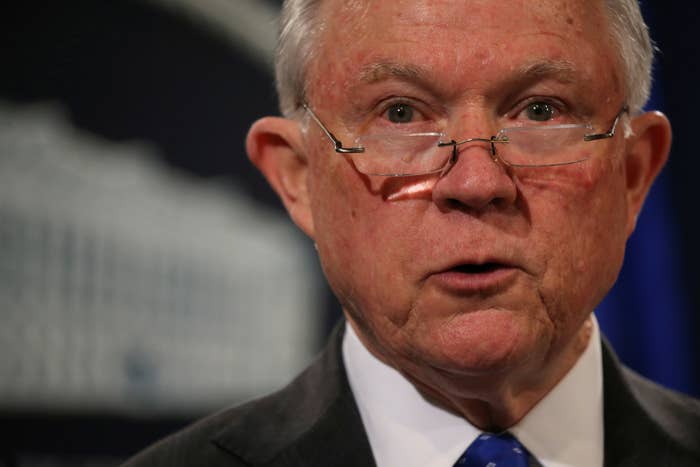 The Justice Department filed court papers Thursday arguing that Harvard University's use of race in admissions disadvantages Asian American applicants and violates what the US Supreme Court has OK'd when it comes to affirmative action.
The department's own investigation into Harvard's admissions policies is ongoing, according to a department official, who spoke to reporters on condition of anonymity. The new court filing, known as a "statement of interest," came in a 2014 lawsuit that accuses Harvard of discriminating against Asian American applicants. The US government is not a party in that case, but has an interest because Harvard receives federal funding, the official said.
"There is ample record evidence that Harvard's use of race is not narrowly tailored in the way that the US Supreme Court has required," the DOJ official said.
Harvard released a statement saying they were "deeply disappointed" with the Justice Department's position.
"This decision is not surprising given the highly irregular investigation the DOJ has engaged in thus far, and its recent action to repeal Obama-era guidelines on the consideration of race in admissions," the school said. "Harvard does not discriminate against applicants from any group, and will continue to vigorously defend the legal right of every college and university to consider race as one factor among many in college admissions, which the Supreme Court has consistently upheld for more than 40 years."
The lawsuit, filed in federal court in Boston by a group called Students for Fair Admissions, accuses Harvard of considering race in the admissions process in a way that discriminates against Asian American applicants. Harvard's process had a "disproportionately" negative effect on Asian American applicants when compared to white students, the group claimed, and they also accused Harvard of failing to seriously consider race-neutral alternatives.
Harvard has denied the allegations. In court papers filed in June asking the court to grant the university summary judgment and dismiss the case, Harvard's lawyers argued that "race is but one of many factors that Harvard considers in evaluating
how its students will learn from one another." The school also uses race-neutral practices aimed at choosing a diverse student body, but found that some consideration of race "remains necessary," the lawyers wrote.

The Justice Department has been investigating admissions practices at Harvard — specifically whether they discriminate against Asian American applicants — since last year. Depending on the results of that probe, the department could file a lawsuit of its own, or take other administrative action against the university.
The US Supreme Court has upheld university admissions policies that include race as a factor, but also said that such policies must be "narrowly tailored" — that race can't be the only or even the predominant factor, and that schools must show that removing race from the process would not promote the benefits of diversity to the same extent.
The department's filing on Thursday argued that evidence in the case showed Harvard's use of a "personal rating" system — a review of an applicant's personality by an admissions officer — "may be infected with racial bias," and that the school was involved in illegal "racial balancing" to achieve certain demographic ratios on campus. Harvard had failed to "seriously" consider race-neutral alternatives in the 45 years that the school had included race as a factor, the department wrote.
Earlier on Friday, a group of more than 500 social scientists and scholars on race in education filed an amicus, or "friend of court," brief in support of Harvard, arguing that Students for Fair Admissions' claims "are largely premised on racial stereotypes
of Asian Americans as a monolithic group with uniformly high test scores and high school GPAs — and on related negative stereotypes about African American and Latino students' academic abilities."
In early July, the department announced that Attorney General Jeff Sessions had withdrawn internal documents that provided guidance and legal analysis related to affirmative action. They included a "Dear Colleague" letter jointly issued in December 2011 by the Justice Department and the Department of Education about how schools could lawfully pursue policies aimed at increasing diversity, as well as documents that interpreted US Supreme Court rulings on affirmative action.
The announcement was the second wave of such document withdrawals by Sessions, part of a broader effort to undo what he has described as inappropriate rulemaking by the department in past years. But civil rights groups criticized the move in July as an attack on affirmative action.
"By encouraging schools to not consider race during the admissions process or potentially in any other circumstance, President Trump is undermining the benefits of diversity in schools and accelerating the socio-economic divide. Rolling back access to quality education for all students is a top priority for this Administration," NAACP President and CEO Derrick Johnson said in a statement at the time.

Shortly before the Justice Department filed its statement, Kristen Clarke, president of the Lawyers' Committee for Civil Rights Under Law, tweeted that the move "is incredibly troubling and signals the Justice Department's growing hostility to racial diversity." The committee has backed Harvard in the litigation, representing a group of minority students.
"It is astounding to see the Justice Department's position in this case, one that represents a full assault on efforts to promote campus diversity and ignores more than 40 years of precedent. The Justice Department's racially divisive arguments distort the record, mischaracterize the law and send a dangerous message to institutions across our country working to promote the educational benefits of diversity," the group said in a statement.
The DOJ official who spoke on condition of anonymity on Thursday rebuffed allegations that the administration was hostile to diversity in education. The official said there were examples of states that had banned the use of race in admissions in public universities, such as California and Michigan, and still achieved diverse student bodies.

"There's nothing that we have done to call into question the value of diversity either in institutions of higher education or anywhere else. Universities remain free to pursue diversity under Supreme Court precedent regardless of what we say in this filing and regardless of what the Supreme Court ultimately says about the voluntary use of race in admissions policies," the official said.
This is a developing story. Check back for updates.