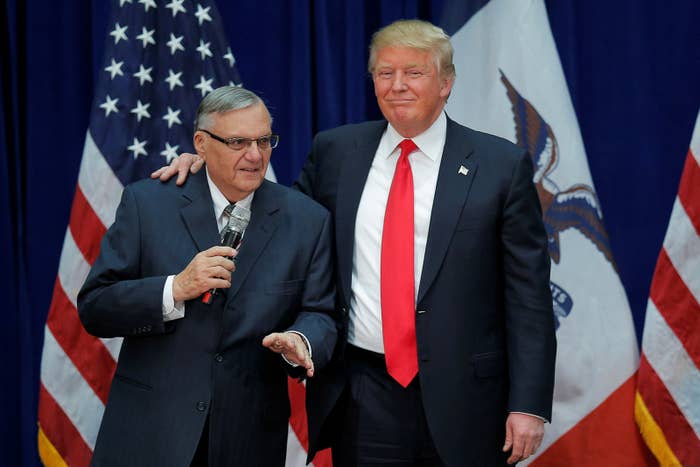 The Justice Department is supporting former Arizona sheriff Joe Arpaio's effort to get his criminal conviction dismissed now that he's been pardoned by President Trump.
In court papers filed on Monday, Justice Department lawyers wrote that they agreed with Arpaio that Trump's pardon made his criminal case moot. A judge found Arpaio guilty of criminal contempt this summer, but he hadn't been sentenced by the time Trump issued the pardon in late August. That meant that no final judgment was entered in the case, the DOJ said, and Arpaio would face no consequences from the guilty verdict.
Arpaio's case became moot "from the unpredictable grace of a presidential pardon," and not because of any action that Arpaio took to end it, the Justice Department lawyers wrote, quoting from an earlier case that also involved a presidential pardon. It was "just and appropriate" for the judge to vacate her orders and dismiss the case, they argued.
Arpaio's lawyers said in an earlier court filing that Arpaio did not ask Trump for a pardon. However, Trump was open about his desire to help Arpaio, an immigration hardliner who backed his presidential campaign.
US District Judge Susan Bolton in Phoenix is scheduled to hear arguments on what should happen to Arpaio's case on Oct. 4. Bolton found Arpaio guilty in July of disobeying another judge's order that his office stop detaining people based solely on the suspicion that they were unlawfully in the United States.

Most people who are granted pardons or other types of executive clemency have already been sentenced and spent time in jail. There have also been preemptive pardons before any criminal charges are filed, such as President Gerald Ford's pardon of President Richard Nixon in 1974 for "all offenses" that Nixon "has committed or may have committed or taken part in during the period from January 20, 1969 through August 9, 1974."
But Arpaio's pardon came at an unusual time — after he'd been found guilty, but before he was sentenced or had a chance to follow through on his lawyers' vows to appeal the verdict. He had petitioned the US Supreme Court to consider his challenge to Bolton's decision to hold a bench trial instead of a jury trial, and the high court hadn't said whether it would take the case by the time the pardon came down.
Arpaio's lawyers asked Bolton to vacate the verdict and dismiss the case several days after Trump announced the pardon. They said that because the pardon made Arpaio's criminal case moot, he wouldn't be able to pursue any appeals of the verdict.
"It is only fair that the court vacate its verdict and all other rulings in the case," they argued.