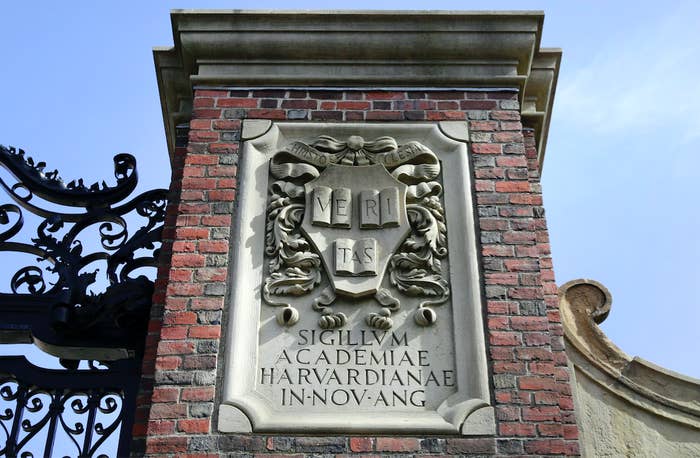 The Trump administration is engaged in an ongoing investigation into admissions practices at Harvard University, BuzzFeed News has learned.
The US Department of Justice suggested the investigation's active status in a letter, dated Sept. 29, that was sent in response to a Freedom of Information Act request by a government watchdog group and a civil rights organization seeking records about investigations into admissions practices at Harvard University and the University of North Carolina at Chapel Hill. The FOIA request was made in August in response to reports that DOJ would be launching an investigation related to allegations of discrimination against Asian-American students.
The Sept. 29 letter, which was obtained by BuzzFeed News, states that the department did not find any records about UNC, and it does not explicitly say that there are records about an investigation into Harvard. But the Civil Rights Division official who sent the letter wrote that records requested were exempt under federal public records laws because they were "compiled for law enforcement purposes" and releasing them could interfere with enforcement actions. The department also wrote that some records were exempt because they concerned privileged, internal government communications.
Given that the department said it found no records about the University of North Carolina, the letter appeared to acknowledge that there are records about an investigation into Harvard, and that the investigation is ongoing.
A spokesperson for American Oversight, one of the groups that filed the FOIA request, told BuzzFeed News that the group contacted DOJ about the response letter, and the department confirmed that there is an "active" investigation into Harvard.
"This is further proof that Attorney General Sessions and the Trump administration will continue to invoke civil rights only to further their own political agenda — not provide equal protections for all Americans. It speaks volumes that Jeff Sessions' Justice Department is prioritizing attacking affirmative action at a time when white nationalists are marching openly in the streets," American Oversight executive director Austin Evers said in a statement.
American Oversight filed the FOIA request jointly with the Lawyers' Committee for Civil Rights Under Law. Lawyers' Committee president Kristen Clarke said in a statement that the Justice Department had "launched an unprecedented assault on efforts to promote racial diversity in higher education." She said she hoped the Senate Judiciary Committee would look into the issue as it considers the nomination of Eric Dreiband to lead the department's Civil Rights Division.

A Justice Department spokesperson declined to comment. A spokesperson for Harvard did not immediately return a request for comment.
The issue of new affirmative action–related activity was first raised by an August article in the New York Times, which reported on an internal DOJ announcement that the paper claimed related to investigating allegations of discrimination against white students. The Justice Department disputed that report, and released a statement saying that the internal announcement was seeking volunteers to investigate an "administrative complaint filed by a coalition of 64 Asian-American associations in May 2015."

The DOJ statement in August did not name Harvard, but the reference to the May 2015 complaint squared with a complaint filed by Asian-American associations against Harvard with the US Department of Education. The Education Department dismissed that complaint in 2015 because a lawsuit raising similar allegations had been filed in federal court, according to news reports.
The lawsuit against Harvard was filed by the group Students for Fair Admissions, which also sued the University of North Carolina. Both cases are pending. In court filings, Harvard has denied engaging in racial discrimination.
UPDATE
Updated with comment from Kristen Clarke, president of the Lawyers' Committee for Civil Rights Under Law.