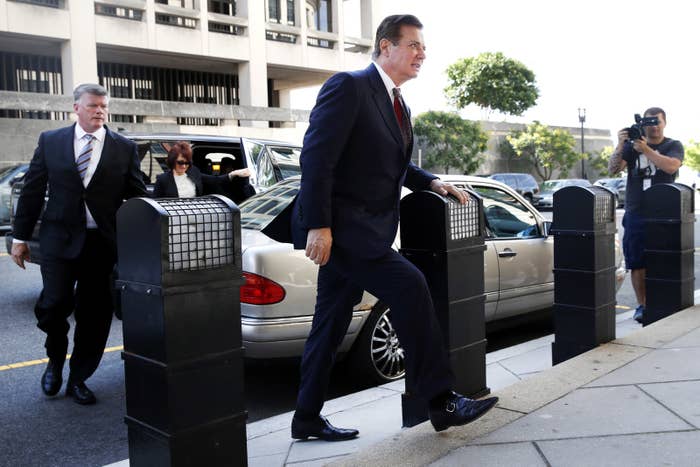 As the third week of Paul Manafort's criminal trial came to a close Friday, the judge revealed that he had been threatened and was receiving special security protection.

US District Judge T.S. Ellis III said he had gotten "criticism and threats" in the course of the trial, and was being guarded by the US Marshals Service. The revelation came as Ellis denied a request by a coalition of media groups (including BuzzFeed News) to release the names and addresses of jurors — information that is normally public, but that judges can keep secret if they're worried about juror safety.
Ellis said he feared jurors would be subject to the same issues he was facing if their identities became public. He also said that if prospective jurors in these sorts of high-profile cases knew at the start that their personal information would be public, there would be more requests to get out of jury service in the first place.
"I don't feel right if I release their names," he said.
Federal judges don't normally have personal security details, but the US Marshals Service, which handles security for the judiciary, will provide marshals if a judge faces a particular threat. Congress more than a decade ago approved increased funding for judge security, including the installation of home security systems, after a Chicago federal judge's husband and mother were killed in the judge's home in 2005 by a man who had previously appeared in court before her.
Manafort's criminal trial in the US District Court for the Eastern District of Virginia has generated intense media coverage, and Ellis has been the focus of some of it for his colorful personality and in-court criticism of prosecutors. On Friday, Ellis said that he hadn't anticipated the high level of interest and "had no idea this case would excite these emotions."
In response to the media's request to unseal transcripts of conferences between the judge and the lawyers during the trial, Ellis said he would release most of those after the verdict. One set of information would remain sealed until some later undefined time, he said, citing a concern about interfering with an ongoing investigation; he has not provided other details about that.
Ellis said that, generally, he favored making as much information public as possible, and didn't have hard feelings toward the press for making the requests.
"A thirsty press is essential to a free country," he said.
The jury recessed for the weekend without reaching a verdict; Friday was their second day of deliberations. On the first day, they submitted four questions related to evidence and the law, but their only communication to the court Friday was a note asking to be released at 5 p.m. — normally the judge has recessed at 5:30 p.m. — because a juror had an event in the evening. The judge agreed.
They'll pick up deliberating Monday morning.