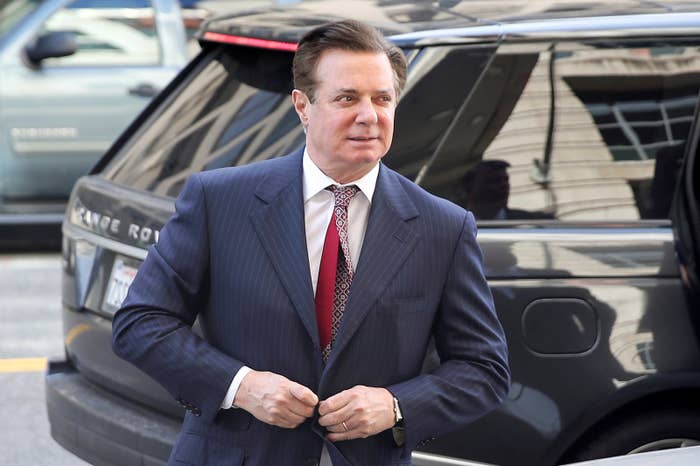 A federal judge on Monday unsealed the names of five potential witnesses in former Trump campaign chair Paul Manafort's criminal case in Virginia who invoked their right against self-incrimination and will receive immunity to testify.
US District Judge T.S. Ellis III announced in court that he would grant a request by special counsel Robert Mueller's office to give the witnesses what's known as "use immunity" — a type of limited immunity from prosecution for witnesses who invoke their Fifth Amendment rights. The potential witnesses are James Brennan, Donna Dugan, Cindy Laporta, Conor O'Brien, and Dennis Raico, according to the newly unsealed filings. The filings don't indicate what connection the witnesses have to Manafort's case.
Ellis on Monday agreed to briefly postpone the start date for Manafort's trial in the US District Court for the Eastern District of Virginia. Jury selection was scheduled to start on Wednesday; Ellis said he planned to seat 16 jurors. Ellis reset the trial for July 31, after Manafort's lawyer complained about the late production of evidence by the government. Ellis will still meet on Tuesday with the pool of potential jurors to give them a brief overview of the case and hand out a questionnaire for them to complete.
Ellis has yet to rule on requests by both sides to add certain questions to the juror questionnaire, but he did say on Monday that he was not inclined to grant Manafort's request to ask the jury if they voted in the 2016 presidential election. The judge said that had little to do with guilt or innocence, and that it amounted to "theater."
"I'm not in the theater business," Ellis said. "You have to be better looking for that."
Ellis also addressed a series of motions on Monday filed by both sides about what evidence and arguments should be allowed at trial. Manafort's lawyers had asked the judge to block the government from introducing information about allegations of collusion between Trump's campaign and Russia, and about Manafort's role in the campaign. Andres said prosecutors didn't intend to bring up collusion, but would need to discuss Manafort's position as campaign chairman because it related to a part of the bank fraud allegations.
Andres revealed that the government planned to introduce evidence alleging that the chairman of a bank agreed to extend a loan to Manafort — based on information that the banker knew to be false — in order to get a job with Trump's campaign, which the banker got, and the administration, which he did not get. Manafort's position in the campaign was directly relevant to that allegation, Andres argued. Ellis agreed, saying the government could bring up Manafort's role as campaign chairman as it related to the bank loan issue.
Andres did not name the banker, but Bloomberg reported last year that investigators were exploring financial ties between Manafort and Steve Calk, CEO of Federal Savings Bank, which reportedly provided $16 million in loans to Manafort. Calk had been an economic adviser to Trump's campaign. A spokesperson for Calk did not immediately return a request for comment on Monday. In April, the Wall Street Journal reported that House Democrats were probing whether there was a quid pro quo arrangement between Calk and Manafort.
Manafort is facing charges in Virginia of filing false tax returns, failing to report foreign bank accounts, and bank fraud. Bank fraud is the most serious charge in the indictment, carrying a maximum penalty of 30 years in prison.
Manafort has suffered a string of losses in Alexandria and in the other case he's facing filed by Mueller's office in the US District Court for the District of Columbia. Ellis and US District Judge Amy Berman Jackson in Washington, DC, have rejected Manafort's broad challenges to Mueller's authority, his narrower challenges to individual charges, and his efforts to get evidence seized in the investigation suppressed.
Both judges had agreed to release Manafort on home detention after he was charged in their respective courts, but Jackson last month ordered him jailed amid new allegations from Mueller's office that he had attempted to interfere with potential witnesses. Manafort was in court on Monday, wearing a green jail jumpsuit. He did not speak during the hearing.
Last week, Mueller's office filed a series of sealed motions asking the judge to grant use immunity to the five potential government witnesses who invoked their Fifth Amendment right against self-incrimination (a general description of the government's request, which did not name the witnesses, was filed on the public docket).

After a nonpublic discussion with prosecutors at the bench on Monday, Ellis announced to the courtroom that he had granted the government's motion for immunity, and would unseal the filings in order to release the names of the witnesses.
Mueller's office had asked the judge to block Manafort's lawyers from arguing that the prosecution was vindictive or selective; Manafort's lawyer Tom Zehnle said they weren't going to argue that, but, depending on the evidence, might want to address the motivation of the prosecution, noting that the judge had questioned it. At a previous hearing, Ellis said he thought the prosecution was likely aimed at getting Manafort to testify about Trump, but on Monday the judge said that didn't mean Manafort could argue that to a jury.

Ellis said that if Manafort's lawyers wanted to argue about motivation at trial, they'd need to ask his permission first. The judge also left open the possibility of Manafort introducing information about pre-Mueller investigations into Manafort's activities that did not result in criminal charges.
Responding to concerns raised by Manafort's lawyers, Andres said prosecutors did not plan to tell the jury that Manafort was jailed pending trial or about the charges he's facing in DC, except to the extent the government needed to explain what Manafort's former codefendant Rick Gates pleaded guilty to when he testifies at trial. Gates pleaded guilty to conspiring with Manafort to defraud the government and making false statements, and agreed to cooperate with Mueller's office.
Ellis did not resolve a dispute over how much evidence prosecutors could introduce about Manafort's past work for the Ukrainian government and former Ukrainian president Viktor Yanukovych. Manafort's lawyers argued it wasn't relevant and would be prejudicial. Andres countered that how much money Manafort earned from his lobbying efforts and how exactly he earned it was a matter of dispute — documents and photos showing what he did for Yanukovych were relevant. Ellis asked to see the specific exhibits Manafort was worried about, and he would rule later.
"Heart of the case"
Manafort's lawyers had asked to delay the trial until after the DC trial in September, pointing to the difficulties of preparing while Manafort was behind bars as well as issues with the later production of documents. At the hearing on Monday, Manafort's lead attorney Kevin Downing said that Mueller's office in recent weeks had produced tens of thousands of pages of documents, which they needed more time to go through.

The evidence at issue includes 20,000 documents — approximately 49,000 pages, according to the lawyers — from Manafort's bookkeeper, NKSFB, and tens of thousands of pages more of materials captured from a laptop, phones, and other devices belonging to Gates.
Assistant US Attorney Uzo Asonye, who is from the US Attorney's Ooffice in Alexandria but is working with Mueller's team on Manafort's Virginia case, told the judge that Manafort had access to the NKSFB documents last summer, via his former law firm Wilmer Cutler Pickering Hale and Dorr. Wilmer had done a review of the documents to see if anything was privileged and should be withheld before turning them over to the government, Asonye said.
But Downing, who took over as Manafort's lawyer in September, said he was not advised about the privilege review and did not have access to the documents until the government produced them. If they belonged to Manafort's bookkeeper, why couldn't the defense get them directly from the company, Ellis asked. Downing said NKSFB had asked Manafort to pay the cost of producing documents to the government, and Manafort had declined to do so.
It would be cheaper to get the documents through the trial discovery process, Downing told the judge. The judge said that depended on whether you calculated cost other than dollars and cents. A spokesperson for NKSFB declined to comment. A representative from Wilmer did not immediately return a request for comment.
Gates is at the "heart of the case," Downing argued Monday, making it critical for the defense to go through the materials from his devices. Asonye countered that the documents were mostly images of pictures and other data from phone applications — emails from Gates' devices had previously been turned over to Manafort's team. Asonye said nothing from the images and data from Gates' devices was on the government's exhibit list, and he couldn't see how pictures would be relevant to the case. However, he said it could include text, such as information from a note-taking app.
Ellis asked why it had taken so long for the government to produce the documents to Manafort's lawyers, characterizing the latest productions as a "data dump." Asonye said they were turning over documents as soon as they became available — there was some delay while documents were reviewed for any privilege issues, he said.