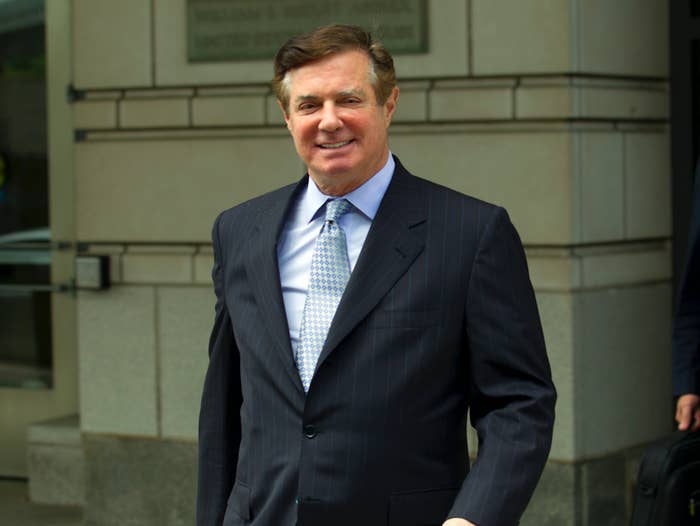 The jury in Paul Manafort's criminal trial in Alexandria, Virginia, heard testimony Wednesday about Manafort's expensive suits, pricey home renovations, high-end cars, and luxury condo, and the judge was not happy about it.
US District Judge T.S. Ellis III's displeasure with how much time prosecutors spent exploring Manafort's lifestyle escalated throughout the day, with the judge at times interrupting and chastising the lawyers in front of the jury, and repeatedly telling them to move things along.
Whether Ellis is restraining the prosecution or casting them in a bad light in front of jurors in a way that could actually affect the outcome of the case isn't clear. But the tension in the courtroom was palpable.
"Enough is enough," Ellis said during one discussion with the lawyers — the jury was not in the courtroom — about documents the government wanted to show about one of Manafort's homes, including its swimming pool and gazebo. "We don't convict people because they have a lot of money to throw around."
Ellis questioned why the government wanted to enter into the record photos of suits in Manafort's home and labels in those suits bearing the name of a luxury men's clothing retailer (the photos are available here and here.) The judge said no to giving the jury certain details about home renovations that Manafort allegedly paid for via foreign bank accounts. Ellis at one point erupted when special counsel prosecutor Brandon van Grack asked a contractor to explain what a "pergola" was, after the contractor testified about designing a pergola, and other landscaping features, for a project Manafort paid for.
Prosecutors have countered that the evidence about Manafort's lifestyle is relevant because it goes toward showing how much income he was bringing in during the years in question — income that Manafort is charged with underreporting in his income tax returns.
Manafort is facing 18 counts in Virginia, including filing false income tax returns, failing to report foreign bank accounts, and bank fraud. He is separately facing charges in the US District Court for the District of Columbia; that trial is scheduled to start in September.
On Wednesday morning, the jury heard from Daniel Rabin, a political media consultant who testified that he worked with Manafort in Ukraine to produce dozens of television ads. Before Rabin took the stand, Ellis questioned how much evidence prosecutors needed to put into the record to establish that Manafort did, in fact, do a lot of work in Ukraine — that wasn't contested, the judge said. Ellis on Tuesday also questioned the amount of evidence prosecutors were asking to put before the jury detailing the extent of Manafort's work in Ukraine.

The jury heard from FBI Special Agent Matthew Mikuska, who was involved in the search of Manafort's condo in Alexandria. The judge appeared agitated as Assistant US Attorney Uzo Asonye asked Mikuska to read the contents of documents that agents seized, saying the agent didn't know anything about the substance of the documents, only that they were found in Manafort's home.

Mikuska described Manafort's property as a "luxury" unit, estimating it was about 2,000 square feet. Asonye highlighted a series of documents agents seized from the condo, including financial statements with the names of accounts in Cyprus that prosecutors claim Manafort controlled and failed to report to US authorities, and invoices for home renovations at properties Manafort owned in New York and Florida.
As Asonye had Mikuska describe documents that referred to Manafort's longtime associate Rick Gates, Ellis questioned why that was necessary, since Gates was expected to testify. (Gates was originally charged with Manafort last fall, but later pleaded guilty and agreed to cooperate with Mueller's office.) Asonye said there was a chance Gates wouldn't testify, prompting a stir in the courtroom — much of Manafort's defense is about blaming Gates for any financial issues, per the opening statement Tuesday from Manafort's team.
Asonye clarified that as evidence came in, the government was evaluating all of its witnesses, not just Gates.
In the afternoon, the jury heard from two witnesses, Maximillian Katzman and Ronald Wall, who worked for the high-end men's clothing retailers Alan Couture and House of Bijan, respectively. They said they counted Manafort among their important, high-volume clients. Prosecutors presented bank records of wire transfers from accounts in Cyprus to Alan Couture and House of Bijan, which Katzman and Wall testified they understood as coming from Manafort.
The jury also heard from a financial officer at a Mercedes-Benz dealership about a car bought by Manafort's wife, Kathleen Manafort; a real estate agent and longtime neighbor of Manafort's who testified about helping Manafort's daughter buy a nearly $1.9 million house; a contractor who did millions of dollars of work for Manafort on properties in New York; and another contractor who talked about a landscaping job he did at Manafort's daughter's home.
For those witnesses, prosecutors presented bank statements and emails referencing wire transfers from accounts in Cyprus — payments that the witnesses said they understood as coming from Manafort.
Ellis had other directives and warnings for the lawyers on Wednesday. He said he'd heard that lawyers were making faces and rolling their eyes as they walked back to their seats from discussions with the judge at the bench. He didn't say which lawyers, but he generally said to cut it out.
Ellis also told the parties to avoid using the term "oligarch" to describe wealthy Ukrainians who prosecutors say paid for Manafort's work in Ukraine. The term was pejorative, Ellis said, and implied that Manafort associated with criminals, when there wouldn't be any evidence about that.

"We're not going to have this tried that he associated with despicable people, and therefore he is despicable. That is not the American way," Ellis said.
The government did share one piece of information that Ellis cheered: Asonye said that they were ahead of schedule for witnesses, and expected to finish presenting their case next week.
As events in the courtroom unfolded Wednesday, President Donald Trump went on Twitter to defend his former campaign manager. Although Trump and his criticism of Mueller's investigation hang over the proceedings, Manafort isn't facing any charges related to his work on the campaign, and his connection to Trump hasn't explicitly come up so far in the trial.