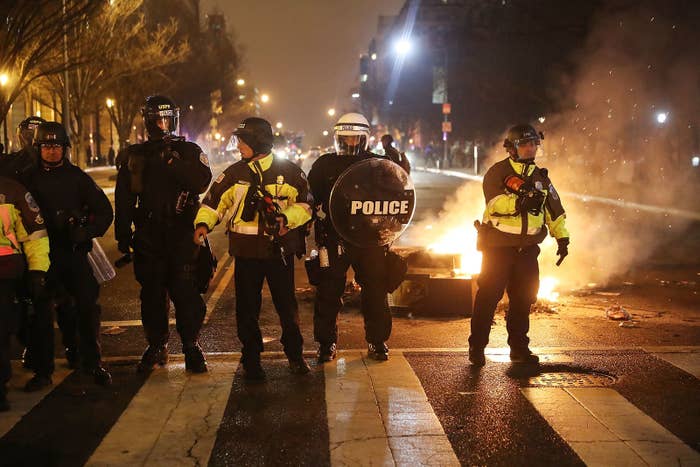 The US Attorney's Office in Washington, DC, announced Friday that it is dismissing charges against the remaining defendants charged in connection with anti-Trump demonstrations on Inauguration Day.
The dismissals conclude more than a year and a half of litigation over prosecutions that the defendants, their lawyers, and free speech advocates said represented overreach by the government, warning that they would chill First Amendment–protected activity going forward under the Trump administration.
Police charged 234 people after making mass arrests in downtown Washington on Jan. 20, 2017. Twenty-one people pleaded guilty — one person was sentenced to jail time after pleading guilty to a felony charge. The final dismissal notice Friday came after several trials in which prosecutors were unable to secure any convictions — defendants were either acquitted or jurors failed to reach a verdict.

In a statement, the US Attorney's Office said they believed "that the evidence shows that a riot occurred on January 20, 2017, during which more than $100,000 in damage was caused to numerous public and private properties."
"Indeed, 21 people have pled guilty to charges for their conduct that day, including one to felony offenses," the statement added. "In light of the results in the cases brought to trial, however, the US Attorney's Office has now moved to dismiss charges against the 38 remaining defendants in this matter."

(There were 39 cases still pending before Friday; the US Attorney's Office filed additional papers dismissing that case later in the day.)
Defense lawyers cheered the dismissals.
"I am delighted that these cases were finally dismissed. They never should have been brought, and to put defendants through this continuous agony since January 2017 is a terrible miscarriage of justice and a huge waste of taxpayers' money," said defense attorney Mark Goldstone, who represented multiple defendants over the course of the prosecution. "Hopefully, this will deter the Government from proceeding on a group-guilt theory that an individual protester is somehow criminally responsible, and facing decades in jail for the actions of every person attending that particular protest."
There were numerous protests across Washington on Trump's inauguration day, and most were peaceful and did not result in any arrests. But a protest that had been advertised as an "anti-capitalist" and "anti-fascist" demonstration turned violent at times, with some individuals breaking the windows of stores and cars. Police eventually surrounded the demonstration and made mass arrests.
Many of the people arrested, however, said they did not break windows, and argued they should not be liable for those who did. They disputed the government's theory that by wearing all black and covering their faces — prosecutors characterized it as a "black bloc," a protest strategy used to avoid identification by law enforcement — they were criminally responsible for the property destruction.
A DC Superior Court jury fully acquitted the first trial group in December. Then, prosecutors dismissed 129 cases, saying they would focus on the most serious offenders. While the second trial was underway last month, the government dropped seven more cases after getting in trouble with a judge for how prosecutors handled evidence.

A second trial concluded last month, with the jury acquitting one defendant on all counts and acquitting or deadlocking on charges against the other three defendants.
Soon after the second trial was over, prosecutors filed papers saying they were dismissing charges against six defendants who were scheduled for trial June 25. The government said it planned to challenge an earlier ruling from the judge about the evidence-related issues, but that dismissing the next trial group in the meantime would be "appropriate."
Convincing jurors to convict defendants absent any evidence that they directly took part in breaking windows proved especially challenging for prosecutors. None of the defendants in the first trial were accused of directly engaging in property destruction. Prosecutors argued there was such evidence against three of the four defendants in the second trial, but jurors who spoke with HuffPost said there was a lack of consensus about whether the government proved that people dressed in black depicted in the evidence as taking part in property destruction were the defendants.
The government had also been sanctioned by a judge for not disclosing to the defense the full version of a video of a pre-Jan. 20 planning meeting recorded by an operative of Project Veritas, a right-wing investigative organization. The disclosure of the full version of that video led to the discovery of other Project Veritas videos that hadn't been disclosed to the defense.
One of the remaining defendants whose case was dismissed Friday was Aaron Cantú, a journalist who said he was arrested while covering the demonstrations. Press freedom groups had raised alarms about the government's decision to prosecute him. Cantú's lawyer Ted Boutrous tweeted a statement saying they were "gratified that the baseless charges against him have been dismissed."