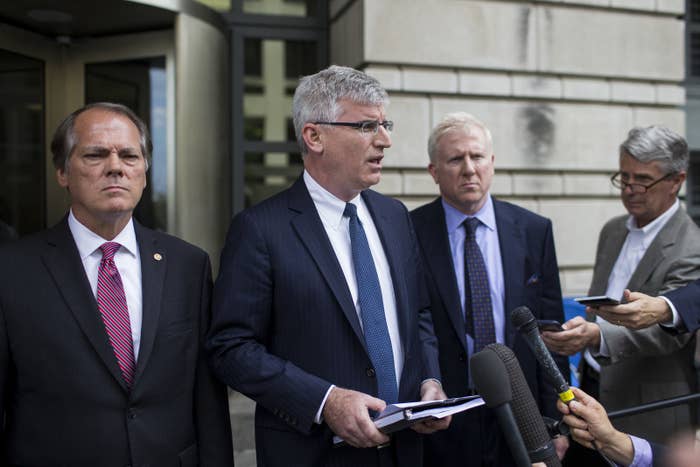 Lawyers for James Wolfe, the former senior Senate Intelligence Committee staffer charged with lying to the FBI about his contacts with reporters, asked a judge Tuesday for an order restricting government officials from making "prejudicial" comments about his case — including President Donald Trump.
Shortly after Wolfe's arrest earlier this month, Trump weighed in, telling reporters that the Justice Department had "caught a leaker," and that "You cannot leak classified information." Trump also said of Wolfe's case, "I'm a very big believer in freedom of the press, but I'm also a believer that you cannot leak classified information."
Wolfe's lawyers argued in the court papers filed Tuesday that Wolfe's "Sixth Amendment right to an impartial jury and the presumption of innocence have been jeopardized by presidential comments about the merits of the case ('caught a leaker') and highly prejudicial insinuations."
It's an unusual request — court gag orders typically apply to people directly involved in a case, such as the lawyers, parties, and witnesses. The lead prosecutor in the case, Assistant US Attorney Tejpal Chawla, told the judge that a request that extended beyond the people in the courtroom and up to the president would likely require the involvement of other lawyers; Chawla explained that he represents the United States, not the president.
Wolfe's lawyers argue the judge does have the power to restrain Trump from making prejudicial comments about the case since he sits at the top of the executive branch and exercises authority over the Justice Department. Trump and other senior government officials had "inserted themselves into this case," Wolfe's lawyers contend, also pointing to statements made by top DOJ officials in a press release about the charges.
Wolfe's lawyers wrote in a footnote that Trump's "near daily proclivity to discuss all manner of criminal investigations" on Twitter "provides little to no comfort" that his initial comments about Wolfe's case will be his last.
"The Court can appropriately include government supervisors up to and including the President within the ambit of such an order, especially where the President has already chosen to weigh in publicly on this particular criminal prosecution conducted by his Administration and declare Mr. Wolfe's guilt (of something he is not charged with)," Wolfe's lawyers wrote.
Wolfe, who previously served as director of security for the Senate Intelligence Committee, is facing three counts of making false statements to the FBI. He pleaded not guilty at a hearing June 13, and his lawyers told reporters that they plan to "vigorously defend Mr. Wolfe against this unfair and unjustified prosecution." Wolfe is not charged with leaking classified information, but the indictment does accuse him of sharing nonpublic information with reporters.
Wolfe reportedly had a personal relationship with one of the reporters identified in the indictment only as "Reporter #2," but who is believed to be Ali Watkins of the New York Times. Watkins previously worked for BuzzFeed News and Politico. The New York Times reported that prosecutors secretly seized years' worth of Watkins' phone and email records, prompting concerns from press freedom groups and media outlets about the Justice Department's handling of the investigation.

Wolfe's attorney Preston Burton said in court Tuesday that if the case goes to trial, they anticipated that the judge would have to address issues related to the subpoenaing of journalists and news outlets, as well as requests for members of Congress and congressional staffers to testify. Chawla said the government did not plan to subpoena reporters, members of Congress, or staffers; after the hearing, Wolfe's lawyers declined to elaborate on their plans to subpoena members of the media or Congress.
No trial date has been set. Wolfe is due back in court for another status hearing July 9. Chawla said there is no plea offer on the table so far — the government is in the process of producing evidence to Wolfe and his lawyers so they can see the extent of the case against him, Chawla said.