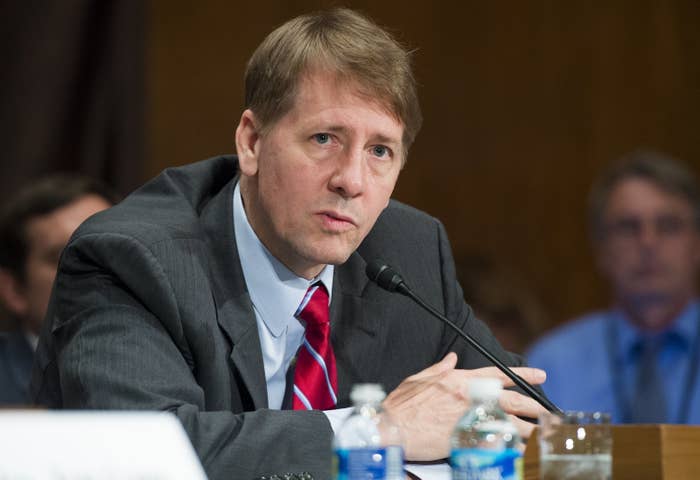 WASHINGTON — An Obama-era consumer protection agency will get another chance to defend its independence from the White House in court.
A panel of three federal appeals judges in Washington, DC, ruled in October that the single-director structure of the Consumer Financial Protection Bureau — opposed by Republicans since its inception in 2010 — was unconstitutional, and expanded the authority of the president to remove the director.
But on Thursday, the full US Court of Appeals for the DC Circuit agreed to rehear the case, scheduling the next round of arguments for May 24.
The order vacates the earlier decision from October, which means that (under the law as written) President Trump can only remove director Richard Cordray for cause — defined as "inefficiency, neglect of duty, or malfeasance in office" — as opposed to at will.
The bureau was created as part of the 2010 Dodd-Frank financial reform package. Cordray was confirmed by the Senate to a five-year term as director in 2013.
Given its independent status, the bureau's own in-house lawyers are handling the case, as opposed to the US Department of Justice, which defends other federal agencies in court. This means that unless Trump does remove Cordray for cause and replaces him with a director who no longer wants to fight the case, the bureau is expected to press ahead in defending itself in court.

The full sitting of the DC Circuit hasn't ruled yet on whether to allow other groups to intervene that want to defend the bureau if circumstances do change and the bureau drops its defense. The three-judge panel denied those intervention requests, and the would-be intervenors — civil rights groups, two members of Congress, and public interest groups — have asked the full court to reconsider that decision.
The DC Circuit's order on Thursday specified three questions that it wanted the parties to argue: first, whether the structure of the bureau was constitutional, and, if not, what should the court do about that; second, whether the court could avoid the constitutional question by focusing on legal issues specific to the underlying challenge to action by the bureau; and third, how the court should rule if it reached a certain conclusion about the constitutionality of how administrative law judges are appointed in a separate case. (The administrative law judge issue is separate from the fight over the constitutionality of the bureau's structure.)
According to the order, Chief Judge Merrick Garland did not participate in the decision to rehear the Consumer Financial Protection Bureau case. Garland did not participate in cases last year while he was Obama's nominee to the US Supreme Court, but the order did not specify why he sat out of this decision.