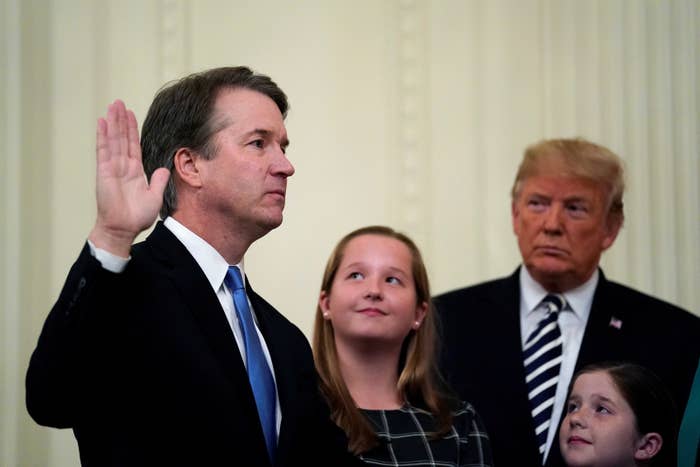 Ethics complaints filed against Justice Brett Kavanaugh in the weeks leading up to his confirmation to the US Supreme Court are still live, and they're being transferred to another judicial circuit, according to a letter made public Wednesday from Supreme Court Chief Justice John Roberts Jr.
More than a dozen ethics complaints were filed against Kavanaugh in his former court, the US Court of Appeals for the DC Circuit. DC Circuit Judge Karen LeCraft Henderson and the Circuit Judicial Council — Chief Judge Merrick Garland recused himself — had asked Roberts to transfer the complaints to another circuit, a request that's in line with how federal courts in recent years have dealt with high-profile ethics cases; judges who previously asked for transfers cited a desire to avoid conflict-of-interest issues.
The Kavanaugh complaints will now go to the 10th Circuit, which is based in Denver and covers six states in the western United States. Roberts' Oct. 10 letter to 10th Circuit Chief Judge Timothy Tymkovich indicates that the DC Circuit asked him to transfer15 complaints — the earliest transfer request was made Sept. 20, and the latest was made Oct. 5.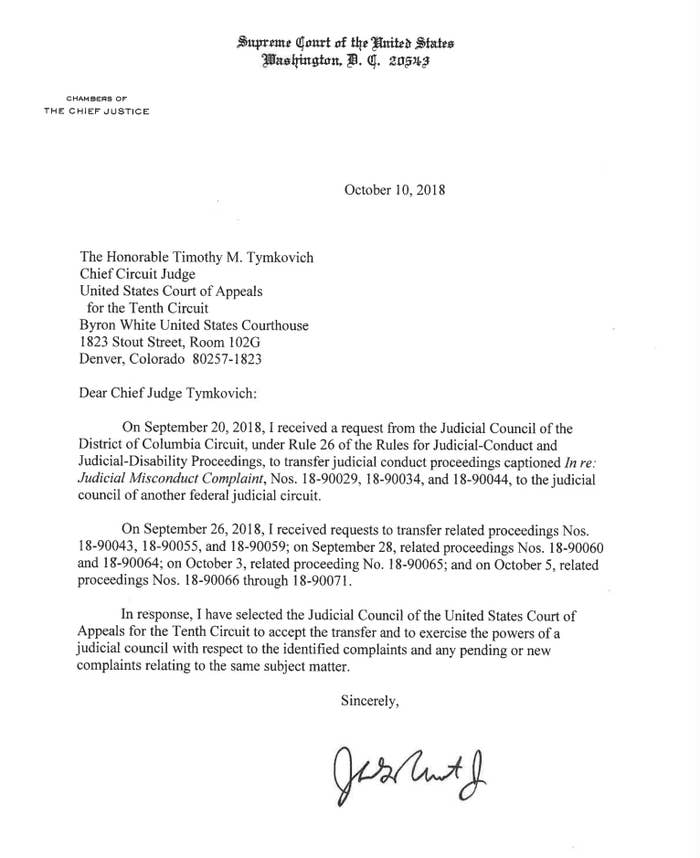 It's not clear what will happen next. Ethics complaints against judges who retired or resigned have been dismissed as moot in the past, but judicial ethics experts previously told BuzzFeed News there was no precedent for what happens when a lower court judge is elevated to the Supreme Court. The Supreme Court isn't part of the misconduct review system that covers lower court judges, and the justices don't have a parallel internal disciplinary process.
Several ethics complaints filed against Kavanaugh — some have been made public by individuals who filed the complaints, and some have not — concern his public response over the past month to allegations that he committed sexual misconduct when he was in high school and college, his controversial testimony before the Senate Judiciary Committee on Sept. 27, and his testimony at his initial confirmation hearing in early September.
Judicial misconduct proceedings are normally secret, but Henderson released a statement on Oct. 6 confirming that the court had received complaints against Kavanaugh. She said the complaints "do not pertain to any conduct in which Judge Kavanaugh engaged as a judge," only his statements as a Supreme Court nominee. The Washington Post reported at the time that Henderson had asked Roberts to transfer the complaints to another circuit.
The 10th Circuit previously handled an ethics case out of the federal district court in Washington, DC, that involved a judge facing decades-old sexual misconduct allegations. The circuit dismissed the case last year, finding that allegations pre-dating a judge's time on the bench fell outside the jurisdiction of the judiciary's disciplinary system.

UPDATE
Updated with additional information from Chief Justice John Roberts' Oct. 10 letter.