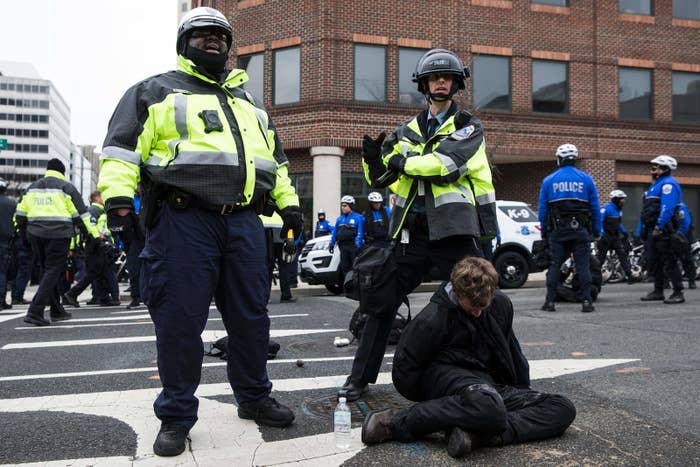 The American Civil Liberties Union filed a lawsuit on Wednesday accusing police in Washington, DC, of violating the constitutional rights of protesters, journalists, and legal observers during mass arrests on President Trump's Inauguration Day.
The lawsuit accuses Metropolitan Police Department officers of making unlawful arrests and using excessive force, pointing to the use of pepper spray, tear gas, and restraints that were so tight they reportedly caused one of the plaintiffs' wrists to bleed.
"In the course of the roundup and subsequent processing of demonstrators,
police held detainees for hours without food, water, or access to toilets; handcuffed detainees so tightly as to cause injury or loss of feeling; and subjected some detainees to manual rectal probing," lawyers from the ACLU of the District of Columbia wrote in the complaint.
The Metropolitan Police Department issued a statement on Wednesday defending the arrests, and saying that "all instances of use of force by officers and allegations of misconduct will be fully investigated."
"Each year, the men and women of MPD protect the rights and ensure the safety of thousands of First Amendment assemblies, demonstrations and protests. During the 58th Presidential Inauguration, there were thousands of individuals who exercised their constitutional right to peacefully assemble and speak out for their cause. Unfortunately, there was another group of individuals who chose to engage in criminal acts, destroying property and hurling projectiles, injuring at least six officers," the department said.
More than 200 people were arrested on rioting charges on Jan. 20. The US Attorney's Office in Washington is pursuing a mix of rioting and property destruction charges against the majority of those arrestees.
The ACLU's lawsuit, filed in the US District Court for the District of Columbia, comes a week after the plaintiff dropped his case in a different lawsuit against law enforcement over the Jan. 20 arrests. The lawyer in that case, Jeffrey Light, told BuzzFeed News at the time that he planned to refile the lawsuit at a later date, but declined to provide specifics.

The mass arrests took place during a demonstration in Washington that had been billed as an "anti-capitalist" and "anti-fascist" march. Many protesters wore all black and covered their faces. As the march moved into a downtown area, some participants broke the windows of storefronts and cars. Police moved in, and after pursuing the demonstrators for several blocks cordoned off a large group at one intersection, and placed people under arrest.
Prosecutors have already dropped charges against a small group of journalists and legal observers who were caught up in the mass arrests. One arrestee identified as a journalist, Aaron Cantú, is still facing charges.

The ACLU's case was brought on behalf of four people who were arrested or otherwise interacted with police on Jan. 20 — a photojournalist, a legal observer, and two people who say they were there to exercise their free speech rights. The plaintiffs said they were pepper-sprayed, and in some cases detained and arrested, despite the fact that they weren't doing anything illegal.
The photojournalist, Shay Horse, said that he was taking photos — "I was just doing my job," he told reporters at a press conference on Wednesday — while the legal observer, Judah Ariel, said he was wearing the neon-green hat that identifies legal observers.
Ariel held up the green legal observer hat he said he was wearing on Jan. 20 when he was pepper sprayed by police. He said he saw one officer indiscriminately spraying pepper spray without warning at a crowd of people who were not threatening police, comparing it to Al Pacino with a machine gun in the movie "Scarface."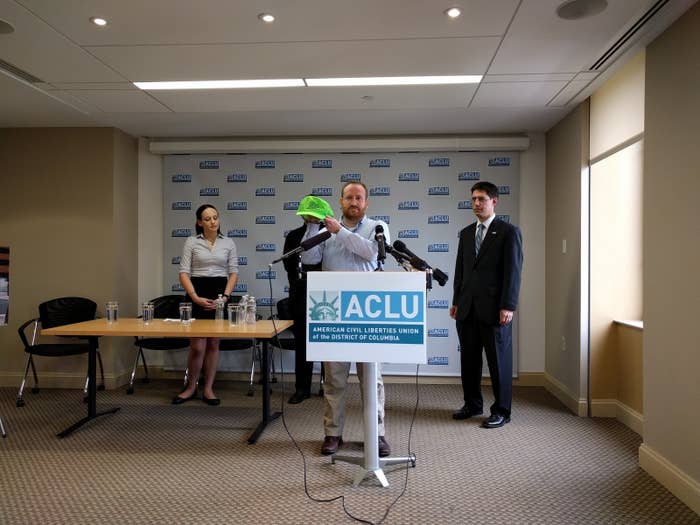 Horse was arrested on Jan. 20, but prosecutors dropped the case against him in February. Ariel was not arrested. The other two plaintiffs, Elizabeth Lagesse and Milo Gonzalez, are still facing criminal charges. Lagesse was at the press conference and read a statement about her experience on Jan. 20 — she said she was demonstrating peacefully when she was pepper sprayed and arrested — but did not take questions because of the pending criminal case. Gonzalez was not at the event.
The lawsuit is not a class action, but ACLU-DC attorney Scott Michelman told reporters that it was possible they could add more plaintiffs in the future. The four current plaintiffs "really epitomized the different abuses that happened on that day," he said.
Michelman said that the Metropolitan Police Department had a track record of handling peaceful protests well in recent years, but "the problem is, when there's a little bit of lawbreaking, at a mostly peaceful demonstration, the response from MPD is massive, it's excessive, it's unjustified and it's unconstitutional. That's what we saw on January 20."
The lawsuit includes claims, under the First and Fourth amendments, for free speech violations, arrests without probable cause, and excessive force, as well as claims of assault and battery, unconstitutional pre-trial confinement conditions, and emotional distress. The plaintiffs are seeking money damages, but the lawsuit doesn't specify an amount being sought.